Tuesday Open Thread ~ I'll Take Potpourri for $100
Submitted by Anja Geitz on Tue, 10/08/2019 - 3:52am
~
"I want a life that sizzles and pops and makes me laugh out loud. And I don't want to get to the end, or to tomorrow, even, and realize that my life is a collection of meetings and pop cans and errands and receipts and dirty dishes. I want to eat cold tangerines and sing out loud in the car with the windows open and wear pink shoes and stay up all night laughing and paint my walls the exact color of the sky right now. I want to sleep hard on clean white sheets and throw parties and eat ripe tomatoes and read books so good they make me jump up and down, and I want my everyday to make God belly laugh, glad that he gave life to someone who loves the gift." ~ Shauna Niequist, Cold Tangerines
~
~
Good Morning!
Welcome to Tuesday's Open Thread. By the time many of you read this, I will be on the road making my way to Temecula, California to meet some friends for a day of wine tasting. It was all very last minute but I decided to throw caution to the wind and see where it takes me. In my absence, I've collected a potpourri of amusement and reflection. Will check in when I can to say hello!
~
"Dean is the perfect guy for the road because he actually was born on the road, when his parents were passing through Salt Lake City in 1926, in a jalopy, on their way to Los Angeles." ~ Jack Kerouac, On the Road
~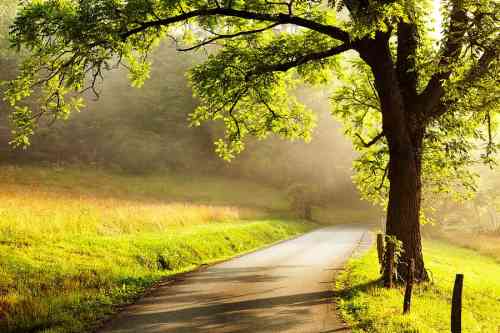 ~
A Walk in the Woods
by Bill Bryson
(an excerpt)
"What are you doing?"
"I'm moving my tent."
"Oh, good plan. That'll really confuse it."
I peered and peered, but I couldn't see anything but those two wide-set eyes staring from the near distance like eyes in a cartoon. I couldn't decide whether I wanted to be outside and dead or inside and waiting to be dead. I was barefoot and in my underwear and shivering. What I really wanted--really, really wanted--was for the animal to withdraw. I picked up a small stone and tossed it at it. I think it may have hit it because the animal made a sudden noisy start (which scared the bejesus out of me and brought a whimper to my lips) and then emitted a noise--not quite a growl, but near enough. It occurred to me that perhaps I oughtn't provoke it.
"What are you doing, Bryson? Just leave it alone and it will go away."
"How can you be so calm?"
"What do you want me to do? You're hysterical enough for both of us."
"I think I have a right to be a trifle alarmed, pardon me. I'm in the woods, in the middle of nowhere, in the dark, staring at a bear, with a guy who has nothing to defend himself with but a pair of nail clippers. Let me ask you this. If it is a bear and it comes for you, what are you going to do--give it a pedicure?"
"I'll cross that bridge when I come to it," Katz said implacably.
"What do you mean you'll cross that bridge? We're on the bridge, you moron. There's a bear out here, for Christ sake. He's looking at us. He smells noodles and Snickers and--oh, shit."
"What?"
"Oh. Shit."
"What?"
"There's two of them. I can see another pair of eyes." Just then, the flashlight battery started to go. The light flickered and then vanished. I scampered into my tent, stabbing myself lightly but hysterically in the thigh as I went, and began a quietly frantic search for spare batteries. If I were a bear, this would be the moment I would choose to lunge.
"Well, I'm going to sleep," Katz announced.
"What are you talking about? You can't go to sleep."
"Sure I can. I've done it lots of times." There was the sound of him rolling over and a series of snuffling noises, not unlike those of the creature outside.
"Stephen, you can't go to sleep," I ordered. But he could and he did, with amazing rapidity.
The creature--creatures, now--resumed drinking, with heavy lapping noises. I couldn't find any replacement batteries, so I flung the flashlight aside and put my miner's lamp on my head, made sure it worked, then switched it off to conserve the batteries. Then I sat for ages on my knees, facing the front of the tent, listening keenly, gripping my walking stick like a club, ready to beat back an attack, with my knife open and at hand as a last line of defense. The bears--animals, whatever they were--drank for perhaps twenty minutes more, then quietly departed the way they had come. It was a joyous moment, but I knew from my reading that they would be likely to return. I listened and listened, but the forest returned to silence and stayed there.
Eventually I loosened my grip on the walking stick and put on a sweater--pausing twice to examine the tiniest noises, dreading the sound of a revisit--and after a very long time got back into my sleeping bag for warmth. I lay there for a long time staring at total blackness and knew that never again would I sleep in the woods with a light heart.
And then, irresistibly and by degrees, I fell asleep.
~
~
The Invitation
It doesn't interest me
what you do for a living.
I want to know
what you ache for
and if you dare to dream
of meeting your heart's longing.
It doesn't interest me
how old you are.
I want to know
if you will risk
looking like a fool
for love
for your dream
for the adventure of being alive.
It doesnt interest me
what planets are
squaring your moon...
I want to know
if you have touched
the centre of your own sorrow
if you have been opened
by life's betrayals
or have become shrivelled and closed
from fear of further pain.
I want to know
if you can sit with pain
mine or your own
without moving to hide it
or fade it
or fix it.
I want to know
if you can be with joy
mine or your own
if you can dance with wildness
and let the ecstasy fill you
to the tips of your fingers and toes
without cautioning us
to be careful
to be realistic
to remember the limitations
of being human.
It doesn't interest me
if the story you are telling me
is true.
I want to know if you can
disappoint another
to be true to yourself.
If you can bear
the accusation of betrayal
and not betray your own soul.
If you can be faithless
and therefore trustworthy.
I want to know if you can see Beauty
even when it is not pretty
every day.
And if you can source your own life
from its presence.
I want to know
if you can live with failure
yours and mine
and still stand at the edge of the lake
and shout to the silver of the full moon,
"Yes."
It doesn't interest me
to know where you live
or how much money you have.
I want to know if you can get up
after the night of grief and despair
weary and bruised to the bone
and do what needs to be done
to feed the children.
It doesn't interest me
who you know
or how you came to be here.
I want to know if you will stand
in the centre of the fire
with me
and not shrink back.
It doesn't interest me
where or what or with whom
you have studied.
I want to know
what sustains you
from the inside
when all else falls away.
I want to know
if you can be alone
with yourself
and if you truly like
the company you keep
in the empty moments.
~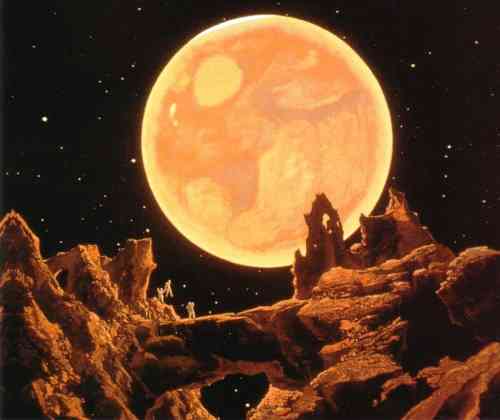 ~
Mars Probe Finds Kittens
by Steve Martin
(an excerpt from Pure Drivel)
The newly arrived probe to Mars has returned irrefutable evidence that the red planet is populated with approximately 27 million 3-month-old kittens. These "kittens" do not give birth and do not die, but are locked in a state of eternal kittenhood. Of course, without further investigation, scientists are reluctant to call the chirpy little creatures kittens. "Just because they look like kittens and act like kittens is no reason to assume they are kittens," said one researcher. "A football is a brown thing that bounces around on grass, but it would be wrong to call it a puppy."
Scientists at first were skeptical that a kitten-type being could exist in the rare Martian atmosphere. As a test, two Earth kittens were put in a chamber that simulated the Martian air. The diary of this experiment is fascinating:
6:00 A.M.: Kittens appear to sleep.
7:02 A.M.: Kitten wakes, darts from one end of cage to another for no apparent reason.
7:14 A.M.: Kitten runs up wall of cage, leaps onto other kitten for no apparent reason.
7:22 A.M.: Kitten lies on back and punches other kitten for no apparent reason.
7:30 A.M.: Kitten leaps, stops, darts left, abruptly stops, climbs wall, clings for two seconds, falls on head, darts right for no apparent reason.
7:51 A.M.: Kitten parses first sentence of lead editorial in daily newspaper that is at the bottom of the chamber.
With the exception of the parsing, all behavior is typical of Earth kitten behavior. The parsing activity, which was done with a small ball-point pen, was an anomaly…
Modern kitten theory suggests several explanations for the kittens' existence on Mars. The first, put forward by Dr. Patricia Krieger of the Hey You Bub Institute, suggests that kittens occur both everywhere and nowhere simultaneously. In other words, we see evidence of kitten existence, but measuring their behavior is another matter. Just when the scientists point their instruments in a kitten's direction, it is gone, only to be found in another place, perhaps at the top of drapes. Another theory, put forward by Dr. Charles Wesler and his Uncle Ted, suggests that any universe where round things exist, from theoretical spheres to Ping-Pong balls, necessarily implies the existence of a Mover Kitten. The scientific world has responded by saying that the notion of the Mover Kitten is not a concern of legitimate research and should be relegated to the pseudoscientific world. The pseudoscientific world has responded by saying that it needs at least three endorsements from independent crackpots before anything can truly be called "pseudo."
Some have suggested that the hostility of the Martian climate should be enough to seriously set back the long-term prospects of any species. However, the weakness of Martian gravity is a bonus for felines. They are able to leap almost three times as high as they can on Earth. They can climb twice as far up a carpet-covered post, and a ball with a bell in it will roll almost three times as far. This is at least equal to the distance that a mature poodle can roll a ball with its nose.
Even though there could be a big market on Earth for eternal kittens, most scientists agree that the human race should not pursue a further involvement. There are those, however, who believe that having discovered the creatures, it is now our responsibility to "amuse" them. Dr. Enos Mowbrey and his wife/cousin, Jane, both researchers at the Chicago Junebug Institute for Animal Studies, argue that the kittens could be properly amused by four miles of ball string cut into fourteen-inch segments. The cost of such a venture would be:
Four miles of string: $135
Segmentation of string: $8
Manned Mars probe to deliver string and jiggle it: $6 trillion.
It is unfortunate that Dr. Mowbrey's work has been largely dismissed because of his inappropriate use of the term kitty cat.
The next time you look up at the heavens, know that mixed in the array of stars overhead is a pale-red dot called Mars, and on that planet are tiny creatures whose wee voices are about to be thunderously heard on this planet, a meow of intergalactic proportions.
~
~
Well, that about wraps things up for this week's edition.
~
~
What's on your mind today?