Resilience Discussion: "The Creativity Crisis"
Submitted by

mhagle

on Tue, 09/25/2018 - 9:52am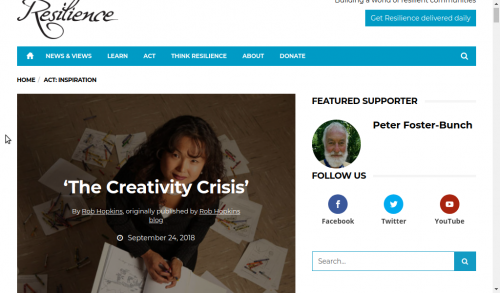 https://www.resilience.org/stories/2018-09-24/the-creativity-crisis/
https://kkim.wmwikis.net/file/view/Kim_2011_Creativity_crisis.pdf
A topic worthy of discussion, studies by Kyung Hee Kim, professor in the School of Education, The College of William and Mary, show a drastic reduction in creativity since the 90s.
This struck a chord with me because in my last few years of teaching computer graphics, I noticed a stark decrease in students' ability to come up with their own ideas for projects. They just couldn't do it. In earlier years, most students were delighted to be able to choose their own ideas.
It was during this period when standardized testing and "teaching to the test" became prominent. I blamed it on that.
There is also discussion in the article about the influence of smart phones and passive activity. The interviewer makes the point that "thinking outside the box" is crucially important in these days of climate crisis.
Thoughts?