Resilience Conversation: Defending Degrowth
Submitted by

mhagle

on Sat, 08/18/2018 - 3:05pm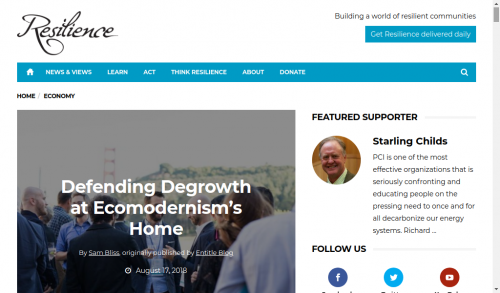 https://www.resilience.org/stories/2018-08-17/defending-degrowth-at-ecom...
Climate scientist Kevin Anderson (https://en.wikipedia.org/wiki/Kevin_Anderson_%28scientist%29), has been saying this for years. Ultimately we will have to cut back and scale down. He is not alone in the scientific community of course.
This particular article is especially interesting because the author's views are juxtaposed with those of the ecomodernists defending decoupling as the solution. (Terminology I was unfamiliar with until now.)
My question is, how can we slide into degrowth on a personal and community level? This would be easier for me if I were a young extrovert!
Look forward to the discussion.