Both the media and Americans are the problem
Submitted by

gjohnsit

on Wed, 06/20/2018 - 6:17pm
Americans are right to mistrust the media, although they give it more credit than I believe it deserves.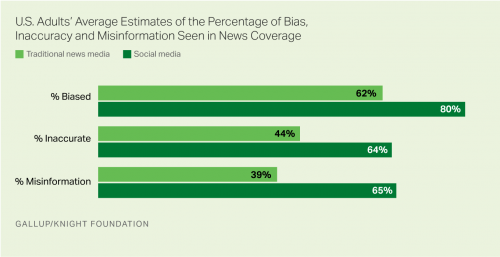 Americans are also correct in seeing the news media as critical to democracy, and that the media isn't doing it's job.


However, the enormous partisan divide in opinions of the media shows that those very same people, on both sides, are still believing their personally biased media outlet.
I take that to mean that these people either a) aren't honest with themselves, or b) aren't very bright.
To back up that I refer to this poll.

Donald Trump's presidency has been largely defined by what he calls "fake news," but a new poll suggests Americans just can't tell the difference between fact and opinion when reading journalism.

Findings show that only a quarter of adult Americans could correctly distinguish between a factual statement and an opinionated point of view. The survey, conducted by the Pew Research Center, tested over 5,000 people. It presented them with five facts and five opinions and asked them to identify which was which. Only 26 percent were able to correctly identify all 10 statements.

Some people fared much better than others, including those with high political awareness or those who are good at navigating digital content. But for the most part, statements the participants agreed with were labeled as true and statements that they disagreed with were labeled as false or opinionated.

The issue is a bipartisan one, the study found, as both Republicans and Democrats tended to be swayed by party politics and were more likely to believe something to be accurate if it lined up with their diplomatic ideology.
In other words, fake news = something I disagree with.
And the "truth" = something that reinforces my prejudices.
Of course, this carries over from the news to real life.

A 1999 Gallup poll found that 18% of Americans believed that the sun revolves around the Earth, while a 1997 Gallup poll found that 4% of Americans still believed that Elvis Presley was alive, 20 years after his death. Many of them, no doubt, also believe the news is fake.

A recent Pew Research Center poll found that 34% of Americans reject evolution entirely, saying that humans and every other animal on Earth today existed in their present forms since the beginning of time – meaning that dinosaurs and dachshunds once cohabitated the planet at the same time.

A 2001 Gallup poll found that 50% of Americans believed in ESP; that 41% believed that people are sometimes possessed by the devil, 38% believed in ghosts, 36% believed in telepathy, 33% believed that extraterrestrial beings have visited Earth, 32% believed in clairvoyance, 28% believed in astrology and that 26% believed there are witches among us.
So maybe before you hear the term "fake news", find out what that person thinks is "real" first.