Something Old, Something New, Something Borrowed, Something Blue
Submitted by

Cant Stop the M...

on Wed, 05/16/2018 - 5:16am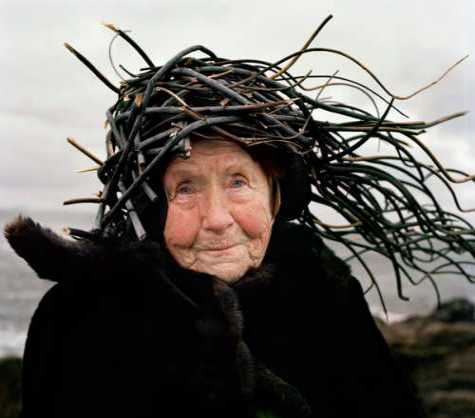 The first black-and-white ball happened on Nov 28, 1966, and was invented (and hosted) by Truman Capote: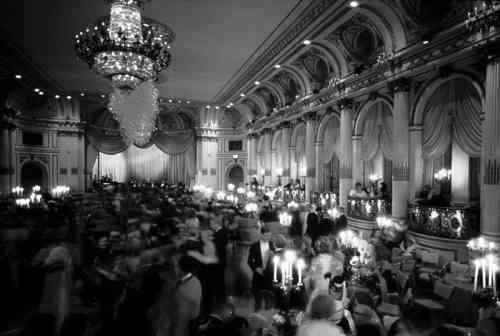 Capote was enjoying an apex of fame and social success after the January release of In Cold Blood, his true crime story of two drifters who killed a Kansas family. (Although I admire the diligent research and undeniable skill of the author, it's still beyond me why In Cold Blood made such an enormous splash. Perhaps no-one had written a true crime book before?)
On the social scene, Capote's temperature, already sizzling past the boiling point, now blazed with the white heat of a supernova. New York's literary-minded hostesses, thrilled that their saucy pet (a lapdog nicknamed, alternately, Tru Heart and Tru Love) had pulled off not just the greatest critical success in recent memory but also a major commercial coup, vied more strenuously than ever for his presence at their tables.

You see what I mean? It's a little amazing to imagine high-society New York hostesses clamoring to have the author of a novel about a mass murder at their social events. But so it was. Even more incongruous to me is the fact that the Kansas police detective who cracked the In Cold Blood case was similarly sought after!
As much of a draw as Capote at the book-launch celebrations was Alvin Dewey, of the Kansas Bureau of Investigation—the local detective who had been instrumental in cracking the Clutter case—in town to help the best-selling author savor his triumph. Dewey made an appearance at the home of Elsie Woodward, the formidable society matron on whom Dominick Dunne modeled his senior Mrs. Grenville.

At what other time would a Kansas police detective named Alvin Dewey be invited to the revels of the Manhattan elite?
With remarkable social acuity (he said himself he was a better publicist than an author), Capote, understanding that such a rise was usually paired with a subsequent decline, came up with an idea to keep his social capital high: throwing a very special party.
In June he evolved a plan guaranteed to refuel the In Cold Blood engine. He was in no shape to start another major book—his nearly six years working on the story had, he said, "scraped me right down to the marrow of my bones." Instead he decided to give a party...Sitting poolside in Bridgehampton, at the house of his mother's friend Eleanor Friede, Capote worked—with a concentration usually reserved for writing—entering (like one of God's angels) the names of the chosen into a 10-cent black-and-white composition book. When he had filled its ruled right-hand pages, he turned it upside down and continued the roster on the opposite sides. Periodically, he would review the list, deleting names as he inserted new ones into the ledger. "The party," Gerald Clarke notes, "was the product of a literary mind"—in this case, a manipulative instrument whose considerable might was applied to assembling a cast of characters and moving them about like so many chess pieces.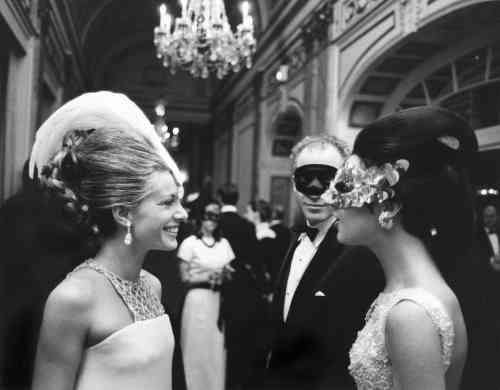 Of course, he let everyone know well ahead of time that he was giving a magnificent party, and was incredibly cagey about who was invited and who was not.
If Capote had yelled Fire! on opening night at the opera, the pandemonium among the Beautiful People that autumn could not have been more frenzied. Precipitating all the hysteria, says Peter Duchin, whose orchestra Capote hired for the party, was the simple truth that "if you weren't invited, you'd think you were nowhere."
People even made up lies about having to be out of the country on the day in question!
I believe it was the uncertainty over whether one was in or out, as much as Capote's fame, that created the incredible social importance of the party. Others think it was the exclusion of many of the rich, beautiful and desirable people that added to the attraction of the party:
"There was a slight note of insanity about the party," Katharine Graham concedes. "There is just no rational reason why the whole situation escalated." No rational reason, perhaps, but certainly some irrational ones. Former Condé Nast editorial director Alexander Liberman suggests, "When you think of all the people in New York, there were a tremendous number of exclusions. It titillated a lot of people." As the aristocratic Parisian host Étienne de Beaumont purportedly remarked, "A party is never given for someone. It is given against someone."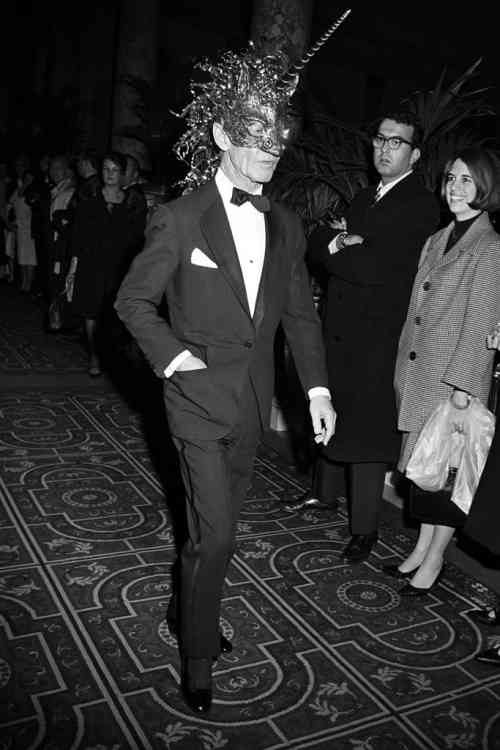 However, this event was not merely a triumph of self-promotion--though of course it was primarily that. Capote made two innovations--one aesthetic and one social. The aesthetic innovation was requiring his guests to wear only black and white:
This decision, he felt, would bring at least visual unity to a convocation of people as different, says former Harper's Bazaar fashion editor D. D. Ryan, "as chalk and cheese." Capote explained, "I want the party to be united the way you make a painting." "I haven't been to a masked ball since I was a child," he said. "That's why I wanted to give one." The masks, according to his scenario, would free guests to dance and mingle as they pleased. At midnight the disguises would be removed.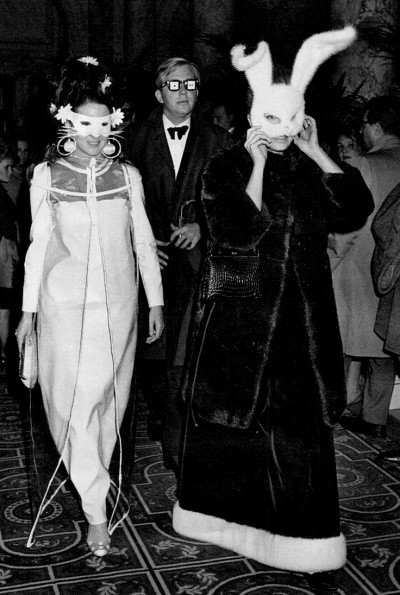 The social innovation was that this was the first notable occasion on which several social worlds were deliberately set to collide. Capote combined at his party the elites of several different worlds:
What gave the Black and White brew its intoxicating piquancy was the fact that he had flung together, in a gilt-edged melting pot, the most alluring power brokers in the worlds of high society, politics, the arts, and Hollywood—disconnected universes that collided, if not for the first time that evening, then at least with unprecedented force.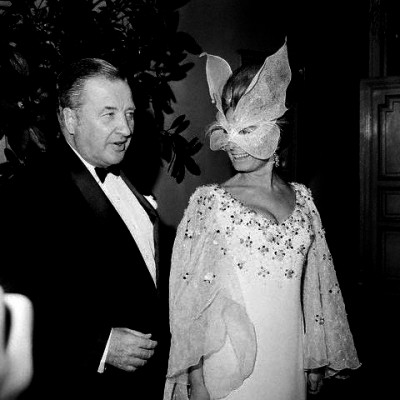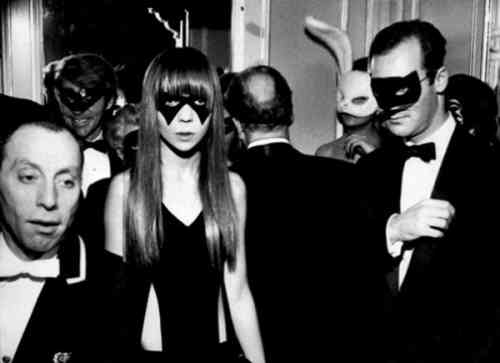 Capote not only excluded many people who would ordinarily attend such galas; he also included people who almost never would:
But by no means did Capote forget about the more obscure company he kept. Eleven of the gentry of Garden City, Kansas—a country doctor, a banker, a broadcaster, as well as the Deweys, Judge Tate's widow, and a farmer named Odd Williams—strengthened the texture of the bouillabaisse. He also welcomed Katharine Graham's secretary Elizabeth Hylton; family members of his lover of 18 years, writer and ex-dancer Jack Dunphy; one of his former schoolteachers; and a doorman from the U.N. Plaza. Says photographer Gordon Parks—who claims he was, along with Ralph and Fanny Ellison, "the Black of the Black and White Ball"—Truman was "very democratic. He used to say everybody goes to the bathroom for the same thing."

While I'm not a big fan of high society or Truman Capote, I'm intrigued by artists working in unusual mediums, and creating a social event as art strikes me as noteworthy. So does the mixing of worlds, though I think Capote could have been far more radical in that regard. Still, I suppose he did have to stick with those he knew.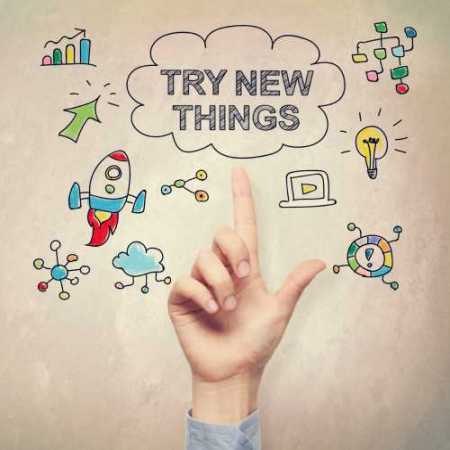 Someone is making a biopic about Ursula LeGuin. To say LeGuin is one of my favorite authors is a wrung-out-teabag-in-lukewarm-water phrase that does not convey her impact on my life. Like many of the best artists whose work we embrace, her voice has become a part of my internal landscape, and some of her best quotes operate as guideposts to my vagrant mind.
Because she is so important to me, it's perhaps understandable that my first reaction to the news of this biopic was mild dread. I truly hope these people do not fuck it up.
At least the director, Arwen Curry, seems to have taken her topic seriously; apparently she became a journalism student purely for the opportunity to interview LeGuin so she could make a movie about her life!
the desire to create a film about Le Guin's life prompted [Curry] to get a degree in journalism to enter the field, and spent years interviewing the late author to examine her life and career.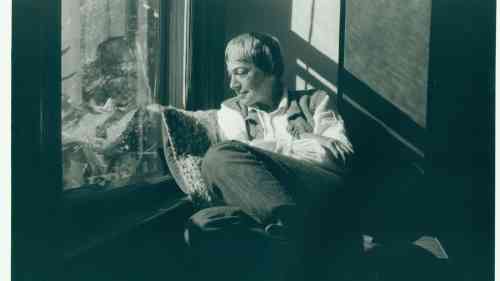 Curry kickstarted the film, Worlds of Ursula LeGuin, in 2016.
Here's the trailer, which replaces my mild dread with mild hope:
I am struck by the fact that one of the speakers in this trailer used almost my exact words about LeGuin: it is amazing to find a writer who can give you something at ten years old and then, when you're forty-five, still gives you something new, and sticks with you all the years in between.
Most of us will not see this movie until 2019, when it will be on PBS. Those of you who can and do go to film festivals might see it sooner.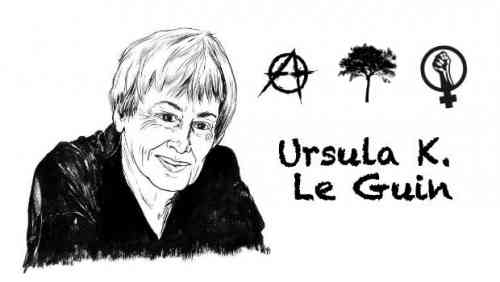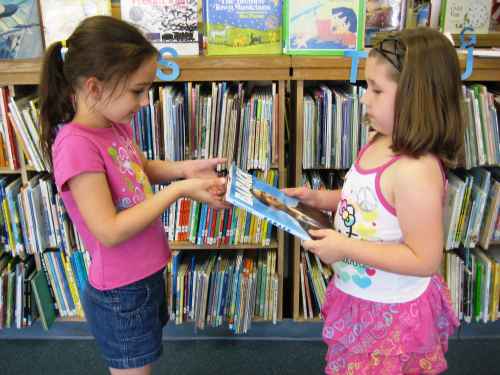 Apparently Assyrian and Sumerian merchants invented the practice of making loans.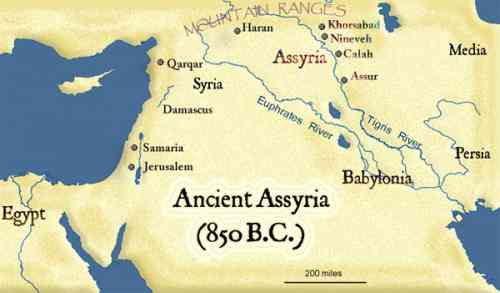 They made loans of grain to farmers and traders who transported goods between cities:
Oh, how I wish I could go back in time and tell them not to.
But probably the Medicis would have invented banking later, anyway:
Actually, they weren't alone, or even first among Italian noble families to get into finance: the Bardis and Peruzzis were in banking first.
My Something Blue today is the Blue Ridge Parkway, which travels through mountains very dear to my heart. In this case age and beauty go hand in hand, as our eastern mountain chain is among the oldest in the world, and is certainly one of the most beautiful: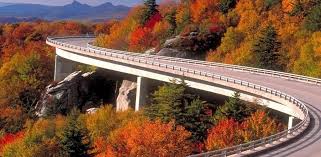 For obvious reasons, people seem to like the parkway best in the fall, but I love it in summer too: