Why people aren't watching NFL games: Capitalism
Submitted by

gjohnsit

on Sat, 03/17/2018 - 3:05pm
NFL fans are turning off their TV's and not buying tickets.
Why? Because football players dared to take a knee during the national anthem.

A Rasmussen Reports national survey of 1,000 adults in 2016 found that most viewers were declining to watch football games because of player protests over racial issues.
It found that nearly one-third (32 percent) of adults said they are less likely to watch an NFL game because of the growing number of Black Lives Matter protests by players on the field, against 13 percent who said they are more likely to watch a game because of the protests.
Many of the viewers who opted to stop watching NFL games are black, according to the survey.
[sound of wheels screeching]
Blacks are upset that blacks are protesting the treatment of blacks?
That makes no sense, and when something doesn't make sense I look for other explanations.
There is no doubt that attendance and viewership is way down.
Second half kickoff pic.twitter.com/sEQgbtfJIq

— Ann Killion (@annkillion) September 10, 2017
Los Angeles has football fever and they have it BAD pic.twitter.com/nvQOg1kp6l

— Clemzingis (@TheClemReport) September 10, 2017
@tomleykis LA continuing to be pumped about football back here. #Chargers can't even fans to show up to a 27,000 seat high school stadium! pic.twitter.com/gPiqsQ3frp

— Ray Lismon (@Raybeno11) September 17, 2017
So what other reasons could explain this huge drop?
Well, there was a big change in the NFL before the start of last season that hardly gets talked about - two of the teams, the St. Louis Rams and San Diego Chargers, abandoned their fans and moved to L.A.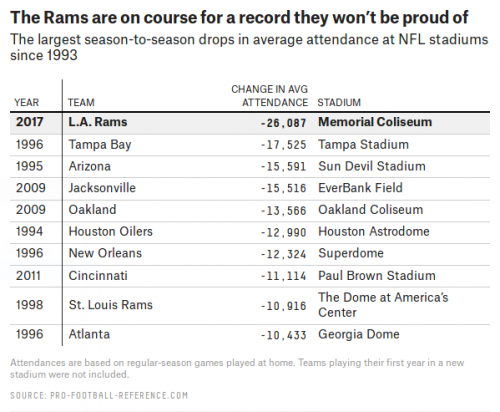 Let's look at how this went over with the fans, starting with the Rams.

ast Sunday the viewership level was higher in St. Louis than LA, according to Nielsen — which tabulates ratings. It says that 7.8 percent of homes with a TV in the Los Angeles market tuned in to see the Rams beat the Cardinals. The figure in St. Louis was 10.9.
The Gateway City had a better rating than LA for a Rams game for the second year in a row.
...This is another astounding development in the TV ratings business, especially considering St. Louis was categorized by Rams ownership of lacking support for the team.
That's an embarrassing development for the Rams, but for the Chargers the results have been so catastrophic that it defies any one measurement.
Wow Chargers booed taking their own field#PHIvsLAC #FlyEaglesFly pic.twitter.com/5HINAD214Y

— Jeff Skversky 6abc (@JeffSkversky) October 1, 2017
The St. Louis Post-Dispatch acquired the ratings in Los Angeles for the two teams and found that the Chargers averaged a 6.0 rating in their first season playing in Carson, while the Rams averaged 8.0 in their second year at the Los Angeles Coliseum.
What makes those numbers stand out is that — combined — they are lower than the 14.2 rating the Chargers got for their telecasts in 2017 in San Diego — the city they spurned.
As the Union-Tribune reported this week, the Chargers' five-year average from 2012-16 was 26.7, including 24.4 in 2016 when many angry fans already had begun to tune them out. Dating back to 1999, the Chargers' lowest season average in San Diego was 17.9 for their 1-15 season in 2000. That was the only time in that span where the average was below 20.
As the Post-Dispatch pointed out, the ratings could be historically low for teams in their home markets. From 2011-14, the lowest rating for any team was a 9.9 in 2012 for the Oakland Raiders.
Put another way, viewership of Chargers games in San Diego dropped 40% after they told their fans that they don't matter, and yet that viewership in San Diego was still more than twice as high than L.A. viewership.
Attendance was equally dismal. The Chargers had trouble selling out the team's temporary home, a Major League Soccer venue, the StubHub Center, with a capacity of just 27,167, after usually selling out their 71,000 seat former home in San Diego.
The attendance problems are so bad that they require first-person testimony.

Their games feel less like a sporting event and more like a meetup of all the people who knew the Chargers had moved to Los Angeles. Few things seem impermanent as they happen, but the Chargers playing three seasons in a 27,000-seat soccer stadium is destined for a "Today I Learned" thread on Reddit two decades from now.
..This is more of a misadventure, an earnest idea quickly gone south. Norman Mailer described Los Angeles as a "constellation of plastic"—meaning, everything is manufactured. That gets less true as the city as a whole grows, but in this very specific case of a football team, there's not much of an argument.
Per highly credible NFL source: "Spanos family shocked about lack of Charger fans at stub-hub and game not being sold-out."

— Mike Costa (@costa1360) August 14, 2017
So at this point, why aren't the Chargers ownership begging forgiveness to San Diego fans and moving back just as fast as they can?
For a simple reason: the move made the Chargers owners very rich.

Dr. Jim Lackritz, the head of the Sports Business Department at San Diego State University, told FOX 5 that the value of the San Diego Chargers was about $1.5 billion. By moving north, the team became worth about $3 billion. Taking into account the costs of the move, Spanos still will make a $1 billion profit from the move, Lackritz said.
A billion dollars is nothing to sneeze at, but it begs the question of how capitalism values these franchises.
How is it possible for the value of a team to double while it loses most of its fans?
That seems counter-intuitive.

By swapping human fans in San Diego for profitable empty seats in Los Angeles, the Chargers have become a case study in whether a professional sports team can survive without fans.
Beyond that, the fans who have shown up to these games have done so largely to support the teams that the Chargers are playing.
...This is the Chargers' new reality: road games in front of hostile crowds, and home games in front of smaller hostile crowds.
It's not just that nobody is going to Chargers games. Nobody cares at all.
And that turns the economics of professional sports on its head.
The fans don't matter at all.
It's not just a case of building up a new fan base after disrespecting the last fan base.
It's not caring if anyone shows up for the games because capitalism is rewarding the owners for making disastrous decisions, and putting out a bad product that people don't want.
How's that for the "market's invisible hand"?

The NFL has developed a world in which the presence of fans at a game is only loosely linked to profit.
...We've long presumed that fans are the lifeblood of a team. But fans can be pesky, yelling, booing, and calling into radio shows to demand changes that team owners don't want to make. If a franchise proves profitable without having a sizable fan base, it'd represent a way for owners to cash in without dealing with the endearingly human problems that fans frequently cause.

And so the Chargers are the NFL's post-fan experiment.
The Chargers are only the first post-fan team.
The Raiders will be the second.
Which brings us to the NFL's 9% drop in viewership.
We could attribute that to the ownership of two teams making catastrophic decisions to alienate their fan bases so that they could make a quick buck, thus exposing the flaws in our capitalist model.
Or we could blame the players for their silent, dignifies protest.
Which do you think the news media latched onto?