Today's violent correction in the stock market
Submitted by gjohnsit on Mon, 02/05/2018 - 2:49pm
Before today the single worst day in Wall Street history was September 29, 2008, when the Dow fell 777 points. (note: percentage-wise the worst day was the 500 point 1987 crash)
Now look at today's headlines.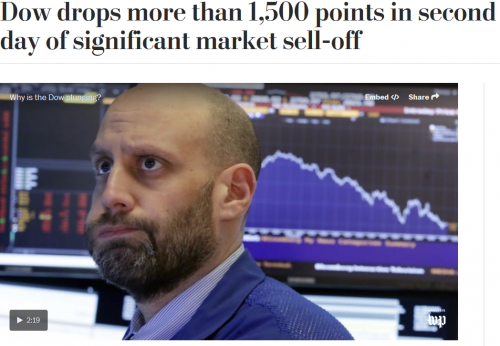 This comes after the 666 point drop on Friday.
A diversified portfolio wasn't going to help you today.

All of the 2018 gains have been erased in the last few days.
These are huge, massive numbers, but I'm not all that excited because the stock market will still be up by huge, massive numbers after today.
Violent corrections tend to happen when all the bears have been chased out of the market, and no one is left but bulls.
That being said, there is still a reason to be worried.
That reason for worry is because we are on the back side of the credit cycle, and rising interest rates are historically the reason for bear markets in stocks.

The Fed's plan, as announced in September, is to shrink the balances of Treasuries and MBS by up to $10 billion per month in October, November, and December 2017, then to accelerate the pace every three months. In January, February, and March 2018, the unwind would be capped at $20 billion a month; in Q2, at $30 billion a month; in Q3, at $40 billion a month; and starting in Q4, at $50 billion a month.
According to this plan, balances of Treasuries and MBS will shrink by $420 billion in 2018, by an additional $600 billion in 2019, and by an additional $600 billion every year going forward until the Fed deems the level of its holdings "normal."

The Fed is shrinking it's balance sheet, while at the same time China has started selling it's dollar-based debt.
To think that this wouldn't have a negative effect on the markets would have been insane.
All that selling will dry up liquidity from every market. Plus, the ECB tapering means less buying from Europe and a falling dollar.
We probably won't see a crash, but we will almost surely be looking at a major bear market starting.