Thursday Open Thread 1-25-2018
Submitted by studentofearth on Thu, 01/25/2018 - 5:28am

To buy a loaf of bread in the 1970's and 80's took about 10 minutes for someone making the federal minimum wage. By 2010 it was taking nearly 24 minutes.
Been reviewing Dollar street project highlighted in a diary by SnappleBC this week. Looking at similarities of families food choices and storage options by income groups.
Tables of food in different countries and income levels. Use the menu on the right of the screen to review meat, vegetables, spices, gains and plates of food.

Similarities between income groupings.
Poorest homes
The poorest households usually don't have enough food at home1. The food they keep is high in carbohydrates, but low in protein, healthy fats, and vitamins. A typical low income staple diet contains energy and sustenance for labor intensive work, but lacks nutrients for long term health.
...
Low to Middle income homes
Families in low to middle income groups have a more diverse set of ingredients than the poorest households. The food reflects the availability of local arable and agricultural farming or fishery supplies, with fish from local rivers and coastlines or meat from nearby pastoral farmers. In this income group, some limited goods from the commercial food industry also reaches family's plates. Low to middle income families are not usually able to afford fridges and freezers
...
Mid to high income homes
In this income group, families have a disposable income to spend on shop bought meals. They can buy processed products like frozen pizzas, packaged desserts or fizzy drinks. For these families, the climate and agricultural environment that they live in do not restrict their food choices. Rather, they are influenced by the commercial food industry through advertising, package branding and by adding fats and sugars to their products to make them taste more desirable.
No matter what income level I have been at during my life food has always been a pleasure. Good cooking skills are more important that the quality of the equipment. Any place in the world can be partially experienced without traveling by making their local dishes.
Three skill levels of a good cooking.
1) Cook with great ingredients and not ruin them. (Spent a long time at this level, why I raise and preserve my own food))
2} Able to use mediocre ingredients and create a great tasting dish.
3) Consistently create an enjoyably dish with different quality ingredients and equipment. Have taught the nose, hand, ear and taste buds how to evaluate each stage of a dish.
An Impossible Pie is a favorite do ahead dish in my household. Usually served with a fresh vegetable salad or home canned fruit. If the week is busy might make a couple for an easy heat up lunch or dinner. The variations are endless and easy to adjust for food sensitivities. Use different flours, meats, cheeses, vegetables and fruits.
Basic Impossible Pie Recipe
3 to 4 cups filling layered in greased 10 inch pie pan or oven proof skillet
0-2 cups cooked meat
0-4 cups mixture of vegetables - fresh, frozen (thawed)or sauted
0-2 cheese (chedder, swiss) opt place on top after batter added
blend batter ingredients and pour over filling
3/4 cup biscuit mix
2/3 cup flour (rice; 50:50 rice/rye, corn, buckwheat or wheat)
1 tsp baking powder
2 T shortening or butter cut in
3 eggs
1 1/2 cup water or milk
Bake 400 degrees for 40 minutes, cool 5 minutes (muffin tray for 30 minutes)
The pie in the picture rice flour, canadian bacon (8 slices), swiss cheese (1 c) and frozen peas (1 1/2 c)
other favorite combos
10 oz sauted spinach or drained frozen, 1 C swiss, 1/2 tsp ground nutmeg (wheat flour or rice/rye)
1 lb ground meat and 1/2 C onion browned with 1 tsp cumin, oregano & 1/2 tsp parsley, paprika & 1/16 tsp cayenne pepper, 1 chedder cheese on top (corn or wheat flour)
2 - 3 fresh or canned pears, 1 cup swiss cheese (buckwheat flour)
Farm Report
Neighbor's mare was at the mail box looking for some attention.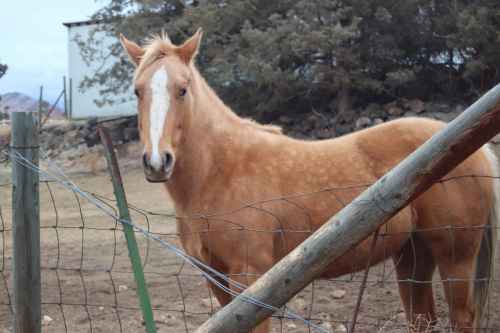 Rain clouds keep moving through without dropping moisture.