Sick Bastards Have to Go - It is Time for a Revolution
Submitted by

Big Al

on Sat, 09/23/2017 - 7:05pm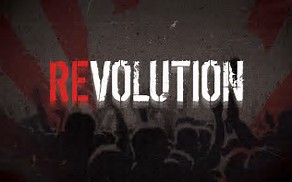 "All I know is that first you've got to get mad. (shouting) You've got to say: 'I'm a human being, god-dammit! My life has value!"
Howard Beale
Prior to Little Hands Dictator Trump's unbearably chickenshit speech at the United Fraud, the Wall Street, I said WALL STREET, Journal made a proposal to solve the North Korea manufactured "crisis".
Starve the people.
"The North is especially vulnerable to pressure this year because a severe drought from April to June reduced the early grain harvest by 30%. If the main harvest is also affected, Pyongyang may need to import more food while sanctions restrict its ability to earn foreign currency….

While the regime survived a severe famine in the 1990s, today the political consequences of a failed harvest would be severe. …. The army was once the most desirable career path; now soldiers are underpaid and underfed. North Koreans will not simply accept starvation as they did two decades ago.

Withholding food aid to bring down a government would normally be unethical, but North Korea is an exceptional case. Past aid proved to be a mistake as it perpetuated one of the most evil regimes in history. The U.N. says some 40% of the population is undernourished, even as the Kims continue to spend huge sums on weapons. Ending the North Korean state as quickly as possible is the most humane course."
https://www.wsj.com/articles/options-for-removing-kim-jong-un-1504556500
As geopolitical writer/analyst Mike Whitney put it,
"Humane"?  The WSJ editors think that depriving people of enough food to stay alive is humane?

And look how cheery they sound about the fact that "40% of the population is (already) undernourished", as if they're already halfway towards their goal. Hurrah for the US embargo, still inflicting misery on innocent people some 6 decades after the war!

It's sick!"
http://www.informationclearinghouse.info/47833.htm
He's damn right it's sick, way sick. These bastards in control of our countries and our fucking lives have effectively declared war on the rest of us, anyone who gets in their way to getting as much power and wealth as they can stuff in their greedy fucking heads.
Ya, we're going to vote our way out of this.
Or how about Venezuela:
"The United States is so determined to get their hands on Venezuela's oil, that with the latest sanctions Washington has threatened any country with dire consequences if they try to do any business with Venezuela, including selling them food and medicine.

In order to keep its economy somewhat stable due to its lack of US Dollars, Venezuela has had to resort to using short term loans to keep itself functioning—however, 4 weeks ago, the United States placed sanctions against them from being able to do any business by threatening any nation that would lend them money—and further ordering everyone in the world not to even pay the dividends they owed Venezuela.

With Venezuela having been prevented to receive payments with interest totaling more than $4 billion,  these new United States sanctions make this nation's economy recovery all but impossible now—and whose only achievable goal is to worsen shortages and inflict as much suffering on the Venezuelan people as possible.

With neighboring countries Colombia and Brazil's officials on CIA's payroll, the people of Venezuela are being starved to death as no country is permitted by Washington to bring food, medicine or any supplies."
http://macedoniaonline.eu/content/view/32560/53/
They're trying to starve (most) of the Venezuelan people to death also!
As Whitney put it:
"Who are these people who grow up in our midst, attend our schools and universities, live in the same neighborhoods , and go to the same churches? Where do these monsters come from?"
I've often wondered the same thing. Where were these people in high school, which ones were they, how did they manage to hide among us until it was time to show their true colors? Or did they show them back then but we just didn't notice? Or were they all in private schools?
Either way, they're here, they're there, they're everywhere and it's time to take them down.
I was asked yesterday about a comment I made referring to "taking them down", as to whether I meant "kill them" or what. I replied no, I didn't mean that, I meant removing all these bastards from power, i.e., a revolution. I've long thought a revolution in the 21st century with all the communication options and other means with which to get a lot of people together (see the trillion dollar Presidential elections which manage to get over 100 million people to vote) would not have to be violent. We really wouldn't have to dust off the guillotines and pitchforks, we could think and strategize our way to freedom.
But now I don't know, these people are really, really sick, cruel and will do anything to keep their wealth and power. They've been doing it for a long time and they obviously are not going to stop. None of this will stop unless the normal people, the common people, we the peasants, the serfs, the forgotten, the throwaway people, step up to the plate and stop the bastards. It's that fucking simple.
How? I don't know. We, those of us who want to stop them, have to organize, we have to agree on what we want and how to get it. We're humans, it's not that fucking complicated. The only answer is an international, global mass people's movement against plutocracy, oligarchy, rule by the rich, imperialism, and all the other bad shit that comes with being slaves to those with power.
If not, millions more people are going to starve, like in Iraq in the nineties, and like North Korea, Venezuela, Iraq, Somalia, Yemen, and Syria in the 21st century, and we'll be next. Everyone is next because they WILL NOT STOP.