You'll own nothing. They will own EVERYTHING!
Submitted by gjohnsit on Tue, 08/03/2021 - 3:33pm
No one doubts that there is a housing affordability crisis. The problem is the lack of solutions. At present the only solution that ever gets offered is 'build more houses'.
While that would help, no one ever bothers to mention that expanding supply in middle of an economic bubble usually doesn't work out well.
Other solutions such as changing the tax code, or even more dramatically, making housing a human right, are not even considered.
Think of it this way: when was the last time you heard someone celebrate rising food prices? Food is a basic need. You'll die without it. So why is rising housing prices a good thing when it will mean that thousands of families will become homeless and some of them will literally die from being homeless?
Putting it another way, we are in a crisis in which no one wants to change the status quo in a meaningful way.
The ruling elites don't even view the current housing crisis as a problem.
It's an opportunity. It's inevitable.
The boot-licking media has gotten their marching orders and have fallen into line.
If the sociopathic ruling elite like the current situation, then the media will spin it to be a good thing.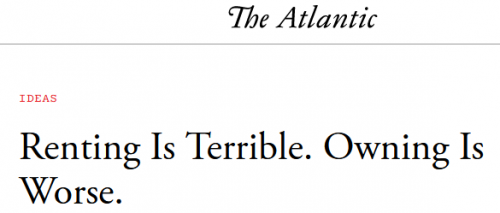 Some boot-licking sycophants are more shameless than others.
The criminal gangsters that run Wall Street and their cronies will tell you that they are trying to help us, even when all of the evidence shows otherwise.

According to a recent study by the Alliance for Californians for Community Empowerment Action (ACCE), which spoke to more than 100 residents of single-family rental homes, tenants of these companies "are negatively impacted, with large annual rent increases, fee gouging, a high rate of evictions, and rampant habitability issues."

A 2016 study by the Federal Reserve Bank of Atlanta found that large corporate owners of single-family rentals in Fulton County, Georgia, were 8 percent more likely than small landlords to file eviction notices...
Recent moves to standardize leases and increase maintenance costs have proven profitable. Waypoint's 2016 annual report cites a 51 percent increase, from $17 million to almost $26 million, in "other property income" like service charges, tenant chargebacks, late charges and early-termination charges. A former Waypoint CEO said failure to harvest the "low-hanging fruit" of ancillary revenues, such as fees, is "revenue leakage."

Now we are faced with millions of people being evicted and thrown out into the streets. And who is doing that? No, not Wall Street. They are the good guys.
Instead it's the Mom and Pop landlords that are doing the evicting, and are you really going to demonize the Mom and Pop landlord?
Except that once again, we are being fed the bait-and-switch.

Beset by COVID-19 and its fallout, local landlords are offloading their properties to cash-rich institutional investors, and America's real-estate market may never be the same...
Now the eviction ban is about to end - on Saturday. Yet thousands of local landlords have already quit the business...
Taking their place: institutional investors, broadly defined in the industry as firms owning more than 1,000 units.
...
About 23% of small landlords, owning between one and three single-family homes, planned to sell at least one property due to difficulties caused by the eviction ban, according to a February survey of 1,000 such owners by the National Rental Home Council, a Washington D.C.-based trade advocacy group.
There are millions of empty homes in this country, while children sleep on our streets.

The White House reports that as of 2019, over half a million Americans don't have a home to sleep in on any given night, while almost 17 million potential homes were standing empty. If the overall numbers of homeless citizens weren't shocking enough, between 2017 and 2019, there was an increase of over 34,000 unsheltered homeless people nationally - even before a global pandemic and expected recession.

All this, while the number of empty properties around the country has increased by over 1.1 million since 2010, leaving over 12% of all housing units in the US vacant as of the latest figures in 2018.
...
There are 59 empty properties for each homeless person in the US, an increase of 43% since 2010.
Since 2010, the number of empty properties per homeless person has increased 24%
The only shortage of homes are ones for sale. We've got a huge glut of empty homes.
So why is that? Simply, the wealthy ruling class has decided to return the economy to a rentier economy, like in the middle ages.
So let's look at a sampling of the actors involved. This is only a sampling.
We'll start with someone who is really easy to hate because he's measurably evil.

Billionaire Charles Koch's foundation has bankrolled three conservative legal groups leading the court battle to eliminate prohibitions against tenant evictions during the Covid-19 pandemic in America.

At the same time, Koch's corporate empire has suddenly stepped up its real estate purchases during the pandemic – including making large investments in real estate companies with a potential financial interest in eliminating eviction restrictions.
...
Last April, a month into the pandemic, Koch Real Estate Investments made a "$200m preferred-equity investment in Amherst Holdings LLC's single-family rental business", according to the corporate law firm Jones Day, which said it advised the Koch Industries subsidiary on the deal. Amherst says that since 2012, "its affiliated funds have acquired and operated more than 30,000 homes".

Starting last May, Koch Real Estate Investments began a financial relationship with Ladder Capital Corp., culminating in a $32m equity investment in December. Ladder finances residential real estate, and the Wall Street Journal recently reported that its subsidiaries' loans to Donald Trump have been scrutinized by prosecutors.
Just so we're clear: This country has intentionally chosen to see it's children homeless, rather than claw back just a tiny fraction of the profits of the ruling elites.
That really pisses me off.