What Have You Learned, Dorothy?
Submitted by

hecate

on Sat, 10/20/2018 - 2:37am
From The Wizard of Oz, I have learned many things. Like: Kansas is a yeehaw preserve. Goobers row boats in tornadoes. When you first meet someone, you should sing them a song. Scarecrows are basically crucified. If you stand in the rain, you will rust. Lions have thick Brooklyn accents. Monkeys look stupid in clothes. Trees are filled with Hate and Violence. Bad witches ride brooms, good witches float in bubbles, wizards prefer hot-air balloons. Poppies put you to sleep. Border agents are bipolar: first they blither and blather, then they Cry. Water is a weapon of black mass destruction. Rat dogs smoke out humbug. Ruby slippers are Necessary. Etc.
But I have always, and to this day, been utterly buggered, as to what in the sam hill Dorothy is on about, with her big climactic wisdom-pearl. Which comes when the woman who rides around in the bubble, and speaking with that annoying smugness that is so often the way of oracles, tells Dorothy that, through all the tsuris she has recently endured, she actually possessed the power, all along, to return to Kansas. As if anyone would want to. It's just that Dorothy, she had to learn this for herself. Because if anybody had tried to tell her, she wouldn't have believed it. The Straw Man then asks: "What have you learned, Dorothy?" To which Dorothy replies:
"Well, I think that it wasn't enough just to want to see Uncle Henry and Auntie Em. And it's that if I ever go looking for my heart's desire again, I won't look any further than my own backyard. Because if it isn't there, I never really lost it to begin with."
"Is that right?" Dorothy asks the bubbler.
"That's all it is," bubblingly returns she.
Yes, fine—but what does that even mean?
Are we really supposed to cabin our heart's desire to just our own backyard? What if the backyard is but a scotch-broom forest over a septic tank? What if we live in a BF Skinner experiment, twenty stories up, and don't even have a backyard, just a bunch of foul city air? What if the backyard is a pallet of damp cardboard under a railroad bridge, with Steve Bannon sitting around the Sterno can, plucking the one-string banjo and moaning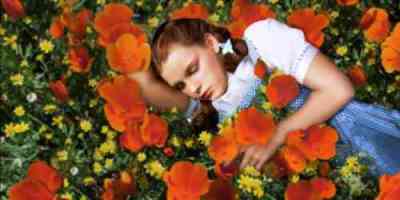 songs about the globalists? Is that, truly, all that is allowed to be?
No. Say it ain't so, Dorothy.
For many years, I kept my mystification to myself, figuring there must be meaning evident in Dorothy's big speech so blindingly obvious that everyone got it but me: I simply suffered from some brain hole. But no. For once I did begin to inquire of others, if they could make sense of this Dorothy word-cluster, I discovered that no one, had any clue, at all.
And these were people, with many brain folds. University professors, draped in degrees, all of them got an "F," on this question. Jesuits, they pronounced it more baffling, even than theodicy. Physicists, they said they would rather any day grapple with quarks and strings and gluons, than Dorothy and her brain-numbing backyard quanta.
Then, desperate, I asked a new human—for whom, after all, the film was made. And was told by the tyke: "It means you shouldn't run away from home."
Yes! Yea, verily—and a child shall lead them!
But this answer raises its own unsettling questions. Because Dorothy only fled the hog-wallow of home when the Gulch woman arrived to imprison her dog in a basket—for alleged crimes against flowers and cats—cycling off to needle the beast at the dog-knackers.
So does this mean that when the witch-women of Animal Control arrive to arrest our animals, we are just supposed to take it? I think not! Any of us, I believe, we would gather up our hounds and our horses, our fish and our fowl, our lemurs and zebras and wildebeest, and head for the hills, hoping therein to find, like Dorothy, some kindly quack with a snake-oil wagon, who will let us marry our fortunes together, until we get conked on the head by a house, and wake up in a place that is, like, real pretty, if decidedly Weird.
It is simply Wrong, that this film concludes in a fashion more obscure than the chickens dancing out the end of Stroszek. Or the Richard version of Dale Cooper, standing baffled in the street, wondering what year it is, while the Carrie variant of Laura Palmer, she screams the lights out in the Jowday house, thereby closing the door to Twin Peaks: The Return.
As always, when attempting to penetrate this Wizard mystery, my head, it is hurting. And so I am going to find some poppies. And lie down with them. And there sleep. Maybe the answer. Will there come.