The Weekly Watch
Submitted by

Lookout

on Sun, 07/15/2018 - 7:28am
A Judgemental Case or...
A Mental Case Judge?
Have no doubt, the courts are being stacked with corporate elitists...not just in the US but around the world. There's no better illustration than the ongoing saga in Brazil. First while the Olympics were in Brazil the courts illegally oust Dilma as President and install Temer who failed to be elected several times. This summer past-President Lula is leading the polls, so he's sent to prison on trumped up charges...not given his constitutional rights. In Poland they are removing 27 judges from their Supreme Court. Around the world courts have been complicit with coups. Honduras comes to mind.
Let's start with the absurdity of of Brasil's court system...in video or text
https://therealnews.com/stories/the-near-release-of-brazils-lula
MARK WEISBROT: I think the U.S. has contributed in so many ways it would take an hour at least to summarize just some of this history. But I think the U.S. has been involved in, in most of these countries in various ways. Obviously in Venezuela they've been involved since the coup in 2002, and they tried to overthrow the government and tried to help people topple the government on several occasions there. In Brazil they supported the coup against Dilma, the parliamentary coup. So they didn't do that strongly, but they sent enough signals, for example, I've mentioned this before on this show, right as the House was voting to impeach Dilma without actually presenting a crime that she committed, the head of the Foreign Relations Committee from the Senate came and met with the number three official from the U.S. State Department, Tom Shannon. And then of course in August of that year, the Secretary of State John Kerry went down there and had a press conference with the Acting Foreign Minister Jose Serra. And they, of course, talked about how great relations with the U.S. were going to be before Dilma was actually removed from office. So these were ways of endorsing the coup.

And of course, Now, what they did in that investigation we don't know exactly, but we do know enough about it to know that it wasn't a neutral investigation. That is, the investigation did end up decapitating the Workers' Party for now, first helping get rid of Dilma, but more importantly, or more substantially, in terms of its contribution, they they helped put Lula in prison and prevent him from running for office.
https://therealnews.com/stories/us-interventions-in-latin-america-contin...
We forget Honduras and our support of a coup under democraps
https://www.youtube.com/watch?v=U6mi2WaImVI (3 min) and now recognition of a flawed election by the rethuglicans https://www.youtube.com/watch?v=rRahX06hA0E (2.5 min)
https://therealnews.com/stories/honduras-the-never-ending-coup (video or test)
It is a never ending coup against any country daring to try to help their people rather than the corporations.
The Union of South American Nations – UNASUR – was an ambitious project to integrate South America not just on economic terms, but also on political and social terms, but the rightward drift in Latin America is leading to its dissolution, with the unfortunate help of Ecuador's government, where its headquarters are, says former foreign minister Guillaume Long (video or text)
https://therealnews.com/stories/rightward-shift-in-latin-america-spellin...
Venezuela and Iran policies seem similar...focused on regime change.
The Trump administration imposed sanctions on both Iran and on Venezuela, which are both aimed at regime change, but in the case of Iran media and other countries are resisting them, while in Venezuela's case they are not being questioned,
https://therealnews.com/stories/us-sanctions-on-iran-and-venezuela-illeg...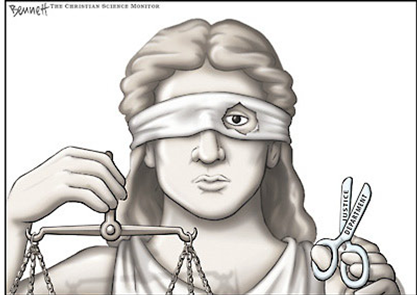 The Courts around the world provide legitimacy to the the oiligarchs. Justice has an eye out for them.
In Poland there are direct protests about the court
Mass protests have been taking place in front of the Supreme Court in Warsaw, Poland. The former president, Lech Walesa, who is known for his leadership in the Solidarity Party that led to the liberation of Poland from the Soviet Union in the '80s, and then for abandoning the labor struggles of working class in favor of neoliberalism, is a part of these protests, and is calling for civil disobedience.
https://therealnews.com/stories/polish-government-purges-judiciary-to-en...
If all goes as PiS leaders have planned, about 40 percent of the country's judges will be forced out of office. They will be replaced by people loyal to the government and subject to dismissal at any time. PiS couched its takeover in the form of an order lowering judges' retirement age. Every judge over age 65 will now be dismissed except for those who are approved for continued service by the current regime. This amounts to a political takeover of the independent Polish judiciary.
https://www.econotimes.com/Polands-judicial-purge-another-step-toward-au...
Here's a one minute cartoon about the Trump court.
https://www.truthdig.com/cartoons/the-supreme-court-gets-trumpier-video/
Trump's nominee, Kavanaugh has ruled in favor of the US government in cases he has heard which gave him the opportunity to expand its war powers.
https://preview.wsws.org/en/articles/2018/07/14/kava-j14.html
Kavanaugh's appellate court decisions and public comments suggest that he will accelerate the trend toward a political system dominated by wealthy elites — often operating in the shadows, without any form of disclosure.
https://theintercept.com/2018/07/12/brett-kavanaugh-supreme-court-donor-...
Looks like red state dims will cave and this elitist war monger will become a supreme court justice...
http://www.foxnews.com/politics/2018/07/14/swing-vote-senators-signal-po...
...despite Feinstein and the Faux resistance
https://www.politico.com/story/2018/07/14/kavanaugh-supreme-court-dianne...
I guess she has to do something progressive...Dianne Feinstein lost the California Democratic Party's endorsement in a stunning vote Saturday night at the party's executive board meeting in Oakland. https://theintercept.com/2018/07/15/kevin-de-leon-stuns-dianne-feinstein...
Speaking of the dims...Obama and his officials are living large
https://www.truthdig.com/articles/obama-officials-are-living-large-in-tr...
The US and Canada have quite different approaches to court appointments
https://www.youtube.com/watch?v=V7ZohlgqT1g (9 min)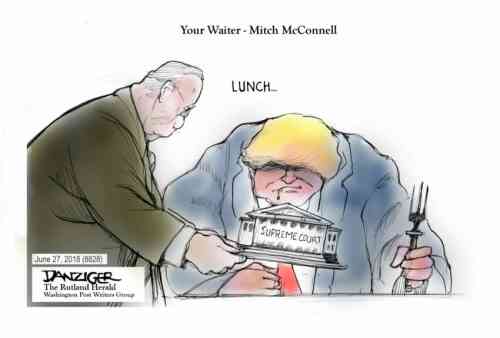 Definition of trumpery
a : worthless nonsense
b : trivial or useless articles : junk
The other big story this week has been Trumps visit to Europe...
With Trump, it is always about money, and he wants more from NATO countries
https://southafricatoday.net/world-news/europe/its-all-about-money-analy...
William Hartung and Aaron Mate discuss the story (video or text)
https://therealnews.com/stories/trumps-real-nato-agenda-more-money-for-war
NATO to keep on keeping on in the Afghan forever war....
http://www.thekabultimes.gov.af/2018/07/14/nato-allies-continued-coopera...
And now an ad provided by the forever war machine (2.5 min)
Trump is consistently inconsistent. On day one of the summit he threatened to pull the US out of NATO over the diminutive defense expenditure of other alliance members. On day two he stated that the United States' commitment to the alliance remains "very strong".
http://econintersect.com/pages/contributors/contributor.php?post=2018071...
As usual Trump doesn't let facts interfere with his rhetoric
TRUMP: "I didn't criticize the prime minister." - news conference Friday with British Prime Minister Theresa May.
THE FACTS: He criticized her.
https://www.washingtontimes.com/news/2018/jul/14/ap-fact-check-trumps-eu...
https://www.opb.org/news/article/npr-fact-check-trumps-claims-on-nato-sp...
The meeting with Putin may be focused on Iran (or perhaps Trump's Moscow hotel he wants to build). Days after Netanyahu's visit to Moscow, Trump will meet with Putin in Helsinki. But despite talk of a "grand bargain" that enlists Russia in helping the US-Israel-Saudi-UAE front against Iran, don't expect it to happen, says professor and syndicated columnist Rami Khouri (video or text)
https://therealnews.com/stories/can-trump-israel-and-gulf-allies-get-put...
One thing is for sure, the US, Israel and Saudi Arabia are fomenting a war with Iran. (video or text) https://therealnews.com/stories/new-u-s-sanctions-fuel-protests-and-econ...
The best way to understand Russia is to get to know some Russians. Paul Jay has begun a series of conversations with Aleksandr Buzgalin. He is a Professor of Political Economy at Moscow State University. He is also editor of the independent democratic left magazine Alternatives, and is a coordinator of the Russian social movement Alternatives, author of more then 20 books and hundreds of articles, translated into English, German and many other languages. (video or text)
https://therealnews.com/series/reality-asserts-itself-alexander-buzgalin
An anonymous member analyses the indictment of the 12 Russian intelligence officers
https://www.youtube.com/watch?v=6XmHlP5gB2g (10 min)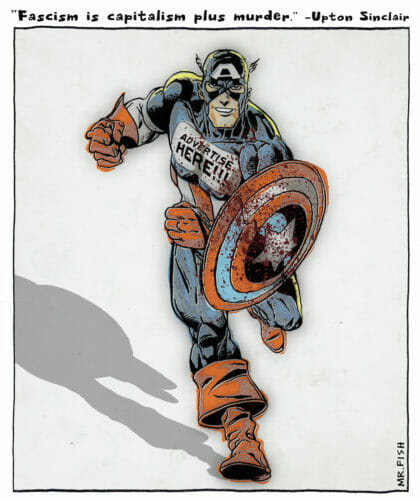 All three branches of the US government are broken, and there seems little hope for reformation. We are a failed state. All I can offer is a walk in the woods (or nature for those in a different ecosystem) to keep us sane. http://www.yesmagazine.org/happiness/if-meditation-is-not-your-thing-try...
By way of a conclusion let me leave you with this 16 minute speech by Chris Hedges. I hope you find it meaningful and hopeful.
I look forward to your stories, comments, and ideas below.