The Weekly Watch
Submitted by

Lookout

on Sun, 05/13/2018 - 6:00am
Can We Escape the War Economy?
Yes, but we would have to want to change. This week we see a chance for peace on the Korean peninsula, so quick start a war with Iran and boost the market! The irony that Iran is the terrorist nation as Israel bombs them ...while Israel shoots children and journalists for marching against the conditions of their open air interment camp. Then consider the repressive kingdom of Saud and the horrors of the US-Saudi war in Yemen. But Iran is the terrorist nation? Looks like our allies are the biggest terrorists in the region to me. This echoes Iraq's WMD. We're gonna have our war like it or not. What citizens want no longer plays a role in our faux democracy. The oligarchs will have their way. Is it possible to escape this insanity? It would take a new system. This week let's look and listen to some forward thinking economists and consider other approaches as we look at the weeks events.
Jimmy Dore had some great interviews this week. I was really impressed with the out of the box thinking and proposals of Peter Joseph, best known for the Zeitgeist film series, and founder of the related The Zeitgeist Movement.
https://www.youtube.com/watch?v=TgIbNIElE20 (16 min on a new human rights movement)
https://www.youtube.com/watch?v=TnouYE_8-zM (15 min on our current situation)
https://www.youtube.com/watch?v=kVPHDgbsAlw (18 min unwinding neoliberalism)
https://www.youtube.com/watch?v=NbPPWMlxBRU (17 min on creating a better system)
https://www.youtube.com/watch?v=I34BEknDijs (8 min dealing with inequality)
Jimmy hosted another of my favorite economist, Richard Wolff,a proponent of worker coops.
https://www.youtube.com/watch?v=qT1JAzhywfA (16 min on Marxists economics)
https://www.youtube.com/watch?v=QQr5k7pl4PQ (16 min on worker coops)
https://www.youtube.com/watch?v=UUPeRRRhGjo (19 min on politics and capitalism)
https://www.youtube.com/watch?v=TpOHWIZvim8 (8 min on retirement accounts and crypto)
Paul Jay had a wide ranging discussion with Rana Foroohar, the Financial Times columnist and author of "Makers and Takers". The six part series in video or text deals primarily with our current economic situation and how we got here.
https://therealnews.com/series/reality-asserts-itself-rana-foroohar
The contrast between the three economists is interesting particularly on the topic of robotics and AI. Like it or not AI is here to stay. It could be used for good instead of profit – instead of streamlining corporate efficiencies and playing war games, they could be used to better manage environmental sustainability, transportation, and so on. Asimov painted a scenario like that in his series from the 60's, Irobot.
Perhaps there will be a natural evolution to an economy focused on people and the planet but it is difficult to see how it happens given our current condition.


Noam Chomsky thinks we are at the moment of a perfect storm
https://www.youtube.com/watch?v=sprot_gEYoA (5 min)
In a nice montage of interviews Noam continues to explain how we manufacture consent
https://www.youtube.com/watch?v=tTBWfkE7BXU (9 min)
Despite TPTB, some countries are making progress. Costa Rica is doing their part going carbon free. https://www.commondreams.org/news/2018/05/10/costa-rica-will-become-worl...
Bhutan is carbon negative and has a national happiness index https://www.nationalgeographic.com/travel/destinations/asia/bhutan/carbo...
Teach your children well....
Schools are an excellent tool for manufacturing consent, and school charters and vouchers really are a threat to the existence of public education
http://educationopportunitynetwork.org/charter-schools-are-an-existentia...
There has been some success with the teacher strikes, but what's not clear is whether the shorter-term salary hikes they've won … will help shake down solutions to long-term, structural budget issues. https://www.edweek.org/ew/articles/2018/05/09/the-teachers-are-winning-w...
Will the teacher strikes expand? If a national movement does emerge it will depend heavily on the vision and commitment of the nation's unions in this crucial hour.
http://prospect.org/article/chalk-dust-settles-building-on-2018-teachers...

TPTB do not like protestors...
Ray McGovern, who worked as a CIA analyst for 27 years, disrupted the Senate confirmation hearing for CIA director nominee Gina Haspel, protesting her overseeing of torture. Police threw the 78-year-old whistleblower to the ground, dislocating his arm. Bob Scheer talks straight about Gina's appointment and the CIA in general. (2 parts video and text)
https://therealnews.com/series/trumps-nomination-of-torturer-to-lead-out...
John Kiriakou, a former CIA officer, speaks out too
https://www.truthdig.com/articles/gina-haspel-debate-spotlights-americas...
Black folks have it even worse. I knew Paul Robeson was an independent thinker and activist, but I had no idea that he was targeted and poisoned by the CIA. Includes interviews with Paul's children. (16 min) https://www.youtube.com/watch?v=NOHV_O0uXsQ
Chris Hedges suggests we must focus on building new, radical movements that do not depend on foundation grants, a media platform or the Democratic Party or revolve around the cult of leadership. https://www.truthdig.com/articles/the-danger-of-leadership-cults/

The insanity of our aggression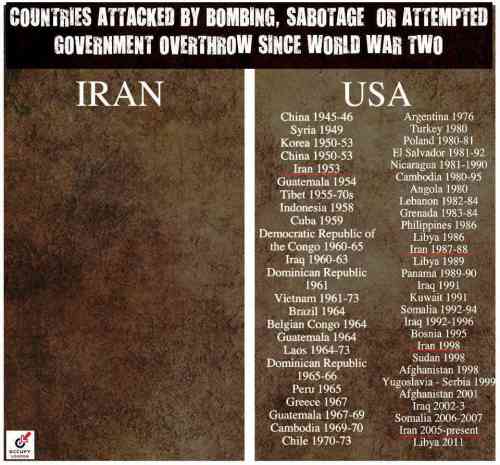 What is the deal with our Iran policy?
Two part interview with James Dorsey, a senior fellow at S. Rajaratnam School of International Studies at Singapore's Nanyang Technological University, and he's also a syndicated columnist and the author of the blog The Turbulent World of Middle East Soccer.
https://therealnews.com/series/james-dorsey-on-the-us-iran-nuclear-deal
Trita Parsi, president of the National Iranian American Council discusses the situation. (video and text) https://therealnews.com/stories/as-trump-takes-aim-israel-hits-iran-in-s...
John Pilger speaks about the events behind the mainstream media headlines on Syria, Salisbury, Yemen and the Korean peninsula. https://www.youtube.com/watch?v=OIok3VKp17k (27 min)
David Swanson and Ben Norton explore how American nationalism and the myth of US superiority is used to justify hyper-militarism and capitalist oppression.
https://therealnews.com/stories/how-american-exceptionalism-is-exploited...
When will we ever learn? US hypocrisy reigns supreme.
https://www.truthdig.com/articles/u-s-hypocrisy-creates-perpetual-enemie...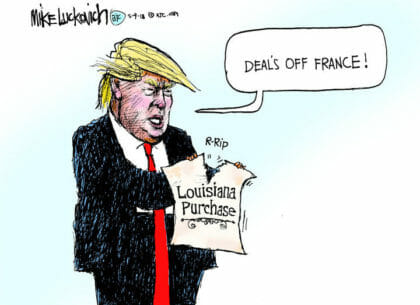 It isn't just the ME
the US government has continued and even intensified its regime change agenda in Latin America and successfully helped reverse the so-called "pink tide" of left-of-center governments over the past ten years, says CEPR's Mark Weisbrot (video and text) https://therealnews.com/stories/us-interventions-in-latin-america-contin...
The trick is to follow the money...it is always about the money.
https://www.truthdig.com/articles/conflicts-of-interest-drive-wars-from-...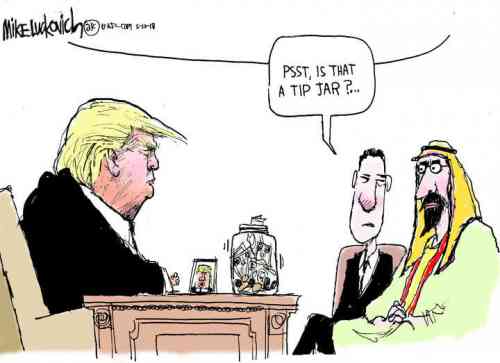 ...and so we return full circle back to the economy. We have a war economy we must escape...driven by fossil fuels which are destroying the biosphere. Our for-profit economy provides profits for the few...the oligarchs. But we can't have a conversation despite the obvious failure of capitalism. No we must impede any effort to try to develop an economy that serves the people. Peter Joseph tells the story of Allende and his efforts to nationalize his country....we made sure that didn't happen (see part 4 of Jimmy's interview with him). Just consider the decades long blockade and sanctions against Cuba...Venezuela...and Russia for that matter. Perhaps the oligarchs fear we might want what those socialist countries have.
I'm off at a local festival this weekend, and won't be able to respond till this evening. However I hope you will carry on the conversation without me. I'm posting this essay Friday morning (scheduled to appear on Sunday), and in our volatile world there is no telling what the situation is today. I think we often get hung up in our analysis of what is wrong instead of discussing what should be. Many of us have a concept of what we are aiming for, but lack an understanding of how to find a path to our destination. Perhaps you have some ideas? I'll trust your Sunday is a good one, and that you have stories and insights to share.