The Weekly Watch
Submitted by Lookout on Sun, 12/05/2021 - 6:04am
Marching Toward War?
Are US citizens so blinded by their delusion of greatness that they can't see this war mongering country for what it is? Perhaps it is the MSM which cheers on every possible conflict that has brainwashed the people with war propaganda. Whatever the reason, the citizenry (for the most part) seems numb to US aggression. Last week I thought it was China and the US supported Taiwan independence effort which might spark war. This week it is NATO's expansion and Ukraine's prodding, edging us closer to a foolish war with Russia. This is insanity folks. We need to be cooperating with other powers not war mongering.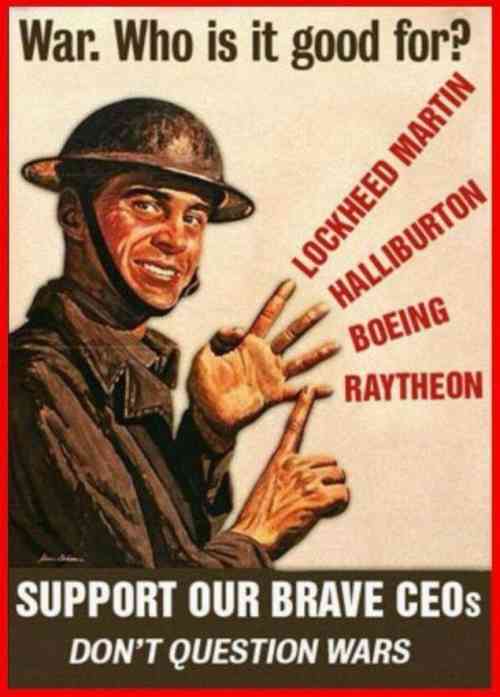 The increasing likelihood of nuclear war between the US power alliance and Russia and/or China is the most important issue in the world. It's self-evidently priority number one, because there will be no politics, protests, Covid vaccines, racial issues, healthcare etc if we are all dead.

There is no other issue that could instantly turn all the other issues into a non-issue tomorrow. Opposing the way the US and its allies are rapidly ramping up hostilities against Russia and China simultaneously and shutting down any possibility of detente must be our foremost priority.

I just keep seeing a day not far in the future were a nuke gets discharged amid the chaos and confusion of escalating cold war tensions between nuclear-armed nations and all we'll be thinking about as the world ends is all the stupid nonsense we'd been arguing about previously.

❖

The only manufacturing jobs left in the US are military weapons and consent.

❖

Gotta keep dropping bombs because they gotta keep making bombs. Gotta keep making bombs because they made the entire economy dependent on bomb-making. This is the only type of system that could possibly work.

❖

Because people who object to US-led imperialist aggressions against their governments are routinely purged from social media, those of us who do not live in nations that are being targeted by those aggressions have a special duty to forcefully speak out against US imperialism.

❖

The advent of nuclear weapons didn't prevent a third world war, it just postponed it. It is not a coincidence that the two most powerful nations the US has been unable to absorb into its field of control are nuclear-armed ones. But now a final confrontation is on the horizon.

After the second world war the US became the top imperialist aggressor, and since it couldn't take out Russia and China it set about absorbing weaker nations into its imperial folds. Now only a few nations remain unabsorbed, and the drums of war against Russia and China are beating ever louder. There was a tiny four-year window after Hiroshima before Stalin got the bomb, and China followed five years later. By doing so they were able to postpone a direct confrontation with the US empire for the rest of the century, but they've been marked for absorption ever since.

And now the campaign to shore up total global control is approaching its final stage.

❖

Things are fucked, the people who are making them fucked will keep doing so until stopped by the public, and the public is being psychologically manipulated away from stopping them by propaganda. That's our whole struggle right now, and it's happening on many different fronts.
Don't expect Biden to ease tensions. In fact expect the opposite...
Biden administration has unveiled its first comprehensive review of the deployment of U.S. forces globally — and it envisions a virtually unchanged military footprint, with a sharpened commitment to the bipartisan policy of Cold War-style hostility toward Russia and China.
...
the review does indicate an evolving strategy to further expand military capabilities near China, including through leveraging existing partnerships. "In Australia, you'll see new rotational fighter and bomber aircraft deployments. You'll see ground forces training and increased logistics cooperation," said Mara Karlin, the acting deputy undersecretary of defense for policy, in a briefing with reporters. "So, we're doing a lot that will hopefully come to fruition in the coming years." The Pentagon also confirmed that it was establishing a permanent attack helicopter squadron and artillery division headquarters in South Korea.
...
Directly noting the ongoing tensions surrounding Ukraine's future and Washington's portrayal of Russian President Vladimir Putin as menacing the former Soviet republic with troop movements near the border, Karlin said, "We are actually increasing troops in Germany" to bolster NATO's capacity. The Biden administration will "continue to provide security assistance items, both lethal and nonlethal to Ukraine," said Pentagon spokesperson John Kirby, a retired rear admiral, at the briefing with Karlin. "This administration remains committed to helping Ukrainian military defend itself, defend its territorial integrity, defend its people."
Some people are trying to raise the alarm...
Dave DeCamp – News Editor at Antiwar.com – returns to explain escalating tensions with Russia over Ukraine. In recent weeks the US has engaged in military drills along Russia's western border while encouraging a Ukrainian military build-up. The result has been Cold War-style threats including deploying more nuclear weapons into eastern Europe.
https://www.youtube.com/watch?v=LiEOImfjDTY (47 min)
I think it is obvious. Why don't people see it?
the U.S. is intensifying its aerial reconnaissance activity around the Black Sea:

MOSCOW, November 10. /TASS/. NATO reconnaissance aircraft increased the number of flights near the Russian borders in the Black Sea region over the past 24 hours, Russia's Defense Ministry reported on Wednesday.

"Over the past 24 hours, reconnaissance aircraft of NATO countries increased the intensity of flights near the borders of the Russian Federation in the Black Sea region," the ministry said.

On November 9, the radars of the Russian Aerospace Force's air defense troops tracked a US Air Force E-8C airborne ground surveillance, command and control aircraft over the Black Sea, it said.

"Also, Russian anti-aircraft missile troops tracked three reconnaissance aircraft of NATO member states over the Black Sea in the past 24 hours," the statement says.

Meanwhile U.S. F-15E Strike Eagle fighter jets as well as aerial tankers have been deployed to Bulgaria and Romania.

The fear in Moscow is not that the U.S. will attack Russia. But the high activity of U.S. forces in the area and the incitement Kiev gets from Washington might make the Ukrainian leadership believe that Washington has its back and will come to its help when it attacks the Donbass region and Russia hits back.
https://www.moonofalabama.org/2021/11/in-ukraine-the-us-is-risking-war.html
Since April, the U.S. and its allies have been stepping up their military support for Ukraine. After a March announcement of $125 million in military aid, including armed coastal patrol boats and radar equipment, the U.S. then gave Ukraine another $150 million package in June. This included radar, communications, and electronic warfare equipment for the Ukrainian Air Force, bringing total military aid to Ukraine since the U.S.-backed coup in 2014 to $2.5 billion. This latest package appears to include deploying U.S. training personnel to Ukrainian air bases.

Turkey is supplying Ukraine with the same drones it provided to Azerbaijan for its war with Armenia over the disputed territory of Nagorno-Karabakh in 2020. That war killed at least 6,000 people and has recently flared up again, one year after a Russian-brokered ceasefire. Turkish drones wreaked havoc on Armenian troops and civilians alike in Nagorno-Karabakh, and their use in Ukraine would be a horrific escalation of violence against the people of Donetsk and Luhansk.

The ratcheting up of U.S. and NATO support for government forces in Ukraine's civil war is having ever-worsening diplomatic consequences. At the beginning of October, NATO expelled eight Russian liaison officers from NATO Headquarters in Brussels, accusing them of spying. Under Secretary of State Victoria Nuland, the manager of the 2014 coup in Ukraine, was dispatched to Moscow in October, ostensibly to calm tensions. Nuland failed so spectacularly that, only a week later, Russia ended 30 years of engagement with NATO, and ordered NATO's office in Moscow closed.
https://consortiumnews.com/2021/11/23/the-us-russia-confrontation-over-u...
(worth a whole read)
The Biden administration is also reportedly considering sending military advisors and more weapons to Ukraine, a move that would inflame tensions in the region even more. The potential weapons package could include new Javelin anti-tank missiles, mortars, and stinger missiles.

Since the 2014 US-backed coup in Kyiv, Washington has sent over $2 billion in military aid to Ukraine, and US and NATO military activity in the region has significantly increased. Moscow points to the NATO military presence near Russia's borders as the source of tensions in the region.

On Thursday, Blinken met with Russian Foreign Minister Sergei Lavrov. The two diplomats made little progress but did agree for Biden and Putin to hold future talks. The Kremlin said Friday that it has a date for the talks and is awaiting confirmation from Washington.
https://news.antiwar.com/2021/12/03/biden-says-hell-make-it-very-difficu...
Blinken met with Russian Foreign Minister Sergei Lavrov on the sidelines of the Organization for Security and Cooperation on Europe summit in Stockholm. According to The Guardian, the two diplomats spent their 40-minute conversation "trading threats" and opted not to make a joint appearance to the press in a sign that there was no breakthrough.

Another major concern for Russia is the increase of US and NATO military activity in the region. Lavrov said NATO has shot down proposals from Russia to ease tensions. "NATO continues its activity aimed at escalating the situation directly on our borders. NATO refuses to consider our proposals on easing tension and preventing dangerous incidents," he said.
https://news.antiwar.com/2021/12/02/biden-putin-to-hold-talks-in-the-nea...
There is fear in Russia that the U.S. is egging the Ukraine into a renewed active conflict with its renegade eastern Donbass region and thereby into a war with Russia.
...
The Biden administrations war mongering towards Russia may be seen to be free of cost. But it takes only one miscalculation in Kiev or some unforeseen incident in the Black Sea region and the situation could seriously escalate.
...
Moscow's narrative is that the Western powers are deliberately fueling Ukraine's revanchist instincts by arming it and encouraging President Volodymyr Zelensky, who is fighting for political survival, to believe that with Western support, a window of opportunity is opening to recapture the lost territories in Donbas and Crimea and thereby redeem his pledge to be his country's savior.

And second, as Moscow sees it, the rising tensions with Russia have become a convenient alibi to involve NATO directly in Ukraine's security and make it a template of the West's containment strategy against Russia.
https://www.moonofalabama.org/2021/11/the-white-house-needs-an-off-ramp-...
Kiev's aggressive rhetoric about using the American-made Javelin anti-tank missile systems in Donbass, as well as accusations of Russia's invasion plans, creates an explosive situation and encourages the escalation of conflict. Kyrylo Budanov, the head of the Ukrainian military intelligence service, also claimed that Kiev's forces used the American Javelin system in Donbass for the first time. This is further evidence that the Minsk agreements, which are extremely important for regulating the crisis and ceasefire in Donbass, is being violated.
https://www.antiwar.com/blog/2021/11/26/us-spreads-fake-news-of-russian-...
Playing with fire...
https://www.antiwar.com/blog/2021/11/30/russian-attack-on-ukraine-imminent/
Putin has now said as clearly as conceivable within the traditional language of international diplomacy that if the USA puts offensive missile systems onto Ukrainian soil, thereby cutting the warning time of attack on Moscow to 5-7 minutes, then the Russians will station their hypersonic attack missiles on surface and submarine vessels within 5-7 minutes striking distance of Washington, D.C.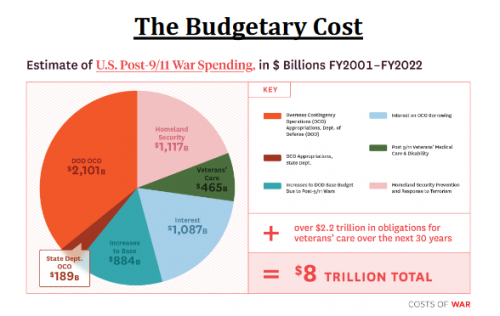 The United States government's reaction to the terrorist attacks of September 11, 2001 led to dramatic increases in Pentagon funding and revnues for weapons contractors. While the costs and consequences of America's war policies of the twenty-first century have been well-documented, the question of who has profited from this approach has received less attention. Corporations large and small have been, by far, the largest beneficiaries of the post-9/11 surge in military spending. Since the start of the war in Afghanistan, Pentagon spending has totaled over $14 trillion, one-third to one-half of which went to defense contractors.2 Some of these corporations earned profits that are widely considered legitimate. Other profits were the consequence of questionable or corrupt business practices that amount to waste, fraud, abuse price-gouging or profiteering.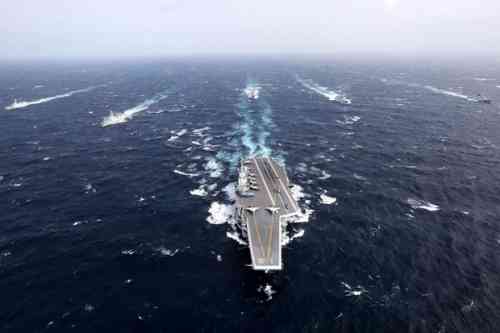 China
TPTB are using Ukraine to gin up a war with Russia. With China it is a similar strategy. Last year it was the Hong Kong protests (which were US instigated and supported).
https://thegrayzone.com/?s=hong+kong
Then the lies about the Uyghur community...
https://thegrayzone.com/?s=+Uyghur+
And now we've got Taiwan where were stirring up trouble yet again.
https://thegrayzone.com/?s=Taiwan
But there a multitude of ways they are trying to denigrate China, like:
The 'Missing' Star Athlete Peng Shuai Is Not Missing At All
The New York Times has falsely claimed that the Chinese tennis player Peng Shuai accused her former lover of sexual assault. She did not do that.
https://www.moonofalabama.org/2021/12/the-missing-star-athlete-peng-shua...
Today a number of U.S. aligned non government organizations launched an anti-China campaign in Germany.
https://www.moonofalabama.org/2021/11/german-ngos-and-newspapers-propaga...
The 'Mighty Wurlitzer' - How U.S. Financed 'Human Rights' Organizations Create Anti-Chinese Headlines
In 1967 the magazine "Ramparts" ran an expose revealing that the Central Intelligence Agency had been secretly funding and managing a wide range of citizen front groups intended to counter communist influence around the world.
...
CIA official Frank Wisner called the operation his "mighty Wurlitzer," on which he could play any propaganda tune.
The US Wants South Korea to Help Take on the Chinese Military
The current U.S. $1.7 trillion plan for a whole range of new nuclear weapons therefore seems to be a response to the reality that the United States cannot expect to defeat Russia and China in conventional wars on their own borders.

But the paradox of nuclear weapons is that the most powerful weapons ever created have no practical value as actual weapons of war, since there can be no winner in a war that kills everybody. Any use of nuclear weapons would quickly trigger a massive use of them by one side or the other, and the war would soon be over for all of us. The only winners would be a few species of radiation-resistant insects and other very small creatures.
https://consortiumnews.com/2021/11/23/the-us-russia-confrontation-over-u...
I'll give Caity the last word too...
Every day there's more propaganda banging the drums of war between nuclear-armed nations a little louder. Western media are churning out reports about Russia preparing to invade Ukraine any minute now and China preparing to invade Taiwan any minute now, saying the response to each is obviously to move a lot of high-powered weaponry to both of those locations, and none of them are questioning whether these allegations are true or whether those responses are wise.

This is so dangerous. This whole two-front nuclear brinkmanship game is so very, very dangerous, and they keep finding ways to make it more dangerous. And hardly anyone notices it, because the news media outlets that people look to to understand the world aren't telling them it's dangerous.

The only danger you're allowed to discuss in mainstream western reporting about Russia and China is their scary aggressive expansionism
...