The Weekly Watch
Submitted by Lookout on Sun, 10/10/2021 - 6:36am
The Fiasco of Finacialization

Financialization is a term used to describe the development of financial capitalism during the period from 1980 to present, in which debt-to-equity ratios increased and financial services accounted for an increasing share of national income relative to other sectors.
In other words, we quit making things except currency (and weapons to enforce global USD use). We sent our industrial economy to China and the third world, hollowing out labor and the middle class in the process. Profits became god, people pawns...and the rich became obscenely rich and completed the purchase of the government lock, stock, and barrel.
The global financial system and economy are a house or cards. Built on an unsustainable underpinning to ever-increasing debt the financial system is, as far as I am concerned, irretrievably insolvent.

To truly grasp this you need to understand the basics of banking and currency (what we call money, but really isn't because it doesn't satisfy all three necessary preconditions to be called such). This is briefly covered in this episode.

With that basic grounding we can appreciate the vast gap between the claims on true wealth and the amount of true wealth (lots of currency, not as much 'stuff') and now can discuss the immense pain coming to those with fewer resources to combat rapidly rising inflation.

Even worse, a true energy emergency in Europe is going to really create a lot of headaches and financial heartaches for a lot of people. With this essential context you can begin to build up a personal resilience plan to weather it all as best you can. But it all begins by having the right frame of view and sufficient information and context.
40 interesting minutes with an ad you can skip for his free crash course from 7:50 to 10:30
Although as Chris suggest above we may be creating more currency than any government in history, Max and Stacy explain this isn't the first time currency creation has been an economic strategy. They describe the situation in France in the late 18th century. (1st 15 min)
Off With The Bankers Heads!
Max and Stacy take on the "robber barons" this week too.
https://www.youtube.com/watch?v=ry_Ey7EItCI (1st 15 min)
Max and Stacy look back to the most notorious robber baron from the Gilded Age, Jay Gould, and see what insight he could offer to the internecine conflict during the age of Robber Baron 2.0.

Rick Wolff and Chris Hedges discuss the political outcome of our finacialized economy. They break it down as America's Fate: Oligarchy or Autocracy. (28 min)
The competing systems of power in the United States are divided between oligarchy and autocracy. There are no other alternatives. Neither are pleasant. Each have peculiar and distasteful characteristics. Each pays lip service to the fictions of democracy and constitutional rights. And each exacerbates the widening social and political divide and the potential for violent conflict. The oligarchs from the establishment Republican party, figures such as Liz Cheney, Mitt Romney, George and Jeb Bush and Bill Kristol, have joined forces with the oligarchs in the Democratic Party to defy the autocrats in the new Republican party who have coalesced in cult-like fashion around Donald Trump or, if he does not run again for president, his inevitable Frankensteinian doppelgänger. The alliance of Republican and Democratic oligarchs exposes the burlesque that characterized the old two-party system, where the ruling parties fought over what Sigmund Freud called the "narcissism of minor differences" but were The liberal class, fearing autocracy, has thrown in its lot with the oligarchs, discrediting and rendering impotent the causes and issues it claims to champion. The bankruptcy of the liberal class is important, for it effectively turns liberal democratic values into the empty platitudes those who embrace autocracy condemn and despise.
Exactly what does financialization mean?
Here's an academic description of Financialization...
ABSTRACT
Financialization is a process whereby financial markets, financial institutions, and
financial elites gain greater influence over economic policy and economic outcomes.
Financialization transforms the functioning of economic systems at both the macro and
micro levels. Its principal impacts are to:
(1) elevate the significance of the financial sector relative to the real sector,
(2) transfer income from the real sector to the financial sector, and
(3) increase income inequality and contribute to wage stagnation.
Additionally, there are reasons to believe that financialization may put the economy at risk of debt deflation and prolonged recession.
...
Countering financialization calls for a multifaceted agenda that:
(1) restores policy control over financial markets,
(2) challenges the neoliberal economic policy paradigm encouraged by financialization,
(3) makes corporations responsive to interests of stakeholders other than just financial markets, and
(4) reforms the political process so as to diminish the influence of corporations and wealthy elites.
I'm not holding my breath awaiting those reforms. Looking at the market it is obvious inequality is about to get much worse. I first began understanding the inevitability of growing inequality from Piketty's work.
Thomas Piketty's Capital in the 21st Century is one of the most influential recent works in the field of economics. This short 3.4 minute video explains a few of the key ideas.
French economist Thomas Piketty talks to the FT's European economics commentator Martin Sandbu about ideology, capital, and how to make societies fairer with taxes on wealth and inheritance. https://www.youtube.com/watch?v=utnpOqE6Lk0 (20 min)
Short essay here.
As stock prices soar, the inequality will worsen. Since 2016, the global economy has grown 14 per cent and world market capitalisation by 34 per cent.
So we watch the real economy tank during the pandemic...small businesses close, home foreclosures, renters kicked out on the street, student debt at record levels, and yet the stock market soars as the Fed continues the ponzi creating ever more currency for banks and other corporations to buy their own stocks driving the market (and inequality) ever higher. Note nothing is produced except profit (and debt).
Weekly development of the Dow Jones Industrial Average index from January 2020 to September 2021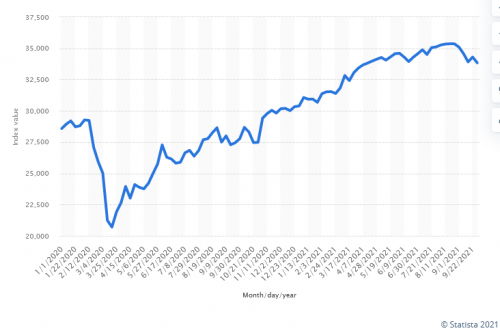 Tech companies are leading the way and are bigger than many national economies.
Apple is valued at a market capitalization of $2.4 trillion in January 2021, the GDP of Canada for 2020 is $1.6 trillion. In fact, Apple is nearly as big as the GDP of India, which has a GDP of $2.59 trillion.
https://www.liberatedstocktrader.com/stock-market-statistics/
In fact, these corporate behemoths want a seat on the UN since they are more powerful than nation states, and corporate media agrees.
Give Amazon and Facebook a Seat at the United Nations
Given the scope of their ambitions and our dependence on them, behemoth brands should be treated, and held to account, for what they really are: commercial superpowers.
Meanwhile the real economy is in shambles.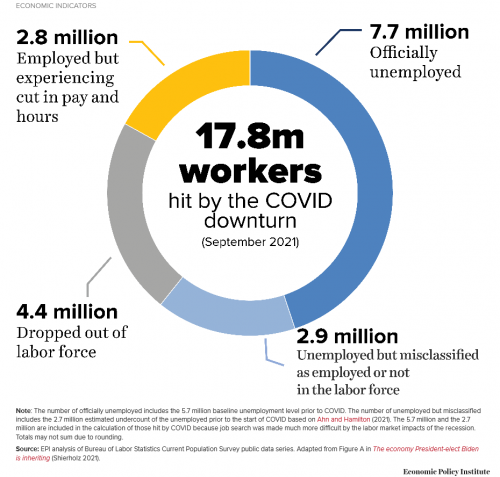 Just this month...
However the last week alone
https://www.forbes.com/sites/jonathanponciano/2021/09/30/new-jobless-cla...
, up 11,000 from the previous week, according to the weekly data released Thursday.
Economists were only expecting about 330,000 new claims, according to Bloomberg; the reading hit a pandemic low of 312,000 in the week ending September 4 but has ticked up every week since.
Despite the unexpected increase in new claims, continuing claims fell drastically from 11.3 million in the week ending September 4 to about 5 million in the week ending September 11,
So in summary, in September 194,000 new jobs were added yet there were 362,000 new unemployment claims last week!
Jobs are being lost in almost every sector except transportation.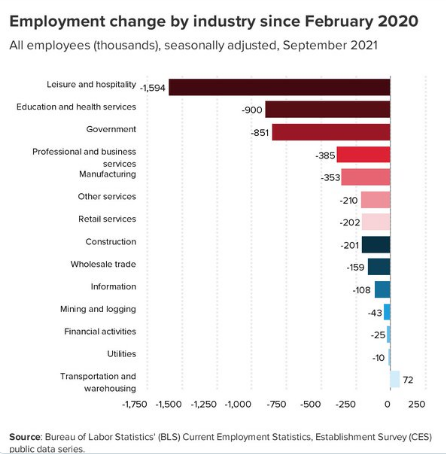 ...and US employment is lower than it has been in decades.
Additionally, we have cargo ships stacked up awaiting off loading at our ports. MSM will report stories like that. https://www.youtube.com/watch?v=QccPG6LfmEs (4 min)
But never explain the root cause of off shoring production and screwing US labor.
But the market is booming? It is because the Fed is both directly and indirectly purchasing it and all the bad corporate debt still hanging around from 2008...as these same corporations buy their own stocks further enriching their CEO's and stock holders, but here again adding nothing real to the economy.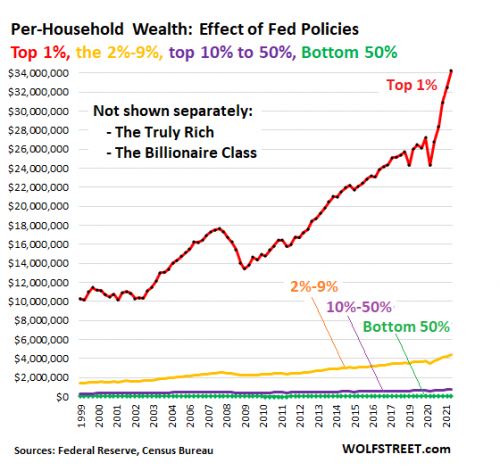 https://wolfstreet.com/2021/10/02/my-wealth-effect-monitor-for-our-money...
The Fed's doctrine of the "Wealth Effect" is designed to enrich the top 10%, particularly the top 1%, particularly the top 0.01%, and particularly the Billionaire Class. The more they have, the more they benefit.

But during the pandemic, the Fed went all-out: It printed $4.5 trillion in 18 months and repressed short-term interest rates to near-zero, in order to inflate asset prices to the extreme. And it succeeded.

This was the greatest economic injustice committed in recent US history. Congress could shut it down but doesn't want to even debate it. Members of Congress mostly belong to the top 10%, or hope to soon belong to it (on their Congressional salaries, of course, hahahaha), and that's why this continues.
What got me on this topic is an online course by economist, Michael Hudson.
I've been slowly moving through his series of lectures.
A 3 part lecture series for the Global University for Sustainability, Hong Kong
Part one (1.8 hours)
Part two (1.5 hours)
Part three (1.5 hours)
I've been listening for about 30 minutes at a time, and learning something every session.
He lays out the reason for US hostility toward China. In simple terms, China has developed an industrial economy based on manufacture and trade, much like the US economy of the 50's and 60's when most of the rest of the world was rebuilding from WWII. We created that transition by off shoring US production to China in order to minimize labor costs. I remember when we took pride in the quality of US products, as well as treating employees as a resource rather than expendable chattel. There were more unions which helped promote fair treatment of employees in those days too.
Starting about 1980 (though some might suggest 1972 when we left the gold standard), the US abandoned high quality production and treating employees fairly as profits became god. It wasn't as if the corporation were not making money before, but by exploiting Chinese labor (and relegating US labor to service rather than production) they could make more money. Basically the US economy morphed into a system of greed which promoted increasing inequality thereby empowering the elite oligarchic class, and suppressing the voice and rights or the remaining US work force. And that is where we are.
Labor is beginning to rise up.
F*ck Your Corn Flakes! - Kellogg's Workers At All U.S. Cereal Plants Go On Strike
https://www.youtube.com/watch?v=i3zk9KZancg (15 min)
Work at all of Kellogg U.S. cereal plants came to a halt Tuesday as almost 1,500 workers in Omaha, Nebraska Battle Creek, Michigan; Lancaster, Pennsylvania; and Memphis, Tennessee went on strike after more than year of negotiations over low pay, the loss premium health care, holiday and vacation pay and reduced retirement benefits.
Additionally, TV & Film Crews Overwhelmingly Authorize A Full Strike That Could Shut Down All Production https://www.youtube.com/watch?v=-OCwyPM693c (13 min)
After months of failed talks between the International Alliance of Theatrical Stage Employees (IATSE) and the Alliance of Motion Picture and Television Producers (AMPTP), workers have voted overwhelmingly to authorize a full strike that could shut down all production if their demands are not met.
Krystal provides details on the massive labor strike wave taking place around the country that is getting completely ignored by mainstream media outlets (6 min)
Despite labor's effort there is systemic failure that no series of strikes can remedy. The financialized economic system where everything is for sale and profit is always the goal would have to be dismantled. Perhaps the largest obstacle to systemic change is the miseducation, really down right theatrical spectacle, which absolutely misrepresents our collective situation...from lies of China's aggression as the AUKUS fleets cruise their seas to this week Facebook's "whistleblower". Max and Ben explain the sham designed to usher in more censorship. An interesting conversation in the first hour. The second hour (at 54 min) explores the likelihood of the CIA creating the Pandora Papers. Nothing is as it seems and is represented in the MSM.
Still don't buy the total purchase and capture of the system? Consider Steven Donziger's prosecution by Chevron within the US injustice system.
Here's the short story from Steven himself...(5 min)
And a more in depth interview with Chris https://www.youtube.com/watch?v=M2K3ypt3VFc (27 min)...and Chris' detailed article about the case.
The future of the injustice system doesn't look good Trump appointed a quarter of all federal judges and they were all from the federalist society. Make no mistake these judges rule for the corporations...and sadly Dem nominees aren't much better.
And it isn't just the corporate state take over, it is also the CIA deep state as evidenced by Julian Assange' kangaroo trial. A journalist being tortured for revealing US war crimes, cyber techniques, and more malfeasance.
Shipton said the benefits of WikiLeaks publications to people around the world, and even to governments, has been obscured by the attention the case has put on Assange. This shift away from the revelation of state crimes to his son's psychology "in itself is a scandal," Shipton told Sydney's Politics in the Pub in a webcast co-produced by CN Live!

"It's the manipulations of the Crown Prosecution Service and the Department of Justice that ensure that the entirety of the focus now is on Julian's character and his psychology," Shipton said. "Compare this to the Himalaya of crime and the benefits brought to the publics in the United Kingdom and the West by exposure of those crimes."
From CIA spying on Julian and his lawyers to denying him access to his on defense to here again placing tainted judges over the case this trial is also a sham.
https://consortiumnews.com/2021/10/07/key-us-witness-against-assange-arr...
A key U.S. witness in the conspiracy to commit computer intrusion charge against imprisoned WikiLeaks publisher Julian Assange who earlier this year admitted to fabricating evidence he gave to the FBI has been arrested in Iceland, according to a report in the Icelandic newsmagazine Stundin.
What else is left for the oligarchs to subsume?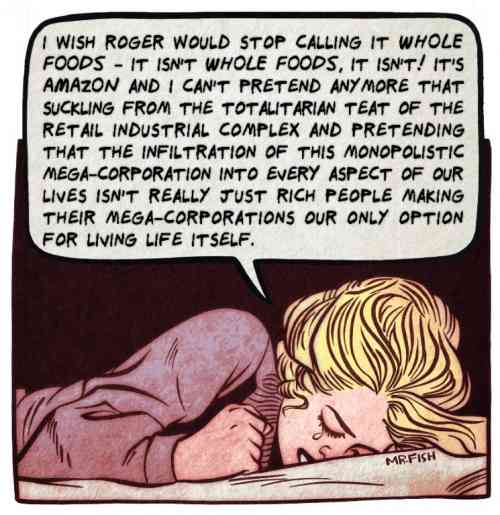 The wealthy are buying farmland, and Bill Gates isn't even in the top ten. If they control food supply we will indeed become vassals in a neofuedal system.
https://www.youtube.com/watch?v=jufc0XtbCwU (15 min)
So what do we do to survive in such a system? The ice age farmer has some suggestions.
https://www.youtube.com/watch?v=br2zz_v8wWg (26 min)
The energy crisis is quickly becoming a food crisis: China's harvest is faltering without electricity. Dutch are unable to heat their greenhouses, which are empty and cold. The UK's meat production is curtailed by a lack of CO2. The world's food supply chains are deteriorating rapidly -- but the tide is turning! People are more receptive to creative ideas than ever -- build and invest in YOUR food production and local food systems NOW!
If you can't grow your own, get to know and support your local farmers.
regenerative meats http://www.eatwild.com/products/index.html
There are almost two million farms in the USA. About 80% of those are small farms, and a large percentage are family owned. More and more of these farmers are now selling their products directly to the public. They do this via CSA programs, Farmers' Markets, Food Coops, u-picks, farm stands, and other direct marketing channels. Would you like to support your local farmer? Use our map to find your farmer!
For those of you overseas (as well as the US) here's another directory of regenerative farms. https://regenerationinternational.org/regenerative-farm-map
So in conclusion, yes the system is captured, bought and paid for by the elite. However we can act on our own to protect ourselves. I've been digging golden nuggets out the the ground for my future...golden nugget sweet potatoes that is. They grow in clumps.
...And have good yields. This is the harvest of a little over half a 25 ft bed.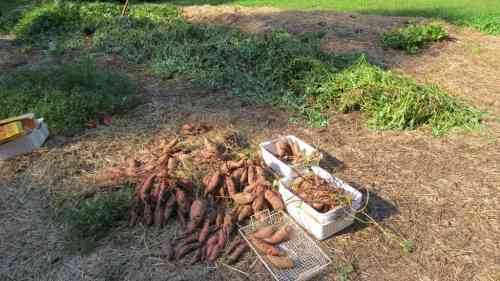 Today's neofeudalist state is the outcome of moving our economy from manufacturing to one focused on profit from banking/investment and corporate power. Today's dystopia is a fusion of the authoritarian vision of Orwell in 1984, the pleasure seeking numb society of Huxley's Brave New World, and the censorship in Bradbury's Fahrenheit 451. Fellow serfs, we are on our own to make a life better than being a servant to the elite. Hone your skills and explore your options, I fear it may become worse.