The Weekly Watch
Submitted by Lookout on Sun, 10/04/2020 - 7:18am

COVID Fatigue
Everyone is sick of COVID, literally and figuratively. With the Trumps' infection it is worth looking at the state of the pandemic. This winter appears to ensure continued spread. Today, we'll examine some new treatments and understandings of the nature of the virus and its disease expression. I'm not a doctor, I'm trained as a soil scientist, so take this as my understanding based on my research and not as advice. The most critical factor is age, something we can't control, however many other factors are... things like: optimizing our health, protecting ourselves and others when out and about, and being aware of best treatments if we become symptomatic. Much of this essay will be review, but there's also some new research and I hope I've put together an organized and logical approach to the pandemic. Let's begin with encouraging news which I rarely hear discussed. Up to 50% of us may have immunity already because of exposure to other corona-viruses.
"Our team also tested uninfected healthy individuals and This could be due to cross-reactive immunity obtained from exposure to other coronaviruses, such as those causing the common cold, or presently unknown animal coronaviruses. It is important to understand if this could explain why some individuals are able to better control the infection," said Professor Antonio Bertoletti, from Duke-NUS' Emerging Infectious Diseases (EID) program, who is the corresponding author of this study.
I caught John Campbell the other night explaining T cell immunity, and that Vitamin D is a structural part of our T cells. That probably explains why Vitamin D is an effective COVID deterrent. https://www.youtube.com/watch?v=B01ZlRfMnmU
It is about 30 min but he has his notes below the clip.
Here's some of those resources...
https://www.ncbi.nlm.nih.gov/pmc/articles/PMC7456194/
Vitamin D, Calcifediol group, 2% required admission to the ICU
No Vitamin D Control group 50% admitted to ICU
Put another way, the use of Vitamin D reduced a patient's risk of needing intensive care 25-fold
The Government should now act on this latest evidence. We have good reason to think Vitamin D supplementation will help reduce mortality from Covid-19. We know it can reduce the incidence and severity of the other acute respiratory illnesses from influenza during the winter months. This will no doubt save thousands of lives in any second wave. There is now no reason not to act.
https://www.bmj.com/content/370/bmj.m3563/rr-6
So why are some people unable to mount a good protective T-cell response? The key to this question might be a 10-year-old Danish study led by Carsten Geisler, head of the Department of International Health, Immunology and Microbiology at the University of Copenhagen [8]. Geisler noted that "When a T cell is exposed to a foreign pathogen, it extends a signalling device or 'antenna' known as a vitamin D receptor, with which it searches for vitamin D,", and if there is an inadequate vitamin D level, "they won't even begin to mobilize." In other words, adequate The question of whether T-cells might also need a continuing supply of vitamin D to prevent the T-cell exhaustion and apoptosis observed in some serious COVID-19 cases [9] deserves further research.

High levels of vitamin D are also critical for first line immune defences including physical mucosal defences, human antiviral production, modulating cytokines, reducing blood clotting and a whole host of other important immune system functions [10]. The obese, diabetics and people of BAME origin are far more deficient in vitamin D and men have lower levels than women [10].

Another intriguing clue is that Japan has the highest proportion of elderly on the planet but despite lack of lockdowns, little mask wearing and high population densities in cities, it escaped with few COVID deaths. Could this, at least in part, be because of extraordinarily high vitamin D levels of over 30 ng/ml in 95% of the active elderly [11]? By comparison, UK average levels are below 20ng/ml [10]. Vitamin D is made in the skin from the action of UV sunlight, food usually being a poor source, but the Japanese diet includes unusually high levels. Sunny countries near the equator (e.g. Nigeria, Singapore, Sri Lanka) also have very low COVID related deaths.
It adds more fuel to the fire of my "pandemic managed for profit" hypothesis.
However, I think it is important not to be over confident. We need to continue to keep up our guard at least through this winter. Then we'll see where we are. It is tempting to throw caution to the wind and just get back to "normal", but that isn't a good idea IMO.
So I've developed an A, B, C of pandemic management.
A. maximize your health and immune system. Taking Vitamin D is an example
B. protect yourself and others when you go out. For example wear a mask and distance.
C. be aware of simple home treatments if you develop symptoms, and if you or your family are hospitalized know which treatments are most effective.
So let's look at these one at a time. Maximizing our own health is a good idea, virus or not. It is common sense really. We need to eat well, get plenty of sleep, and minimize stress. We should be active and IMO get outside in nature. Additionally, consider taking some supplements to boost your immune system.
In addition to Vitamin D, Zinc supplements and/or foods high in zinc can also be an effective COVID deterrent. https://journals.plos.org/plospathogens/article?id=10.1371/journal.ppat....
Increased intracellular Zn2+ concentrations are known to efficiently impair replication of a number of RNA viruses, e.g. by interfering with correct proteolytic processing of viral polyproteins. Here, we not only show that , but also use both isolated replication complexes and purified recombinant RdRps to demonstrate that this effect may be based on direct inhibition of nidovirus RdRps.
Interestingly, chloroquine — which some people suggested as a treatment option early on in the pandemic – increases the cells uptake of zinc, which may underlie some of its positive effects. A 2020 study showed that when doctors treated patients with zinc and hydroxychloroquine, they discharged more patients, and fewer people died from COVID-19.
https://www.medrxiv.org/content/10.1101/2020.05.02.20080036v1
Too bad HCQ was so politicized. It would have saved lives. The green countries used HCQ and had a low death rate. The US band its use and is red.
https://techstartups.com/2020/07/23/countries-using-hydroxychloroquine-l...
The HCQ acts as an ionophore opening the cell and ushering zinc inside where it can block viral replication. There are other non prescription ionophore options, like Green Tea and Quercetin
Some foods (especially capers) contain quercetin.
The last supplement I'll mention is Vitamin C.
Supplementation of vitamin C has been found to reduce the risk of cold infections by half... Vitamin C has also been found to reduce symptom severity and the duration of colds and flus, and to reduce the risk of flu infection. The COVID-19 virus belongs to the same coronavirus family as cold and flu viruses, and produces similar symptoms once infected.
https://www.cihs.edu/single-post/2020/03/20/COVID-19-Prevention-and-Trea...
Vitamins C and D, zinc, and omega-3 fatty acids are critical for immune function. Not eating enough of these essential nutrients can affect resistance to infection, increase disease severity, and burdens associated with the disease.

Researchers from Oregon State University (OSU) are urging the use of a daily multivitamin, but also vitamin C and vitamin D supplements much higher than federally recommended guidelines. The study authors recommended 200 milligrams or more of vitamin C and 2000 international units of vitamin D.
https://www.pharmacytimes.com/news/study-vitamins-c-d-may-help-immune-sy...
One EVMS study on supplements to help fight COVID-19 suggests:
500 mg of Vitamin C
75 mg of Zinc
1-2 mg of Melatonin
1,000 IU of Vitamin D3
Dr. Seheult's Daily Regimen (Vitamin D, C, Zinc, Quercetin, NAC)
https://www.youtube.com/watch?v=NM2A2xNLWR4 (15 min)
In the absence of good clinical data that is specific to SARS-CoV-2, Dr. Seheult discusses supplements, sleep, and his daily disinfection routine when removing PPE, getting in his car, and returning home from the hospital. We look forward to more randomized, blinded, placebo-control studies in the future that will build upon the current body of evidence as it relates to immunity and specifically coronaviruses such as SARS-CoV-2.
While there is extremely limited data, the following "cocktail" may have a role in the prevention/mitigation of COVID-19 disease. This cocktail is cheap, safe, and widely available.
• Vitamin C 500 mg BID and Quercetin 250-500 mg BID
• Zinc 75-100 mg/day (acetate, gluconate or picolinate). Zinc lozenges are preferred. After 1 month, reduce the dose to 30-50 mg/day.
• Melatonin (slow release): Begin with 0.3 mg and increase as tolerated to 2 mg at night
• Vitamin D3 1000-4000 IU/day
• Optional: Famotidine 20-40 mg/day
Protection
The best way to protect yourself from SARS-CoV-2 (and other pathogens) is to minimize your contact with anyone who isn't in your household. We are social creatures, so we do need one another. Personally I've never enjoyed talking on the phone. I prefer email. Neither is really a good way to converse. Face to face contact allows for both facial and hand gestures, as well as possible viral exchange. In fact talking face to face is a terrific vector of this virus, as we spray droplets at one another.
The initial viral load is an important factor in the expression of COVID symptoms and their severity. https://nymag.com/intelligencer/2020/03/is-viral-load-key-to-understandi...
We can minimize the chance of infection and viral load by wearing masks.
There is a new mask that can help prevent you from getting this virus that cost about $12.50 each. ($18 with shipping)
https://n95maskco.com/collections/n95-masks
https://www.youtube.com/watch?v=t7cVsWBfupE (10 min)
Just like a regular N95, such as this one that we use in the hospital, made by the company 3M, this mask will filter out particles as small as 0.3 microns. It's also listed on the CDC's website of NIOSH-Approved N95 Respirators. It's also FDA approved. So what sets this mask apart from a regular N95 mask? Several things, actually. For one, it's much more comfortable to wear. You've probably seen pictures of health care workers with marks and lines and even bruising on their faces as a result of wearing N95s. And from my personal experience, they're just not comfortable, especially for more than an hour or two of use. The company also claims that it can "inactivate up to 99.9% of particles within minutes," So not only trapping viruses and bacteria but destroying them too.

This new KN95 Respokare mask has 4 layers, and the innermost layer is built of soft materials to ensure comfort during periods of long-wear, and is also water-resistant, which is also nice. On top of that are 3 more layers, that serve to not only trap fine particles, but one of the layers contains copper and zinc ions which serve to destruct viruses and bacteria. Also, the outermost layer has an acidic coating, creating a low pH environment, which helps to destroy viral and bacterial proteins.
This new mask has given me more confidence to go grocery shopping, picking up items at the hardware, and go to trade day. Trade day is outdoors. That has two advantages - ventilation and sunlight. When people yell or sing they can project droplets up to 30 feet. Breezes dilute those droplets and aerosols carrying the virus. The UV component of sunlight kills the virus.
Every other week or so I have also been visiting a few friends (no more than two at a time). We remain several feet apart and stay outside. Part of being healthy involves laughing and exchanging stories and sharing opinions with each other.
There are other ways to protect ourselves and others. Spit tests could be important.
Here again big pharma's ownership/control of the FDA has prevented approval of this excellent means to minimize the spread.
Bottom line: minimize your trips away from home, wear a mask when you do go out, try to arrange contact with other folks at an outside venue, stay as far away from each other as possible, wash your hands as soon as you get home.
Treatments
If you develop symptoms... (which differ among different age groups)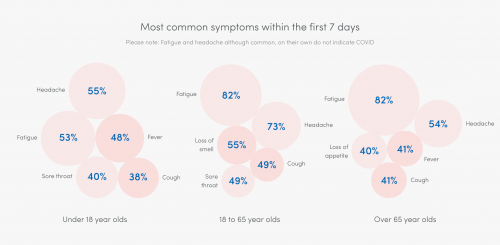 Most commonly experienced early symptoms are:
Headache, 82% and Fatigue 72%
This is the case for all age groups
However:
9% of COVID-positive adults aged 18 - 65 didn't experience headache or fatigue
1% of people who reported fatigue and/or headache tested positive for COVID
3% of people who tested positive had headache and fatigue alone
Therefore, Having either or both of those symptoms alone is unlikely to be indicative of COVID.
The Classic Three are Still Key: Cough, fever, and loss of smell
Only 40% of all age groups, have a fever in the first seven days, so temperature readings won't adequately identified infected people.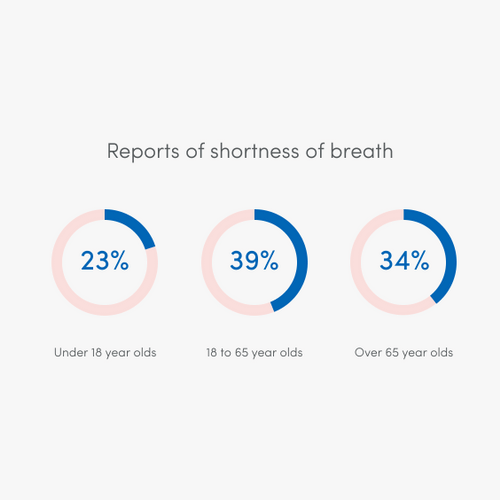 https://covid.joinzoe.com/post/early-covid-signs
John Campbell discusses the previous study
https://www.youtube.com/watch?v=lqpIpHezTnY (15 min)
Pluto had an excellent comment last week about the benefit of gargling which was learned in the 1918 pandemic. Earlier QMS had mentioned reading about the benefits of using an iodine based mouthwash.
Faculty from UConn Health have proven that a simple method of rinsing with a diluted version of over-the-counter Povidone-Iodine (PVP-I) oral rinse can kill viruses like the SARS CoV-2 coronavirus and prevent transmission in as little as 15 seconds.
https://today.uconn.edu/2020/06/uconn-health-researchers-find-simple-ora...
Iodine was known by many medical doctors in the 19th century as an empirical remedy, a real "heroic remedy" —-a real present from the science of medicine to humanity. Nobel Laureate Albert Szent Györgyi, the physician who discovered Vitamin C in 1928, commented: "When I was a medical student, iodine in the form of universal medicine. Nobody knew what it did, but it did something and did something good."
Dr. Cousens concludes, "In 1950 the Japanese had 100 times more iodine in their diet than Americans. In 2001 they had 202 times more iodine than Americans and were using up to 13.8 milligrams daily instead of the average U.S. intake of 425 micrograms. Unfortunately, there has been no real study, ever, about what is the optimal safe dosage of iodine. But, again, no one has ever died from iodine overdose or allergic reactions."
https://drsircus.com/general/gargling-with-iodine-beats-covid/
Conclusions: Nasal and oral PVP-I antiseptic solutions are effective at inactivating the SARS-CoV-2 virus at a variety of concentrations after 60s exposure times. The formulations tested may help to reduce the transmission of SARS-CoV-2 if used for nasal decontamination, oral decontamination or surface decontamination in known or suspected cases of COVID-19.
https://www.medrxiv.org/content/10.1101/2020.05.25.20110239v1
Ivermectin is showing excellent results suppressing COVID.
I was very worried about Covid-19 six months ago. Afraid even. Today? Barely worried at all. This video will take you through the science behind that shift in viewpoint. Very strong data from Ivermectin and hydroxycholorquine, combined with the powerful protective effect of having sufficient levels of Vitamin D combine to provide what appears to be a very effective approach for managing Covid-19 the disease. Meanwhile, the US NIH Covid Treatment Panel is woefully behind the times and still recommending Remdesivir over all other possible (and cheaper, more effective) treatments.
Chris also post his links below his clips
Here's a couple
Ivermectin study
And another
https://www.mdpi.com/2073-4409/9/9/2100/htm
Ivermectin blocks the entry of the virus into the cell's nucleus where it replicates.
Ivermectin is widely available. Amazon even sells it.
If all has failed and symptoms get worse meaning the virus is spreading, it is time to go to the hospital. Good medical centers are using the MATH+ protocol.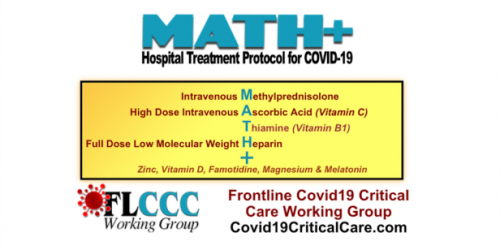 The two main therapies that can reverse and/or mitigate the extreme inflammation causing ARDS are the combination of the corticosteroid Methylprednisolone and the antioxidant Ascorbic acid, which is given intravenously and in high doses. Both of these medicines have multiple synergistic physiologic effects and have been shown in multiple randomized controlled trials to improve survival in ARDS, particularly when given early in the disease. Thiamine is given to optimize cellular oxygen utilization and energy consumption, protecting the heart, brain, and immune system. Given the numerous clinical and scientific investigations that have demonstrated consistent, reproducible, and excessive levels of hyper-coagulation, particularly in the severely ill, the anticoagulant Heparin is used to both prevent and help in dissolving blood clots that appear with a very high frequency. The "+" sign indicates several important co-interventions that have a combination of strong physiologic rationale with existing or emerging pre-clinical and clinical data to support their use in similar conditions or in COVID-19 itself, and all with a well-established safety profile. Such adjunctive therapies are continuously being evaluated and amended as the published medical evidence evolves.

Timing is a critical factor in the efficacy of MATH+ and to achieving successful outcomes in patients ill with COVID-19. The MATH+ protocol should be administered soon after a patient meets criteria for oxygen supplementation (within the first hours after arrival in the hospital), in order to achieve maximal efficacy. Delayed therapy can lead to complications such as the need for mechanical ventilation. If administered early, the MATH+ formula of FDA-approved, safe, inexpensive, and readily available drugs can eliminate the need for ICU beds and mechanical ventilators and return patients to health.
https://covid19criticalcare.com/math-hospital-treatment/
Bottom line...We are learning more and have some effective treatments available.
Media malfeasance
I'm just an Alabama hillbilly and was able to parse out the preceding information about COVID. As Chris discussed in the video above, our government agencies have been captured by big pharma and other corporate interests. Sadly so has our media. In fact our media are corporations.
Matt Taibbi talks with journalism students about the way which the news media has evolved and his ideas about why. His presentation is about 30 minutes and the remainder is a Q&A session. I found it fascinating.
However, I was disappointed the he never mentioned Julian and what that says about the future of journalism.
Jimmy and Max Blumenthal had an excellent conversation about the Assange case. (27 min)
The role of the CIA in our news media cannot be overstated.
And finally a great discussion with Chris and Craig Murray (27 min)
Murray's exhaustive reporting, which can be found https://www.craigmurray.org.uk/ ., has become one of the few sources of reliable information about a hearing that has become notoriously difficult to cover because of court restrictions imposed on the press, and is being ignored by most mainstream news organizations.
So that's enough to chew on for the week. We have covered most of the COVID information in bits and pieces before, but I wanted to compile all my current understandings. I hope you may have found something new and useful in my ramblings. I look forward to your additional contributions in the comments below. Have a great Sunday. I wish you all the lovely fall weather we're experiencing!