The Weekly Watch
Submitted by Lookout on Sun, 07/05/2020 - 8:08am
Mourning America
They call it the American Dream cause you have to be asleep to believe it.
St. George
America was grown out of genocide and built by slavery...both travesties wound tightly in our national DNA...both still evident today. Genocide continues with global corporate capture, for example, in Brazil where mining on indigenous territories brings ecological devastation, land invasions, and renewed cycles of violence. Slavery continues blatantly in our penal system, and less obviously with college debt enslaving our youth. So the idea the US is "great" is a farce, but wave the flag and celebrate the myth.
"When fascism comes to America, it will come wrapped in the flag and waving a cross"
"Fascism should more appropriately be called Corporatism because it is a merger of state and corporate power"
― Benito Mussolini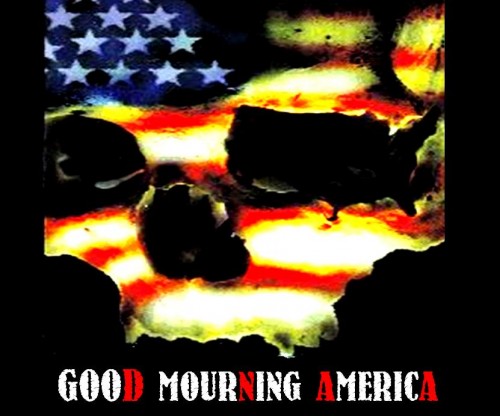 It has all been a progression to get us into the present state. Slavery morphed into share cropping and penal labor for hire. (Chris tells the story of one US prisoner.) Genocide morphed into the apartheid rez domestically and is exported by the global corporate cabal with the recent US driven coup in Bolivia to get rid of their indigenous duly elected president. Couldn't have Moreno preventing US plunder of their lithium supply. They now have their sights on AMLO in Mexico. Not to mention our complicit behavior with Israel's genocide of the Palestinians.
"If there were an an Oscar for Best Dramatic Performance by a Nation-State, Israel would win hands down every year," Finkelstein says. "And so they will manage to turn this illegal annexation, which will enable Israel to appropriate some of the best farmland, agricultural land in the Occupied Territories, that will preclude the possibility of a Palestinian state — they'll manage to turn it into another agonizing, gut-wrenching compromise. I could write the script." (24 min with Aaron Mate')
https://thegrayzone.com/2020/06/23/finkelstein-israel-will-pretend-that-...
However from my view we really went off the rails when the CIA was created...a uncontrolled secret mafia branch of government. We already had the FBI infiltrating unions and socialist organizations domestically, and we expanded that approach globally with the CIA. The cry of defund the police echos in my mind, defund the CIA.
Chris Hedges suggests we have descended into a mafia state.
https://scheerpost.com/2020/06/02/the-treason-of-the-ruling-class/
This long 3+ hour documentary "JFK to 911, Everything is a Rich Man's Trick" convinced me of the evils of our covert activities...Well worth the time IMO.
https://www.youtube.com/watch?v=utLMKiXpN4U
Max Blumenthal has been talking foreign policy in several podcasts this week. He understands well the nature of US aggression. Here's some of those conversations.
The Minneapolis cop who murdered George Floyd, setting off a protest movement, Derek Chauvin, started his career as a military police officer at the notorious Fort Benning, a base named after a Confederate general that is home to the School of the Americas (now called WHINSEC), where the US Army has trained countless Latin American dictators, death squads, torturers, assassins, and coup-plotters.

Max Blumenthal and Ben Norton speak with anti-war veteran Camilo Mejía, who was trained at Fort Benning, about the deep links between US imperialism, white supremacy, and police violence.
https://moderaterebels.com/fort-benning-school-americas-camilo-mejia/
Max does a great job describing the litany of US Latin American coups (sorry no transcript yet).
Max Blumenthal: Bolton, Trump. and Syria Sanctions
https://www.youtube.com/watch?v=5wrmbzivdUs (42 min)
https://thegrayzone.com/2020/06/25/us-qatari-intelligence-deception-prod...
Multiple US media outlets, citing anonymous intelligence officials, are claiming that Russia offered bounties to kill US soldiers in Afghanistan, and that President Trump has taken no action....
"The constant flow of Russiagate disinformation into the bloodstream of the Democratic Party and its base is moving that party constantly to the right, while pushing the US deeper into this Cold War," Blumenthal says.
Transcript or video with Aaron Mate
Lee Camp writes about the bounty story...
https://scheerpost.com/2020/07/02/the-threat-of-peace-and-media-dupes-co...
The CIA spied on Julian and his lawyers while he was in the embassy, which should be enough to throw out the case. Yet their is no more rule of law. No better evidence than the assassination of Epstein while in custudy (and MSM continues to refer to it as suicide).
Here's Julian's dad pleading for release of his son.
https://www.facebook.com/james.ricketson.12/videos/2636432046459543
and an update on his case...
https://www.youtube.com/watch?v=t30sK2xtxLQ (6 min)
In this video, we discuss the latest call over hearing on Monday June 29th in the Julian Assange case. The hearing was held at Westminster Magistrates Court before Judge Vanessa Baraitser. The new superseding indictment was addressed in court and a venue for the second portion of the substantive extradition hearings was announced. In light of the new indictment, organizations including Reporters Without Borders, Doctors4Assange and International Association of Democratic Lawyers issued statements in support of the WikiLeaks founder.
No one has better understanding than our soldiers of the nature of our wars. I've posted this clip a couple of times around the site, but want to include this 5 minute excerpt here in case you missed this insightful look at US empire abroad and at home...
Chris Hedges discusses the nature of patriotism with West Point graduate and US Army combat veteran, Danny Sjursen.
https://www.youtube.com/watch?v=LqBSLZz7P1A
From Danny's article this week...Our messianic belief that we are the chosen nation has been disastrous for so many here and abroad.
https://scheerpost.com/2020/07/02/fourth-of-july-musings-the-curse-of-ex...
We use the US dollar to enact modern day sieges against countries which refuse to allow our corporations to abuse their people and rape their resources. We've long done this to Cuba and Iran and more recently with Venezuela and Nicaragua. However the day of the dollars supremacy may be numbered. The Fed is creating money like never before transferring most of this new money to the wealthiest among us. Yet this may be our undoing for if the dollar loses its supremacy the empire will fall. This is actually my hope as a means to avoid WWIII.
Max and Stacy say let them eat lobster as the Fed drives inflation.
https://www.youtube.com/watch?v=tBHBLoOHG4M (1st 15 min)
One more excellent analysis from Max and Stacy as they call for canceling the Fed.
https://www.youtube.com/watch?v=GDB9I-28BdI (1st 15 min)
It really is bigger than just US policies, it is capitalism in general. Richard Wolff has an excellent take on how COVID has revealed the flaws in the US model.
...preparing and coping with the Corona pandemic was inadequate: medical supplies were seriously deficient. It simply was not profitable for firms to produce or stockpile the supplies. Neo-liberal governments were complicit with private profit capitalists rather than compensating for their inadequacies. The lesson: many basic social needs are needed, like public health. We cannot, need not, and should not rely on capitalists to meet them. Alternatives are available.
https://www.youtube.com/watch?v=dzSYZcvuqR0 29 min
The virus has made US decline obvious..
https://www.spokesman.com/stories/2020/jul/04/coronavirus-brings-america...
My question is what comes first, the collapse of the dollar or the ecosystem...
Do we have a future? What kind of future?

The Climate Tsunami is a 50 minute video essay that aims to support a realistic picture of current climate concerns.

The Climate Tsunami is fiction, it builds on the facts of climate heating to enable the planet to speak about it.
In a sometimes shocking, often touching deep dive, the planet draws on its long historical perspective to show and tell where we are with climate heating and where it might be taking us;

—how human abuse of the planet as a living body has triggered an autonomic response of climate heating;
—how humankind has a clear choice between voluntary shrinkage of its civilizations or possible catastrophic collapse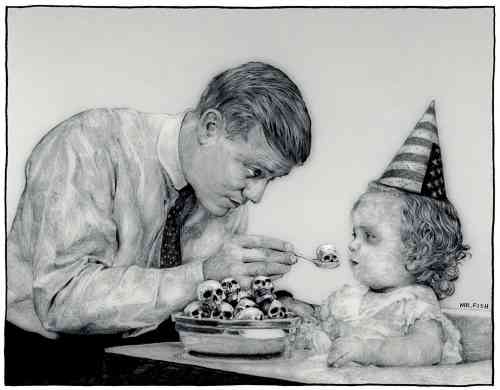 Mr Fish calls his cartoon above food for thought. I only scratched the surface of US empire. No time to cover the media complicity, nor the corporate techniques which captured our government, nor the failure of our education system to train critical thinkers, and on and on. None the less, we do have in this nation great natural resources and places of beauty. Many people of good spirit and intentions. Examples of worker owned businesses and communities devoted to others and the environment. There are aspects of the US to celebrate. We had a lovely holiday yesterday. We grilled out and ate well. Things are odd because normally we would have shared our meal with other friends. Thirty two years ago on this weekend we hosted our house raising with over fifty friends joining to frame in our small home. Their good spirits continue to fill our home with wonderful memories and cherished friendships. So I'm trying to close with the positive thought that within a corrupt empire we can find places of peace and contentment as we are aware of the sins of our nation. I am reminded by the signs as I drive to our small town along a stretch of "the trail of tears". Our history does not define our future, but ignorance insures insures repetition. Stay awake my friends. Thanks for your insights and reporting.