The Weekly Watch
Submitted by Lookout on Sun, 02/16/2020 - 7:34am
Costa Rica "On the Beach"
part 3 of 3
Let's finish the trip on the beach...Playa Zancudo. So we've seen the Southern Highlands, the Osa Peninsula, and now let's spend a week on the beach. I often wonder at my good fortune to be able to have such rich experiences. I paid my dues as a classroom teacher...but I loved my job in many ways. I have a pension...a good one run by a fellow originally from MN. We had the foresight to purchase an incredible piece of property at a bargain. Our home of over 30 years was raised by 50 of our friends and filled with good spirits over all those years. All people should be able to live in healthful communities and have enriching experiences. Let's continue our exploration and cross the Gulfo Dulce from Osa to Zancundo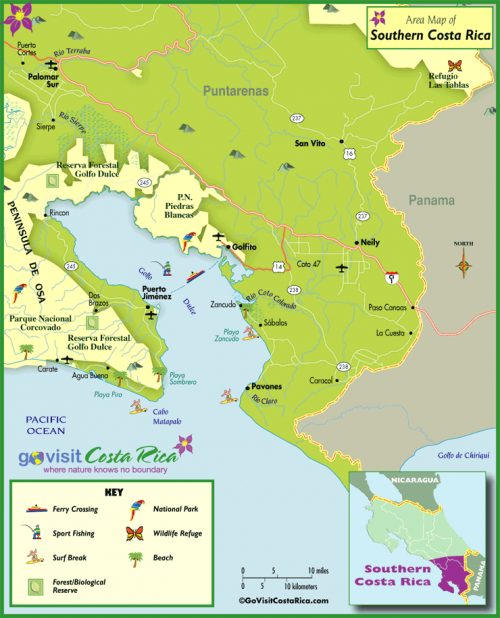 Zancudo is a small community of 300 Costa Ricans, and a handful of "laid-back" foreigners. They flourish on fishing, and a small tourist industry.
The area was originally settled by boat builders of the long dug-outs carved from jungle trees, and by pig farmers that found plenty of feed from the bananas that would wash up onto the beach from the old banana company lands up the nearby river.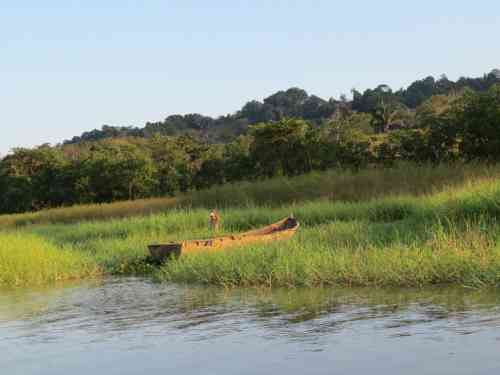 This fellow was cutting grass and filling his dugout. We later saw him feeding it to his cattle across the river.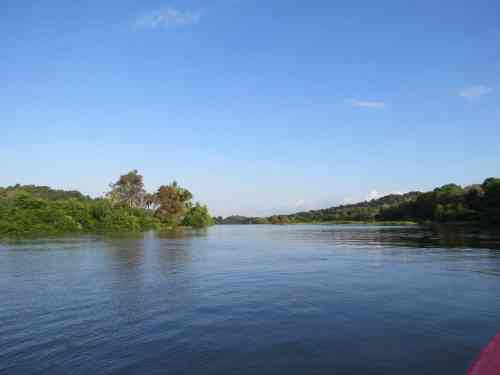 Over the years, as bananas changed to oil palm farming, the beach became a vacation spot for coffee growers from San Vito, and workers from the surrounding rice, palm, and cattle farms.
Now Playa Zancudo offers small beachfront hotels, great restaurants, jungle tours, surfing, safe swimming, good sportfishing, and fly fishing. This unique and undeveloped area is located far south, on the Pacific side of Costa Rica. It is about 6 miles by boat from Golfito, and 8 miles by boat from Puerto Jimenez, where we caught a water taxi.
Most folks fly into Golfito to arrive here in a taxi boat, and others drive in rental cars. The bus is another way to arrive, or even a private taxi right to your cabin door. Many guests come here to relax after visiting the Corcovado National Park on the Osa Peninsula like we've done.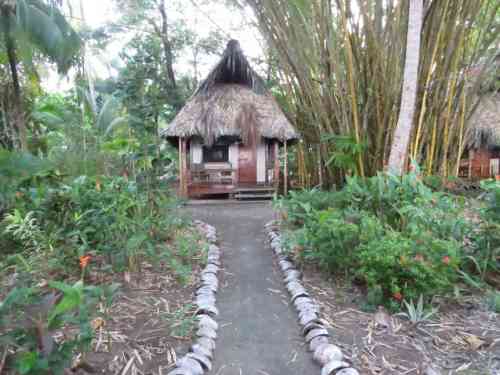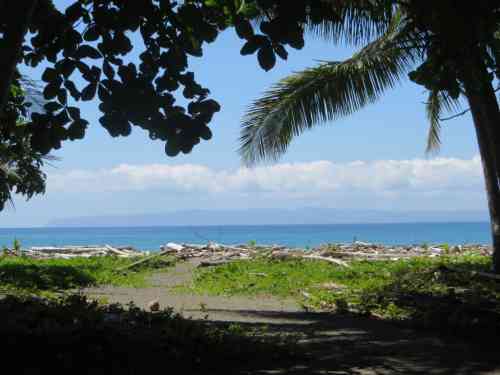 This is a quiet and safe beach and our beachfront accommodation in a palm thatched cabin is lovely. The cabin is right on the beach under coconut trees, facing westerly, with a sunset view over the Osa Peninsula. Many come to read in the hammocks overlooking the ocean, or walk for hours along the long empty beach that stretches 12 miles from the point of the Zancudo Peninsula, south to Pavones, home of the longest left breaking wave.
a 5 min visit...
Come along and take a walk on the beach...
https://www.youtube.com/watch?v=cHP2_x4DQis (2 min)
And an aerial clip of Pavones south of Zancundo said to be the longest left breaking waves.
https://www.youtube.com/watch?v=z4zRoHDVbqc (2 min)
We'll took a water taxi across the gulf, and saw pelicans and dolphins...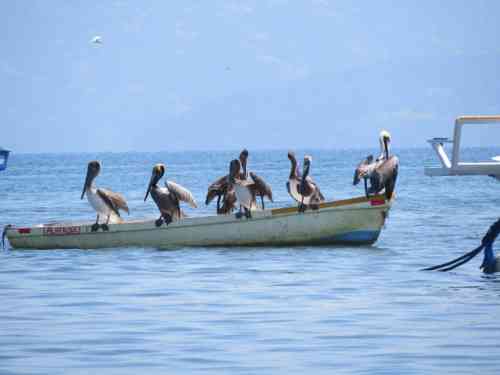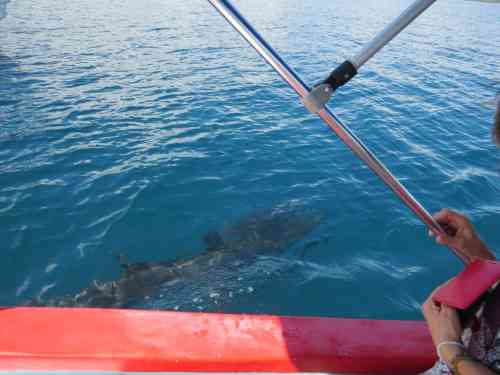 This family drove. Looks like an adventure..
https://www.youtube.com/watch?v=8zGzh4YiTvI (5 min)
We saw some new birds on a river cruise through the mangroves and up the Rio Coto. The birds have been a real treat this trip...
The boat-billed heron...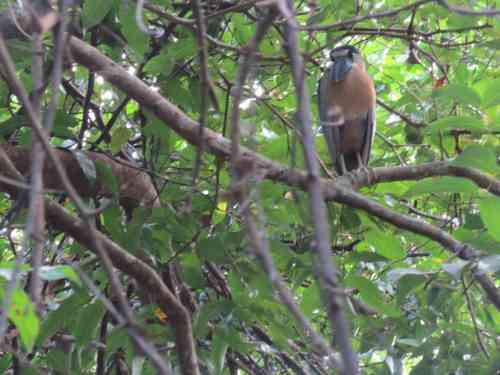 A caracara...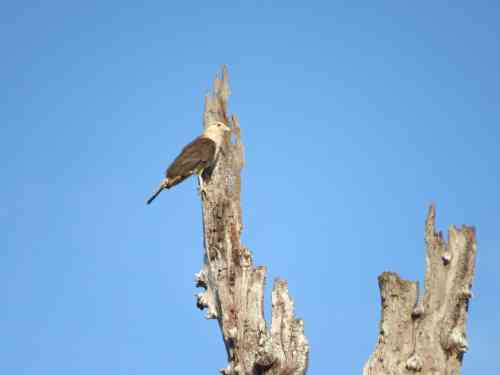 Whimbrels and willets...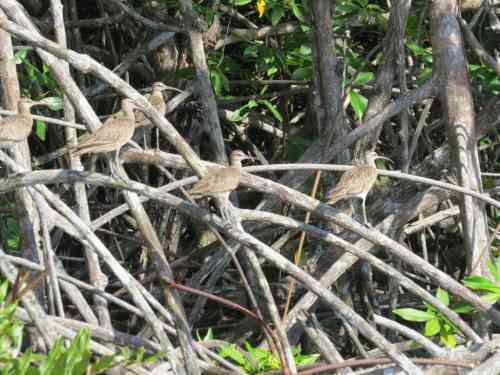 an elegant tern on the beach...

...and some old familiar friends -
the Great Blue Heron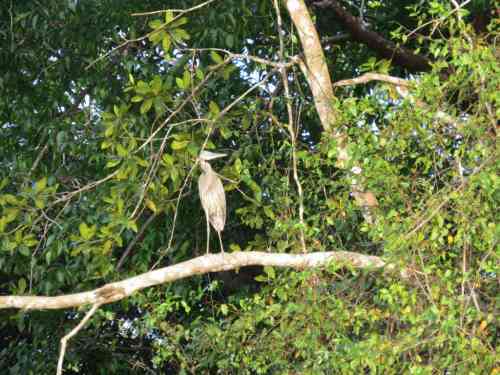 great egret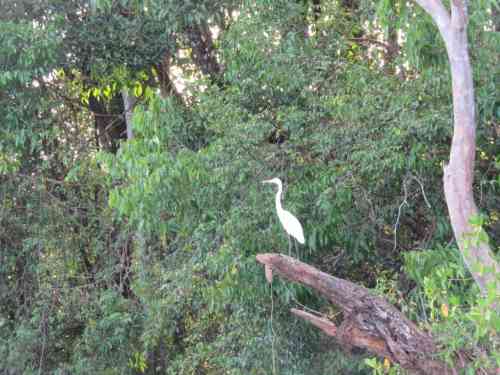 and Ibis...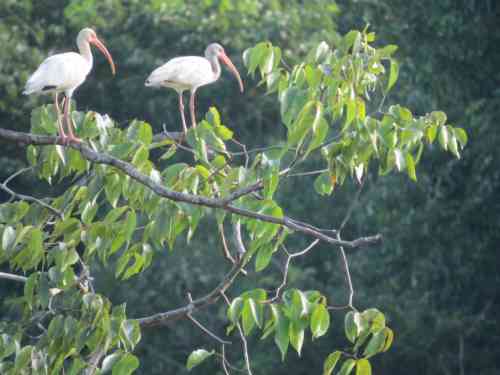 Designing a trip is an experience that takes me a year or two. I like to research the destination. My usual approach is to buy several used travel guides of our destination, plowing through them looking for sites that are off the beaten path that interest us. Many people have been surprised to hear that this is our first trip to Costa Rica and that we've come South rather than the more visited NW beaches and cloud forests.
We've wanted to visit Costa Rica for a while. I have a weak personal link to Costa Rica...Henrietta Boggs was once a friend. She once told me stories of her experiences as first lady of Costa Rica. Here's a bit about Henrietta and her ex-husband Don Pepe.
While visiting an aunt and uncle in the exotic countryside of Costa Rica, a young southern belle from Alabama accepted a ride on the back of a motorcycle belonging to a local charismatic farmer — a ride that would propel her down narrow mountain roads and into history.

First Lady of the Revolution is the remarkable story of Henrietta Boggs, who fell in love with a foreign land and the man destined to transform its identity. Her marriage to Jose 'Don Pepe' Figueres in 1941 led to a decade-long journey through activism, exile and political upheaval and, ultimately, lasting progressive reforms.

First Lady of the Revolution is not only a depiction of the momentous struggle to shape Costa Rica's democratic identity; it's also a portrayal of how a courageous woman escaped the confines of a traditional, sheltered existence to expand her horizons into a new world, and live a life she never imagined.
2 min trailer below
...for more: https://firstladyoftherevolution.com/video-2/
Legacy of Jose Figueres
Today, Costa Rica stands apart from the other nations of Central America for its prosperity, safety, and peacefulness. Figueres is arguably more responsible for this than any other single political figure. In particular, his decision to disband the army and rely instead on a national police force has allowed his nation to save money on the military and spend it on education and elsewhere. Figueres is fondly remembered by many Costa Ricans as the architect of their prosperity.
When not serving as President, Figueres remained active in politics. He had great international prestige and was invited to speak in the USA in 1958 after US Vice-President Richard Nixon had been spat upon during a visit to Latin America. Figueres made a famous quote there: "the people cannot spit at a foreign policy." He taught at Harvard University for a while and was distraught at the death of President John F. Kennedy, walking in the funeral train with other visiting dignitaries.
Perhaps Figueres' greatest legacy was his steadfast dedication to democracy. Although it is true that he started a Civil War, he did so at least in part to redress crooked elections. He was a true believer in the power of the electoral process: once he was in power, he refused to act like his predecessors and commit election fraud in order to stay there. He even invited United Nations observers to help with the 1958 election in which his candidate lost to the opposition. His quote following the election speaks volumes about his philosophy: "I consider our defeat as a contribution, in a way, to democracy in Latin America. It is not customary for a party in power to lose an election."
https://www.thoughtco.com/biography-of-jose-pepe-figueres-2136347
José María Hipólito Figueres Ferrer (25 September 1906 – 8 June 1990) served as President of Costa Rica on three occasions: 1948–1949, 1953–1958 and 1970–1974. During his first term in office he abolished the country's army, nationalized its banking sector, and granted women and Afro-Costa Ricans the right to vote, as well as access to Costa Rican nationality to people of African descent.
https://en.wikipedia.org/wiki/Jos%C3%A9_Figueres_Ferrer
Of course there were many people who shaped the culture of Costa Rica and it's pura vida
Costa Rican culture was heavily influenced by its difficult terrain. The Central Valley, where most of the colonists had settled, is surrounded by mountain ranges. The valley floor is 3,000 feet above sea level; the land was fertile, and the weather was pleasant and crop-friendly. Beyond the mountains, rainfall is heavy and the jungle is dense, especially along the eastern coastline. In the northwest, approaching the Nicaraguan border, the weather is particularly dry. Costa Rica's small and secluded population meant that it could not support a frontier, which from the beginning meant that it did not have the need to form a military element. Its independence, also, took place without Costa Rican involvement and without bloodshed, forming in Costa Rica a political culture wholly ignorant of the experience of war (Ameringer, 1982; Hoivik & Aas, 1981; Molina & Palmer, 1997).

Costa Rica's political culture was further affected by the actions of Braulio Carrillo, who governed the province of Costa Rica in 1835 and became president of the newly independent country until 1842. Carrillo moved the capital of Costa Rica from the colonially-minded Cartago to the more liberally-minded San José, recognizing it as Costa Rica's economic center. Carrillo focused heavily on improving education, believing that no republic could be successful without an educated body politic. Costa Rica acquired its first printing press in 1830, and newspapers became a means for the expression and circulation of new ideas, furthering the process of Costa Rican political development (Ameringer, 1982).

Coffee came to Costa Rica after 1830, and Carrillo encouraged its cultivation. In 1843 Costa Rican coffee caught the attention of an English sea captain, and Costa Rica soon went from being the poorest colony to the wealthiest country in Central America. Coffee took over agriculture, Costa Rica fell into monoculturalism, and by 1883 the majority of peasants had lost their land. Fortunately for the peasants, the individualistic and egalitarian society that had evolved in Costa Rica survived coffee; the Costa Rican presidents of the era were among the most liberal-minded of their time, advocating religious, political, and economic freedom, and supporting public education to educate the masses. The spread of economic liberalism throughout Costa Rica led to a rapid acceptance of capitalism among the coffee barons, who quickly began to use their political power to pursue their own private agendas (Ameringer, 1982; Bell, 1971).

As wealth became less and less evenly spread, the coffee barons began to recruit armies to fight amongst each other. The violence between the coffee barons came to a head when one of the agents of the coffee barons, Colonel Tomás Guardia Gutiérrez, seized power in 1870 and became Costa Rica's first military dictator until his death in 1882. This experience forced the coffee barons to act with more self-restraint in the exercise of their political authority as the coffee economy continued to expand, creating both greater pluralism and leading to the rise of a middle-class that was both aggressively democratic and supportive of the laissez-faire economic order. This aggression lead to the involvement of the new middle-class in politics and massive reforms that established free, compulsory secular education, expelled the Jesuit order, permitted work on holy days, declared marriage a civil contract, and legalized divorce. These dramatic reforms led, in 1889, to the first contested presidential election in Costa Rican history, during which rival candidates vied for the popular vote and represented two distinct political parties. As a result, in 1889 the former democratic system was replaced with one in which opposing political parties acted openly but without directly electing their candidates. Despite this, however, political authority was still under the control of the coffee barons and the professional middle-class (Ameringer, 1982; Creedman, 1971; Molina & Palmer, 1997).

From early on in Costa Rican history, the colony, isolated by unfriendly terrain from any potential enemies, lacked the need for a military force of any sort. The lack of Costa Rican involvement in its independence from Spain and, later, Mexico, and the lack of bloodshed that characterized its independence from the United Provinces of Central America, made Costa Rica a country wholly inexperienced in warfare and militarism. Concomitantly, its tradition of individualism, egalitarianism, and liberalism made Costa Rica averse to settling internal disputes via the use of mass violence. As a result, the potentially explosive conflict between the Liberal Progressive and Democratic Constitutional parties in 1889 were settled by a tentative agreement and not by civil war. Costa Rica's second experience with a military dictatorship, in 1917, was a case-in-point showing how enamored the Costa Ricans had become of their civil democratic institutions. Colonel Federico Tinoco ruled Costa Rica oppressively for two years before mass demonstrations, political instability, and nonrecognition forced him to resign from power and abandon the country in 1919 (Ameringer, 1982; Molina & Palmer, 1997; Peeler, 2003).
....



Henrietta and Don Pepe worked together on both the elimination of a standing army and the protection of ecosystems for tourism.
Figueres' decision to abolish the military was based on vindictive, idealistic, and pragmatic reasons. Figueres hated the military because it represented the Calderón-Picado regime that he had struggled so hard to destroy. Figueres, of course, might have simply replaced the army with his own military force. Here again, it is important to remember that Figueres held a strong adherence to the idealism that led him to first come into opposition with Calderón. Figueres did not believe in the army's power to quash dissent. According to his own words, he did not even support the idea of armed revolution, unless the government has denied the people their electoral rights, which, to him, was the issue that drove him to war in the first place. Electoral rights having been restored, the army had no further use. The pragmatic reasons for dissolving the military involved Figueres' inability to retain the peace without resorting to the same tactics as Picado. To avoid such a recourse and, thus, to convince his opponents that he had no interest in using violence to remain in power indefinitely, Figueres offered the dissolution of the armed forces as a show of good faith (Ameringer, 1978; Bird, 1984).

The levels-of-analysis approach shows clearly how the systemic, domestic, and idiosyncratic levels each played their essential roles in bringing about the dissolution of the Costa Rican military. All of the factors detailed above needed to play out together in order to allow a country that had just stepped out of the proverbial oven and into the fire to safely dissolve its only means of defense, as ineffective as its own defense might have been. Moreover, the dissolution of the military in Costa Rica changed a great deal about how the world thinks about national security. For Costa Ricans today, national security revolves around the strength of the democratic institutions of which they are so proud, not the strength of a military institution that would inevitably threaten those same democratic institutions. For Costa Rica, a military force is a barrier to freedom, not its defender. The world might be a better place if the rest of us agreed.
https://bailey83221.livejournal.com/45020.html
If Costa Rica has eluded the familiar afflictions of Central America – war, poverty and repression – much of the credit belongs to Jose Figueres Ferrer, a fighter for democracy who died in 1990 at the age of 83. It was he who took the bold step of dissolving Costa Rica's army nearly 75 years ago. He later remarked with justifiable pride that such reforms gave Costa Rica a deeper and more human revolution than that of Cuba. That it was: https://www.nytimes.com/1990/06/17/opinion/costa-rica-s-fierce-pacifist....
...and so the sun sets over the Osa from Zancudo and our travels to Costa Rica also has reached its sunset. See you next week from back in Alabama!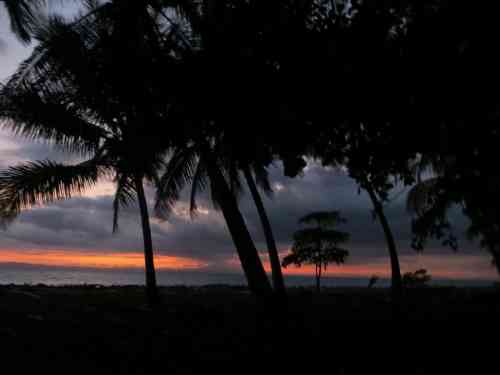 ...and just for fun...have you ever seen the classic antiwar film "On the Beach"? 2.2 hours
For those of you interested in an entertaining movie about end times.
See you at home next week. Till then wishing you all the best. Pura Vida!