The Weekly Watch
Submitted by Lookout on Sun, 12/01/2019 - 8:08am
Leftover Potluck
Another holiday come and gone. I hope yours was rewarding. Visiting with family can be a two edged sword - sometimes stressful and combative, other times pleasant and fulfilling. We see one another rarely these days so it tends to be pleasant. My Mom is 88, so I'm glad to spend some time with her while I can. Both my sisters were there this year, one having returned from a tour of teaching in China. They are close to the same age and they have had issues in the past, but all was well this year. This week I thought I would pull together several sources I've collected but not posted and serve a smorgasbord of ideas from food to politics to the economy. Let's begin by getting back to the garden...
Here in the south we can garden all year. This first clip looks at year round no till tunnel production. https://www.youtube.com/watch?v=z7q3PpAUx3g (14 min)
This is the a coolest greens harvester that uses a battery powered drill, and helps you understand how these market gardeners can get all their work done.
https://www.youtube.com/watch?v=p_qdSSBkFwg (6 min)
We use scissors for our limited harvests.
Charles Dowding demonstrates the speed and ease of no dig gardens. He is in the UK.
https://www.youtube.com/watch?v=Te4Jku_WMJQ (18.5 min)
Animals on the homestead and farm can enhance and aid in vegetable production. ABC acres, a Permaculture farmstead, in Hamilton MT, show how cattle prepared a true "no-till" garden bed for their pumpkins. https://www.youtube.com/watch?v=pbmNRQyxetM (3.5 min)
You don't have to manage a large ranch or farm to practice regenerative agriculture. Here's a fellow with 7 steers and chickens doing the same on small acreage.
https://www.youtube.com/watch?v=nnjklmugBfo (5 min)
Efforts are afoot to certify regenerative farms and provide labeling for consumers...it is a step beyond just organic. (4.5 min)
This is an interesting mixed production farm...animals, trees, vegetables, and more
https://www.youtube.com/watch?v=PT9Du4dxJAw (4 min)
Farming can restore our ecosystems if we use good management practices.
Regenerative agriculture in Australia...filmmaker Amy Browne set out across the dry farming country of South East NSW to meet Massy and the other trailblazing farmers bringing new life to their land. https://www.youtube.com/watch?v=6vQW8Tl_KLc (13 min)
Here's a creative productive NY dairy and goat dairy in Turkey using regenerative practices to improve fertility and biological diversity (18 min)
While we're talking milk, I mentioned making yogurt with a specific strain of bacteria a few weeks back. I think it has been beneficial. Here's the details...
Why I'm making yogurt (other than it is so delicious)...
Lactobacillus reuteri (L. reuteri) is a well-studied probiotic bacterium that can colonize a large number of mammals. In humans, L. reuteri is found in different body sites, including the gastrointestinal tract, urinary tract, skin, and breast milk. The abundance of L. reuteri varies among different individuals. Several beneficial effects of L. reuteri have been noted. First, L. reuteri can produce antimicrobial molecules, such as organic acids, ethanol, and reuterin. Due to its antimicrobial activity, L. reuteri is able to inhibit the colonization of pathogenic microbes and remodel the commensal microbiota composition in the host. Second, L. reuteri can benefit the host immune system. For instance, some L. reuteri strains can reduce the production of pro-inflammatory cytokines while promoting regulatory T cell development and function. Third, bearing the ability to strengthen the intestinal barrier, the colonization of L. reuteri may decrease the microbial translocation from the gut lumen to the tissues. Microbial translocation across the intestinal epithelium has been hypothesized as an initiator of inflammation. Therefore, inflammatory diseases, including those located in the gut as well as in remote tissues, may be ameliorated by increasing the colonization of L. reuteri. Notably, the decrease in the abundance of L. reuteri in humans in the past decades is correlated with an increase in the incidences of inflammatory diseases over the same period of time. Direct supplementation or prebiotic modulation of L. reuteri may be an attractive preventive and/or therapeutic avenue against inflammatory diseases.
https://www.frontiersin.org/articles/10.3389/fmicb.2018.00757/full
Dr William Davis got me interested...
I recently posted Wheat Belly and Undoctored Blog posts about the probiotic species, Lactobacillus reuteri, that in experimental models (aged mice) generated some fascinating effects, including thicker hair, no weight gain (compared to obese controls), more muscle preservation, increased dermal (skin) thickness and increased testosterone. They observed that the L. reuteri-supplemented mice looked and acted more youthful. What made the findings even more surprising was the magnitude of these effects: the increase in dermal thickness, for instance, was an unprecedented 35%, the increase in skin thickness 100%, the increase in testosterone nearly 8-fold.
Another study from this same MIT group supplementing L. reuteri (strain ATCC PTA 6475) to aged mice makes some additional fascinating observations:
Wound healing time was cut in half, essentially restoring youthful capacity for repair. Hair regrowth was more rapid.
Collagen deposition was dramatically improved. (Recall that collagen loss/destruction in skin and other organs is part of the aging process.)
Oxytocin blood levels in females more than doubled, likely explaining the acceleration of wound healing (as well as increased grooming behavior).
Once again, we have to bear in mind that these observations were made in mice and there was no parallel human study. We also need to be careful about the judging the effects of a single species of microorganism, as they do not exist in isolation but in a complex microbial community with multi-faceted interactions with each other and the host. Nonetheless, the effects were so dramatic that it is tempting to wonder if any of these effects translate to human benefits.
https://www.wheatbellyblog.com/2018/01/l-reuteri-gets-even-better/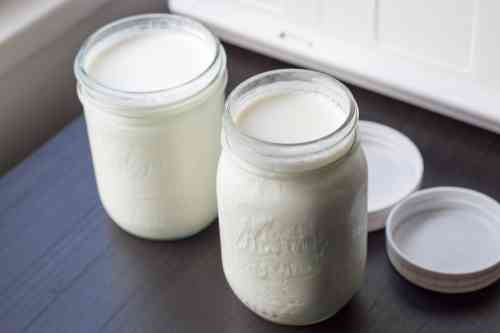 So how to make it....
Here's a 9 min video https://www.youtube.com/watch?v=DYMEfWb4UH8
(I've had better luck NOT using metal bowls nor utensils)
Ingredients:
½ gallon ultrapasturized whole milk (I buy organic grass fed, about $5)
BioGaia probiotic
Inulin or potato starch (I guess corn starch would work too)
Other materials:
4 – pint glass jars
an insta-pot or yogurt maker
Wooden spoon
ceramic or glass bowl
1. crush 10 tablets of probiotic in the bottom of the bowl (I use the bottom of a juice glass)
2. mix in 2+ TSP of inulin or starch (to feed the bugs)
3. start adding milk stirring with wooden spoon until the dry ingredients are (mostly) incorporated (you know how it is the get starch in solution)
4. Pour equal amounts of the mixture into the 4 pint jars
5. Add milk to fill the jars and stir well with wooden spoon or shake well with lid on.
6. Use the wire rack in the bottom of the pot and add all 4 jars with lids
7. Add water up to ¾ the height of the jars
8. Make sure the pressure valve is in the open position and press the yogurt setting
9. Use the plus button to set at (I put mine on at 6 pm and it is ready 6 AM a day and a half later)
10. When done place jars in fridge for at least 4 hours
My first batch had lots of whey. You can thicken it up by draining through cheese cloth. Once you have your first batch it gets lots easier. The next batch just add 2+ TSP of your yogurt to each of the four jars. Add 1 heaping tsp inulin or starch. Fill each jar with milk and stir with wooden spoon or using lids shake the jar well. Then follow steps 6-10 above.
I'm amazed at how tasty this is. I think it is providing benefits but you know subjective evidence ain't really evidence. One last tip, I pressure cook my empty jars for 3 min to sterilize between batches.
Other ideas on eating for good health...
More From Robert Lustig...
I'll be very honest with you, I have nothing against low-carb, I also have nothing against vegan. I really don't. I don't have anything against either of them. The only thing I have something against is the dogma. That I have, a lot of against.

You know, Ornish has good data that works, and I believe it works and the data show that it works, and you know what? So does low-carb, so does keto, and so does Atkins when you do it right. And the point is there are a lot of diets that work. Mediterranean works, you know.

The point is that every single diet that works, and I don't care where you go. I don't care if you go to Greenland and do whale blubber. I don't care of you go to Africa and do the Masai, I don't care if you're talking about agrarian cultures. I just don't care. It's irrelevant.

The point is . Low sugar so your liver doesn't get sick, high fiber so you feed your bacteria. Processed food is high sugar low fiber. High sugar for palatability and low fiber for shelf life. Makes the food cheap but turned it into consumable poison.
https://www.dietdoctor.com/diet-doctor-podcast-14-dr-robert-lustig
So we're addicted to sugar, and big Ag wants us to stay that way. Even hot sauce contains sugar. In fact it is difficult to find processed foods without some form of sugar. Sugar can be disguised under many names such as high-fructose corn syrup, molasses, dextrose, fructose, honey, maltose, and glucose, according to the Food and Drug Administration (FDA). Condiments are full of sugars. https://www.insider.com/how-much-sugar-in-ketchup-bbq-sauce-condiments-2... It is difficult to wean ourselves off sugar, especially when it is hidden in so many foods.
Dr William Davis is the author of Wheat Belly. Here's his presentation called wheatlessness. https://www.youtube.com/watch?v=qeyKvCkxp2o (1 hour)
The wheat of today is not the wheat of our mothers or grandmothers. Modern wheat is the product of genetics manipulations that have transformed its properties. Modern wheat is now a 2-foot tall, high-yield semi-dwarf strain, different in both appearance and multiple biochemical features from traditional wheat. Introduction of this new strain of wheat was associated with the appearance of a long list of health problems, along with weight gain and diabetes.

Saying goodbye to all things wheat provides outsized and unexpected health benefits, from weight loss, to relief from acid reflux and bowel urgency, to reversal of diabetes, migraine headaches, and learning disabilities in children.
Although we were told to use vegetable and seed oils, they have negative health consequences. They are also difficult to avoid. Most roasted nuts, processed foods, salad dressings, and restaurant foods contain seed oils.
https://www.youtube.com/watch?v=GywtvPwFG7k (5 min)
Dr Mark Hyman and Nina Teicholz do a good job explaining the issues with seed oils.
https://www.youtube.com/watch?v=OwMoD3apAQ0 (9 min)
For the last few decades we've been duped into believing we can cook our food in chemically processed factory-made seed oils and continue to have good health. Only now are we starting to understand that our health has suffered from this deception, whether the deception was intentional or not.

The cell-membrane of every single cell in your body is made of fat/cholesterol, so obviously you want to be putting the best fat possible into your body. Putting an easily oxidized, inferior oil in your body leads directly to cell membranes that are much more susceptible to oxidative damage.
https://www.youtube.com/watch?v=wPlHuXYI8v0 (10 min)
So what are good fats? Here's a 5 min comparison of good and bad fats
https://www.youtube.com/watch?v=Yn29mdxEw9w
Last week I recommended the movie Cereal Killers, that link has been taken down. However the other film I recommended The Big Fat Fix is still up, at least for now. if you missed it last week. This film demonstrates a diet very similar to the one we use. Reading over last weeks column, I realize I may have given the incorrect impression that obesity causes disease...no it is a marker...highly correlated. There are obese folks that are metabolically healthy and thin folk who are metabolically ill. So it is more complicated than just obesity.
So in summary sugars, processed (perhaps all) grains, and vegetable oils should be avoided.
Our gut microbiome is key to our health.
Why Fixing The Gut Is The Key To Healing Chronic Disease...
The impact the gut has on the entire body should not be underestimated, but unfortunately in conventional medicine it often is. We are shuttling pounds and pounds of food into this tube we have called the digestive system several times a day and we don't give it a second thought—it's pretty crazy when you think about it. The gut is responsible for our ability to turn food into fuel; to absorb and even create certain nutrients; to rid the body of harmful toxins on a daily basis. We rely on it to do so much for us.
https://www.youtube.com/watch?v=MM7ctcdDZyQ (10 min)
Dr Hyman talks with his comedian wife about food and diet
https://www.youtube.com/watch?v=EGfvvVxwX80 (40 min)
Alright already, enough with food and eating...what about this week's politics?
Well, the MSM is falling over itself to tell you how damning the impeachment hearings are, but Jimmy and the gang do a better job detailing events. If you think it is going well and this impeachment was a good idea, you should watch this! (18 min)
Ray McGovern provides a Ukraine primer that should be widely read to understand the background. https://original.antiwar.com/mcgovern/2019/11/14/ukraine-for-dummies/
Perhaps the real purpose...engineered by the deep state.
Since Trump is unlikely to be removed by the Senate, the most salient legacy of the hearings, however, will be the further entrenchment of Russophobia and advancement of the new Cold War.
https://www.counterpunch.org/2019/11/26/ukraine-gate-provides-another-op...
So they go after Trump tooth and nail, but then approve his rights to spy on everyone. Jimmy is back to explain. https://www.youtube.com/watch?v=ix-DeInV_II (5 min)
(not to mention approving the obscene military budget)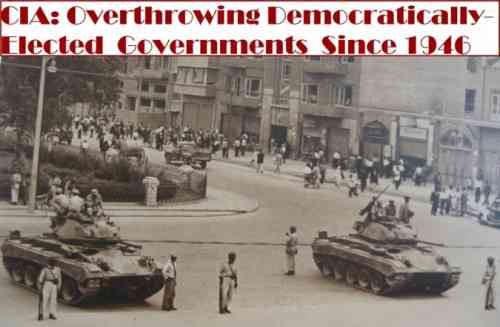 Additionally everyone is distracted as the CIA conducts another successful coup in Bolivia. This has drawn as much attention as the Obummer coup in Honduras...next to none!
The US targeted Evo Morales for overthrow ever since he became president. And the Organization of American States helped set the stage for Bolivia's coup.
https://thegrayzone.com/2019/11/14/oas-us-coup-bolivia-evo-morales/
It was successful in part because of the military...many trained in the US. Compare this with Venezuela where the military continues to support Maduro.
https://thegrayzone.com/2019/11/13/bolivian-coup-plotters-school-of-the-...
And now...
After presiding over a far-right coup in Bolivia, the US dubbed Nicaragua a "national security threat" and announced new sanctions, while Trump designated drug cartels in Mexico as "terrorists" and refused to rule out military intervention.
https://thegrayzone.com/2019/11/27/operation-condor-2-coup-trump-nicarag...
Glenn Greenwald reviews the nature of the Brazilian coup, which is also connected to the CIA. In fact Bolsanaro visited the CIA headquarters on his 1st visit to the US after being elected.
https://www.nytimes.com/2019/11/25/opinion/glenn-greenwald-bolsonaro-bra...
It isn't anything new... It's been going on since there's been an FBI and CIA. Lee Camp talks with his guest about the JFK and Mary Meyer murders.
https://www.youtube.com/watch?v=kGmB-BDRZw8 (30 min)
Another advantage of the impeachment distraction...All the media is silent about Assange. John Pilger describes his trip to prison to visit Julian
https://consortiumnews.com/2019/11/29/john-pilger-visiting-britains-poli...
More than 60 doctors have written an open letter saying they fear Julian Assange's health is so bad that the WikiLeaks founder could die inside a top-security British jail.
https://www.truthdig.com/articles/doctors-warn-julian-assange-could-die-...
John isn't the only one speaking for Julian. The following are remarks given at a conference on Thursday night at St. Pancras Church in London by some of Assange's biggest defenders
https://consortiumnews.com/2019/11/30/psychologically-tortured-assange-v...
Julian Assange Case: Abby Martin, Snowden, Chomsky, Jill Stein, Varoufakis, Horvat & Richter Respond... excerpts of interviews that were conducted from 2018 to 2019.
https://www.youtube.com/watch?v=39IUOeQvaOw (31 min)
Several of you have posted this conversation between Abby Martin and Chris Hedges. They discuss the ignored reality behind Trump, the bipartisan road from neoliberalism to fascism, how the Democratic elite are an institution of corporate power, and how there's no way out through the #2020election without destroying the system. I include it in case you didn't catch this excellent conversation
https://www.youtube.com/watch?v=6dQW4X6oC-c (27 min)
Abby was also on Aaron's Push back series. The Empire Files' Abby Martin and Mike Prysner discuss their new documentary "Gaza Fights For Freedom," a vivid account of the Great March of Return against the Israeli siege of Gaza, and the urgency of global solidarity with the Palestinian struggle. https://www.youtube.com/watch?v=hV6prKVkexk (23 min)
Aaron also hosted Max Blumenthal about the charade in Syria and the White helmet deception.
https://thegrayzone.com/2019/11/26/white-helmets-whitewash-founders-deat... (36 min)
Max was also a guest on Matt and Katie's podcast Useful idiots discussing a wide range of topics. https://www.youtube.com/watch?v=5Pb7Q5aSmi0 (1.7 hours)
Yes, it is the war economy, stupid!
Max and Stacy discuss the high cost of the 'forever wars,' as trillions are spent without the taxpayer realizing because of changes in the naming of the wars. The longest war so far, for example, in Afghanistan and Pakistan, has had two names: Operation Enduring Freedom and Operation Freedom's Sentinel, so, voters don't realize lives and treasure are being wasted in the same theatre. Max and Stacy compare this to the ever-shifting naming of the central bank programs to bailout banks. In the second half, Max continues his conversation with Alasdair Macleod of Goldmoney.com about 150 years of bank credit expansion nearing an end. They also discuss Alasdair's predictions for 2020 on gold, the dollar, and the global settlements layer.
https://www.youtube.com/watch?v=vV04tXmuvv8 (27 min)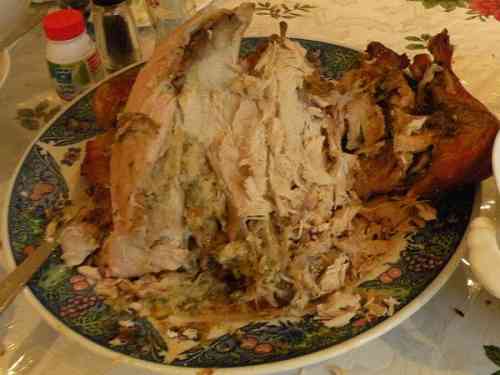 So this week's column has been a potluck smorgasbord using leftovers with a few fresh additions... Like making a turkey soup with the left over carcass. This week we've seen that we can grow healthy food that improves the environment, and there is a cadre of young farmers driving the movement. We reviewed that we can eat in a way that enhances our health and well being. Here again are a group of courageous doctors standing up to big AG, big Pharma, and their own antiquated medical organizations. However as Chris and Abby discuss we can't vote ourselves out of the destructive empire in which we find ourselves. In fact the elected government is merely a charade of puppets whose strings are held by the CIA/FBI/NSA/. The US empire has been out of control for years, and Trumpolini has been an excellent foil for them. It is all Trumps fault plays well in MSM (other than Faux news)and right into the hands of the deep state. So round I go in the rabbit hole. I can improve my life, but I can't impact the tragic trajectory of US empire. My hope is the US economy/dollar collapses before we totally destroy the biosphere and bring our empire's expansion to a screeching halt to avoid WWIII. So eat well, be healthy, and be aware of our plight. Thanks for all you do to educate our community!