The Weekly Watch
Submitted by Lookout on Sun, 09/15/2019 - 7:22am
The Game is Rigged
I tried to watch a bit of the debate this week. I thought the part I saw was a farce. Rigged from the start by cherry picking polls to make sure Tulsi wasn't there. Asking gotcha questions instead opting for substance. The moderators doing their best to slam Bernie. Bye-done bumbling through his incoherent answers as the DNC PTB shove him down our throats like they did the $hill in 2016. But it isn't just the political arena, the rigged game extends deep into almost every avenue of our society... voting, economics, military conquest, environmental collapse, and so on. And almost everybody knows.
Jimmy Dore had several good pieces about the debate and the dim primary this week.
I thought this was the best one. His analysis parallels my own.
Biden Sounds Exactly Like Republican At Dem. Debate (18 min)
More from Jimmy and the gang...
Joe Biden Gaffes Getting Worse Than Ever
https://www.youtube.com/watch?v=sOUd3vdSV0A (7.5 min)
Why Elizabeth Warren Would Lose To Trump
https://www.youtube.com/watch?v=jFNlLNuB_Wc (22 min)
Castro Attacks Biden's Memory Three Times!
https://www.youtube.com/watch?v=dtJ34wycgwk (8 min)
The primary is rigged for sure. I wonder why Bernie doesn't call them out. He's at least hitting back at the media smears, but if anything brought on more criticism as a result.
Matt Taibbi and Katie Halper interviewed Bernie the day after the debate (at the 9 min mark)
https://www.youtube.com/watch?v=u9dxEuVmt0Y
ELECTIONS are rigged too...
Democrat Dan McCready supposedly lost the special election in North Carolina's 9th Congressional District to Republican Dan Bishop on Tuesday by less than 4,000 votes. However, racially biased vote suppression schemes easily account for the supposed GOP victory margin. https://www.gregpalast.com/jim-crow-steals-n-carolina-9th-cd/
They rig elections in many ways from gerrymandering to voter suppression. The Leadership Conference Education Fund's study, "Democracy Diverted," revealed Tuesday that nearly 1,200 of the polling places were closed between the 2014 and 2018 midterm elections, "underscoring the scale of this assault on U.S. democracy."
https://www.commondreams.org/news/2019/09/10/democracy-some-not-all-repo...
The oligarchs have rigged the game and there's no better example than the Koch's.
The Koch Brothers Are Even Worse Than You Think
https://www.truthdig.com/articles/the-koch-brothers-are-even-worse-than-...
Koch's sprawling political network's in-house technology company has mined consumer data to motivate Republican voters with dehumanizing messages that depict immigrants as an invading army of criminals and potential terrorists.
https://theintercept.com/2019/09/09/koch-anti-immigrant-data-i360
The big tech giants play large role in the rigging too. While there are real reasons to be concerned about Google's immense power, this investigation is quite politically motivated, explains former financial regulator Bill Black
https://therealnews.com/stories/48-states-to-investigate-google-anti-tru...
...and another example of the rigging.
T-rump's legacy will last for decades. He's been loading the courts with corporatists.
https://www.commondreams.org/news/2019/09/12/decades-progress-are-stake-...
Nobody describes the rigging better than St. George (3 min)
"The real owners are the big wealthy business interests that control things and make all the important decisions. Forget the politicians, they're an irrelevancy. The politicians are put there to give you the idea that you have freedom of choice. You don't. You have no choice. You have owners. They own you. They own everything. They own all the important land. They own and control the corporations. They've long since bought and paid for the Senate, the Congress, the statehouses, the city halls. They've got the judges in their back pockets. And they own all the big media companies, so that they control just about all of the news and information you hear. They've got you by the balls. They spend billions of dollars every year lobbying ­ lobbying to get what they want. Well, we know what they want; they want more for themselves and less for everybody else."

"But I'll tell you what they don't want. They don't want a population of citizens capable of critical thinking. They don't want well-informed, well-educated people capable of critical thinking. They're not interested in that. That doesn't help them. That's against their interests. They don't want people who are smart enough to sit around the kitchen table and figure out how badly they're getting fucked by a system that threw them overboard 30 fucking years ago.

"You know what they want? Obedient workers ­ people who are just smart enough to run the machines and do the paperwork but just dumb enough to passively accept all these increasingly shittier jobs with the lower pay, the longer hours, reduced benefits, the end of overtime and the vanishing pension that disappears the minute you go to collect it. And, now, they're coming for your Social Security. They want your fucking retirement money. They want it back, so they can give it to their criminal friends on Wall Street. And you know something? They'll get it. They'll get it all, sooner or later, because they own this fucking place. It's a big club, and you ain't in it. You and I are not in the big club."
Foreign influence in our elections? Yep.
As we've been saying here on C99, not Russia. They were caught spying on the Trump administration.
Israel is accused of planting cellphone surveillance devices ("StingRays") near the White House in order to spy on President Trump and his advisors. The Trump administration has yet to denounce or even acknowledge the crime. Legal and media analyst Lionel
https://www.youtube.com/watch?v=UKWzpLTjXAA (6.5 min)
Rick Sanchez discusses reports of Israeli spying near the White House and the muted reactions in US media with human rights activist and author Miko Peled, who reminds us of Israel's long history of treachery toward the US and its other allies. He argues that Israel is "like a mafia".
https://www.youtube.com/watch?v=otn4nQbfZ1U (1st 12 min)
More on Israel...ole buddy ole evil pal.
Israeli PM Benjamin Netanyahu has promised to annex the West Bank. Former Pentagon official Michael Maloof joins Rick Sanchez to discuss Israel's latest provocation, the likely regional response and the existential threat such a move would pose to the future of Palestine. He argues that former national security advisor John Bolton emboldened Israel considerably and that his firing may in part have been to send a message to Netanyahu.
https://www.youtube.com/watch?v=fXnTwBwNz60 (6.5 min)
Noura Erakat, Palestinian human rights attorney and an assistant professor at Rutgers University joins Phyllis Bennis to discuss the annexation.

I think it's important to point out, as you have, that one-third of the West Bank is the Jordan Valley. It's the site of the richest sources of water — some of the richest sources of water in the West Bank, including the Jordan River Basin and the Dead Sea, as well as numerous springs.
(video or text)
https://www.democracynow.org/2019/9/12/benjamin_netanyahu_israel_west_ba...
Shir Hever talks about the slow election cycle in Israel, the second in the same year, in which the parties make minimal effort to campaign. Opinion polls predict the same result as the election last April, meaning that no clear winner can be identified (video or text)
https://therealnews.com/stories/israelis-lose-interest-in-politics-and-u...

https://www.youtube.com/watch?v=Rkzme9MBZqU (2.7 min)
Maj. Danny Sjursen is a retired U.S. Army officer and former history instructor at West Point discusses Bolton's career.
https://www.truthdig.com/articles/john-boltons-living-obituary/
Phyllis Bennis weighs in on Bolton destructive career. (video or text)
https://www.democracynow.org/2019/9/12/john_bolton_fired_national_securi...
Ex-CIA analyst John Kiriakou discusses why he accurately predicted John Bolton's ouster as National Security Adviser; who might replace him; and the Democratic leadership's anemic response.

https://thegrayzone.com/2019/09/14/ex-cia-analyst-on-why-he-predicted-jo...
President Donald Trump parted ways with his hawkish national security adviser John Bolton on Tuesday, ending a 17-month tenure that included additional troops deployed to the Middle East, saw the U.S. repeatedly threaten "military action" against the Venezuelan government, and brought the country within minutes of bombing Iran.
https://theintercept.com/2019/09/10/john-bolton-tried-his-best-to-draw-t...
Economics
The rich get richer and the poor poorer
https://inequality.org/facts/income-inequality/
Max and Stacy discuss all the financial fakery - from fake money to algorithmic trading. They also look at the numbers proving that the bottom half of all U.S. households have 32% less wealth than in 2003 while the top 1% have more than twice as much as they did then.
https://www.youtube.com/watch?v=KhSJeiAcsmM (1st 15 min)
Chris Hedges talks to Elizabeth Anderson, professor of philosophy at University of Michigan, about the tyranny of the corporate workplace from non-disclosure agreements to punitive, restrictive work conditions and censorship. Their discussion comes as California lawmakers passed landmark legislation challenging the business model of "gig-economy" companies forcing companies to reclassify certain contract workers as employees.
https://www.youtube.com/watch?v=VNHpQK1Sie4 (29 min)
Maximizing profit means turning the oceans into dead zones, filling the atmosphere with carbon emissions and toxins that render the climate unfit for humans, pumping chemicals and waste into the soil, water, air and food supply that ensure that cancer is an epidemic, buying off elected officials and judges to serve the exclusive interests of capital and privatizing social services, including health care, transportation, education and public utilities, to gouge the public, that is the price of business.
Chris Hedges
https://www.truthdig.com/articles/the-capitalists-are-afraid/
Max and Stacey are back discussing the militarization of police around the world. The oligarchs recognize that the people will and are revolting or at least protesting.
https://www.youtube.com/watch?v=ftwtlfZye2I (1st 15 min)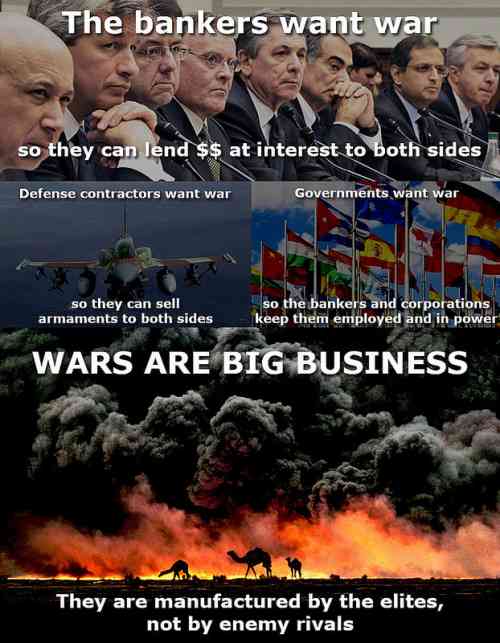 The Endless Wars....
...and the secret agencies that promote and create them.
On 18th Anniversary of 9/11, Media Worry About 'Premature' End to Afghan War
https://fair.org/home/on-18th-anniversary-of-9-11-media-worry-about-prem...
Meanwhile the Yemen war has come home to roost in Saudi Arabia. Drones attacked their major oil refinery.
https://www.moonofalabama.org/2019/09/attacks-on-major-saudi-oil-install...
FBI agents were detailed to the CIA's Rendition, Detention, and Interrogation, or RDI, program, a fact that the Senate Intelligence Committee that investigated the programs and produced the 2014 torture report apparently did not know.
https://theintercept.com/2019/09/11/fbi-cia-black-site-guantanamo/
Fmr. Overstock CEO Patrick Byrne: "FBI Got Hijacked From The Top," The "Men In Black" Pushed Me To Contact Butina...
I was given some fishy orders. And I carried them out thinking -- in 2015-2016, thinking I was conducting law enforcement. Let me emphasize, don't say the FBI. The FBI is barely involved in this. It's all at the top. The "men in black," as I called them, showed up and asked for this third favor. And I -- well, anyway, I'm not going to go into the details right now, but I didn't know who sent the orders, but I did them -- they seemed fishy. Last summer watching television and here's the punch line -- here's the punch line, people, last summer watching television and some congressional hearings, I figured out where those orders came from. It came from a guy named Peter Strzok. And well, three staff (ph) -- Carlin, McCabe, Comey, that was who sent the orders.
https://www.realclearpolitics.com/video/2019/08/22/fmr_overstock_ceo_pat...
The CIA has conducted drug deals for decades.
https://isgp-studies.com/cia-heroin-and-cocaine-drug-trafficking
The "logistical coordinator" for a top Mexican drug-trafficking gang that was responsible for purchasing the CIA torture jet that crashed with four tons on cocaine on board back in 2007 has told the U.S. District Court for the Northern District of Illinois in Chicago that he has been working as a U.S. government asset for years.
http://humansarefree.com/2015/02/overwhelming-evidence-that-cia-is.html
Mexico's El Universal concluded that the U.S. Drug Enforcement Administration (DEA), Immigration and Customs Enforcement (ICE), and the U.S. Justice Department had secretly worked with Mexican drug lords. The controversial conspiring led to increased violence across Mexico, where many tens of thousands have been murdered in recent years, the newspaper found after its year-long probe. The U.S. agents and their shady deals with Mexican drug lords even sparked what the paper called a "secret war" inside Mexico.

The newspaper's investigation also confirmed long-held suspicions that U.S. authorities were signing secret agreements with Mexican drug cartels — especially Sinaloa, which CIA operatives have said was a favorite for use in achieving geo-political objectives
https://www.thenewamerican.com/world-news/north-america/item/17396-u-s-g...
The Environment...in collapse.
Environmental and public health advocates blasted the Trump administration Thursday for finalizing its rollback of an Obama-era regulation designed to curb the pollution of waterways nationwide.
https://www.commondreams.org/news/2019/09/12/trump-rollback-key-epa-wate...
Greta and Naomi Greta Thunberg on the Climate Fight: "If We Can Save the Banks, Then We Can Save the World"
https://theintercept.com/2019/09/13/greta-thunberg-naomi-klein-climate/
I like this interview with Greta and Amy better...video or text
https://www.democracynow.org/2019/9/11/greta_thunberg_swedish_activist_c...
"If there is something we are not lacking in this world, it's money," she added. "Of course, many people do lack money, but governments and these people in power, they do not lack money. And also we need to have the polluters... actually pay for the damage they have caused. So, to that argument, I would not even respond to that argument, because it has been said so many times, the money is there. "
https://www.commondreams.org/news/2019/09/10/critics-who-say-climate-act...
In a personal plea sent to tens of thousands of schools around the world Wednesday, Amnesty International secretary general Kumi Naidoo called on educators and administrators to allow students to join global climate strikes later this month.
https://www.commondreams.org/news/2019/09/11/amnesty-international-chief...
Describing how the system is rigged could go on and on, and I hope you add more examples in the comments below. The fakery of the debate struck a chord with me, and I saw echos throughout the system. This week there is an opportunity to stand with the kids demanding a stop to the destruction of the ecosystem. Many of you are excellent writers, and I encourage you to send a letter to the editor of your local rag this week explaining your thoughts about the climate collapse and support for the students and strikers. It may be too late, but I would rather see us try to change rather than roll over and just go extinct. I look forward to your thoughts and comments below!