The Weekly Watch
Submitted by Lookout on Sun, 02/03/2019 - 7:16am
Get with the System...the Ecosystem
Really a garden, farm, or homestead is an ecosystem. Working with nature, emulating natural processes, and flowing with the system is the key to producing food in a sustainable manner. It can be done in almost every environment. Soil can be improved, but as climate chaos accelerates, we all may need to consider how to buffer our gardens from the wild weather swings we're beginning to see. So this past weeks cold weather led me to write about techniques for winter production as well as creating a food producing ecosystem. We can live in harmony with the planet...(3 min trailer)
The entire 40 min documentary (and several others) can be seen here -
https://www.discoverpermaculture.com/p/video-1-pdc-2019
This California neighborhood project can teach everyone better food production practices.
www.permacutlureartisans.com - Erik Ohlsen takes you on a tour of an edible oasis he created on a 1/3 acre asphalt lot, encouraging you to think about sustainable living for small-town and suburban life. In the face of drought, fire, peak oil, energy depletion, soil depletion and more, you can live a more eco-friendly life. (18 min)
Here's a similar approach in Vermont. Ben covers many topics as he walks through some of his property, including Agriforestry Systems, steep slope gardening, lost soil, and how soil can be transformed after no productivity. He also discusses water management, biomass, ponds, building soil, soil creation, and Icelandic sheep. http://thepermaculturezone.com
https://www.youtube.com/watch?v=t6FGD1KFHSw (11 min)
A system approach to farming isn't something new.
Over the past three decades, using archaeological details about the construction of terraces and irrigation systems, a development charity called the Cusichaca Trust rehabilitated and irrigated 160 hectares of terraces and canals in the Patacancha Valley, near Cuzco. The project was a success: it improved water access and agricultural production, and local families maintain the structures today. Lessons from the Patacancha Valley are now being employed to restore Incan agricultural systems in other areas of Peru.
https://www.smithsonianmag.com/history/farming-like-the-incas-70263217/
These techniques can be combined with greenhouses to grow in all sorts of situations to extend seasons and grow plants that are not well adapted to your climatic zone...
Here's a fellow growing food in the Chicago area this winter (without added heat)
He uses row covers in cold frames within a greenhouse...
https://www.youtube.com/watch?v=CbD05gt3P1I (7 min)
Here's another clip to show his plants after -20 degrees last week
https://www.youtube.com/watch?v=Dd-FOj7cuLc (9 min)
Here in NE Alabama we are able to grow greens and lettuce under double row covers. We've kept them alive through lows in the teens this winter, and harvested some this week. (see picture at end of essay)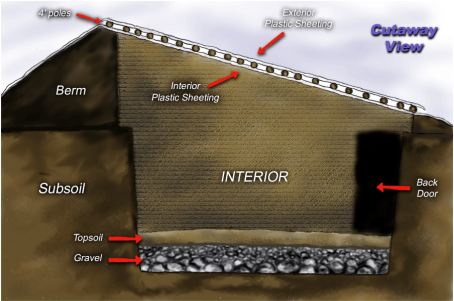 You might be interested in a walapini greenhouse or pit greenhouse...
Here's one in NM used for year round production...
https://www.youtube.com/watch?v=nfzDmVApBbQ (5 min)
Greenhouses can use the heat of the earth, sometimes called an earth battery. Here's a fellow growing oranges in Nebraska. This type of greenhouse requires lots of digging and piping, but are largely self maintaining after construction. (18 min)
Winter temperatures in Alliance, Nebraska can drop to -20°F (the record low is -40°F/C), but retired mailman Russ Finch grows oranges in his backyard greenhouse without paying for heat. Instead, he draws on the earth's stable temperature (around 52 degrees in his region) to grow warm weather produce- citrus, figs, pomegranates - in the snow. Finch first discovered geothermal heating in 1979 when he and his wife built it into their 4400-square-foot dream home to cut energy costs. Eighteen years later they decided to add a 16'x80' greenhouse in the backyard. The greenhouse resembles a pit greenhouse (walipini) in that the floor is dug down 4 feet below the surface and the roof is slanted to catch the southern sun. To avoid using heaters for the cold Nebraska winter nights, Finch relies on the warm underground air fed into the greenhouse via plastic tubing under the yard and one fan.
Growing food through the winter in Holyoke, Massachusetts. Thanks to good insulation and thermal mass, the passive greenhouse maintains above freezing temperatures all winter, and allows them to grow food throughout the year.
https://www.youtube.com/watch?v=3hfFx5z_R2Q (5.5 min)
Here's another approach in Canada. With an insulated back wall and an insulated roof the Groundswell Community Network's passive solar community greenhouse stores heat far better than your typical glass box.
https://www.youtube.com/watch?v=pvPVsMGlVVI (7 min)
http://www.greenenergyfutures.ca/episode/73-passive-solar-greenhouses
I'm a product of the back to the land movement of the 70's. The movement seems revived today. Here's some young folks with a kickstart campaign to create a farm of the future.
https://www.youtube.com/watch?v=WsZjd0HNgBE (3 min)
https://www.greenhouseofthefuture.com/home/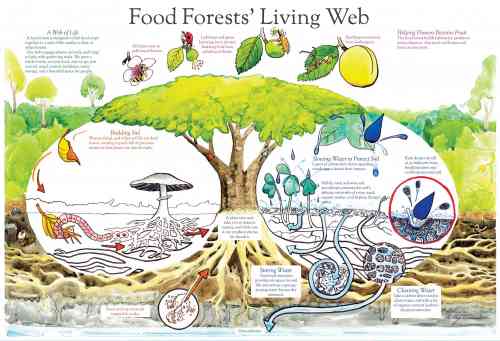 Jerome Osentowski of the Central Rocky Mountain Permaculture Institute explains how he grows food forests as well as created . Learn more about Jerome at http://www.CRMPI.org
https://www.youtube.com/watch?v=rzi9gvDmx6A (14 min)
There are other permaculture institutes around. There's one in Santa Fe.
https://permaculture.org/about/
In just five years this front yard food forest is developing nicely. Here's how he grows his own mulch...known as chop and drop. He also discusses cover crop choices.
https://www.youtube.com/watch?v=eo3atfTD-N4 (4 min)
Some gardeners and farmers use living mulch and inter-plant into the cover crop. In my part of the world the increased water demand is the issue in the summer.
https://www.youtube.com/watch?v=DsCAb1w235Q (5 min)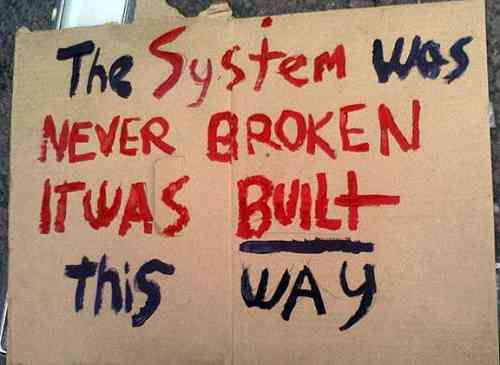 So How About Our Political System?
Well, it is broken - probably by design. Last week I had to rant about Venezuela. I'm still disappointed in the US and our agression. The US has been waging an economic war and upped the ante to promote a coup. The EU and many nations around the world are supporting the US led coup.
Excellent article reviewing all the hypocrisy and absurdity of the US coup...
Two things stand out about the US coup in Venezuela. First, it is unusually open. Typically, the US tries to hide its coups. Second, the coup is built on a series of obvious falsehoods, yet the bi-partisans in Washington, with a few exceptions, keep repeating them.
https://popularresistance.org/venezuela-what-activists-need-to-know-abou...
Jeremy Scahill has a nice summation of the situation...
The Trump administration is openly engaging in a blatant effort to overthrow the government of Nicolás Maduro in Venezuela. It's a campaign aimed at regime change, and it's being publicly promoted as an opportunity to steal Venezuelan oil for the benefit of U.S. corporations. They're not even pretending.
https://www.youtube.com/watch?v=wVQn_DdkYlU (9 min)
The United States is waging an economic war on Venezuela, the country with the world's largest oil reserves. Crippling sanctions imposed by the Donald Trump administration have bled Venezuela of billions of dollars. The first United Nations rapporteur to visit the nation in two decades, legal expert Alfred de Zayas, told The Independent that the devastating international sanctions on Venezuela are illegal and could potentially be a crime against humanity.
https://grayzoneproject.com/2019/01/30/us-economic-warfare-venezuela/
Jimmy explains how sanctions are hurting Venezuelans
https://www.youtube.com/watch?v=whgOvbw53WY (10.5 min)
US President Donald Trump's hyper-militaristic National Security Adviser John Bolton spilled the beans in an interview on Fox Business, admitting that the United States government is working with corporations to target Venezuela's massive oil reserves.
"We're looking at the oil assets," Bolton said. "That's the single most important income stream to the government of Venezuela. We're looking at what to do to that."

"We're in conversation with major American companies now," he continued. "I think we're trying to get to the same end result here."
https://grayzoneproject.com/2019/01/29/us-coup-venezuela-oil-corporate-j...
https://finance.yahoo.com/news/great-oil-paradox-too-many-095223769.html
Mark Weisbrot explains the story (video or text)
https://therealnews.com/stories/new-oil-sanctions-on-venezuela-would-des...
...And surprise, surprise - Juan Guaidó is the product of a decade-long project overseen by Washington's elite regime change trainers. While posing as a champion of democracy, he has spent years at the forefront of a violent campaign of destabilization.
https://grayzoneproject.com/2019/01/29/the-making-of-juan-guaido-how-the...
So how is it US citizens are not objecting to this illegal coup? Because all the media tells them we're in the right...
https://fair.org/home/resistance-media-side-with-trump-to-promote-coup-i...
The NYT evidently never met a Latin American coup they didn't like
https://www.truthdig.com/articles/your-complete-guide-to-the-n-y-times-s...
Meanwhile Julian is still in his prison because he tells of of the crimes of the powerful
https://www.youtube.com/watch?v=W74dyiDrN_w (9 min)
Here's ten reasons the US is the most corrupt country in the world...
https://www.truthdig.com/articles/the-united-states-is-the-most-corrupt-...
Oil, the MIC, big Pharma, ....
Yes friends corporations reign supreme. The US Department of Justice finalized its approval of the Bayer and Monsanto merger. A new monopoly will be created over agricultural pesticides and industrial seed production, with farmers locked into industrial farming and our health endangered. (video or text)
https://therealnews.com/stories/bayer-monsanto-merger-endangering-our-he...
Seems there is some growing awareness about climate collapse... a new poll reveals that Americans' concern for climate change has surged to record levels. (video or text)
https://therealnews.com/stories/americans-concern-about-climate-change-s...
Last Sunday Chris Hedges gave a sermon at Christ Church Cathedral in Victoria, British Columbia. https://www.youtube.com/watch?v=C9MnG7FTooE (20 min)
I'm not religious, but I found it interesting.
It is interesting to contrast natural and political systems. Natural systems are self correcting - if we stop polluting them, the system cycles back. Lake Eire is an example. Politics on the other hand seems captured by the corporate oligarchs. Our representatives have been purchased and act to promote corporate profits not to help citizens. Both parties are complicit. The US government seems rusted solid in corrupt, violent, and oppressive actions to promote the elite...as they rain environmental and climatic destruction upon the globe.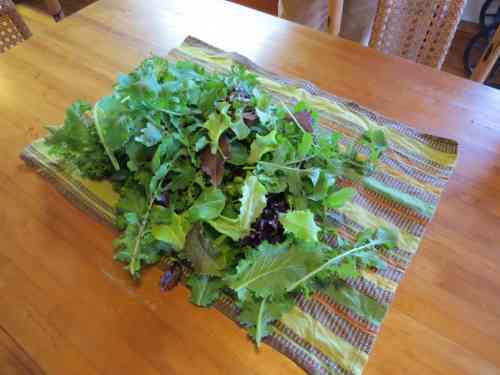 I see no need in pulling my hair or banging my head against that wall. I prefer harvesting our little patch of greens and feeling like in my minuscule way I'm sequestering some carbon and connecting with the Earth. I hope you all came through the polar vortex without frozen pipes nor frostbite...and I wish you the peace of nature in the garden, or park, or trail of your choice. The gardeners in the north that are still growing plants in this frigid weather are really amazing. As always, I look forward to your thoughts and comments.