The Weekly Watch
Submitted by Lookout on Sun, 01/20/2019 - 7:11am
Planting Seeds...
I felt I was planting seeds as a teacher...not just ideas...but also an approach of using evidence to support our concepts. That's the nature of science, but not human nature. We cling to our beliefs and rarely examine our deepest held ideologies. It is a challenge for scientists too...to let go of ideas they find profound because new data indicates they are incorrect. Like most sectors of our lives, science has largely been purchased by the corporate oligarchs. They fund the research and and are highly involved in the hiring and firing of the staff. Recent decades have seen continuous cuts to government funded studies and increasing dependence on corporate and foundation moneys. The current situation with seed production tells the story.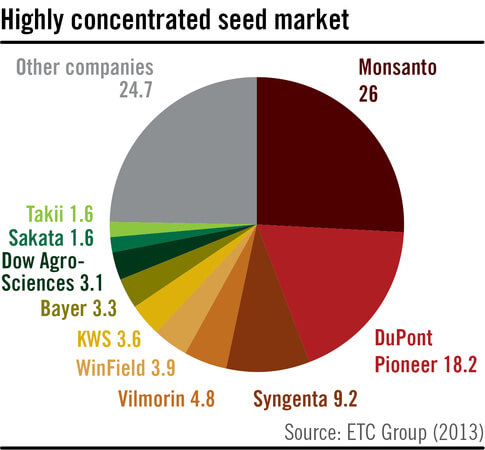 Monsanto was founded in the USA in 1901. Its first product was the artificial sweetener saccharin. The company then developed into one of the biggest chemical producers in the U.S. and began pesticide production after World War II. Monsanto's dioxin-contaminated herbicide Agent Orange caused millions of cases of poisoning when used by the US troops as a defoliant during the Vietnam War. In 1976, Monsanto launched the herbicide glyphosate, which rapidly became the company's most important source of revenue and the world's best-selling herbicide. Monsanto began its seed production in the 1980s and developed genetically modified (GM) soya, which tolerates Monsanto's own herbicide Roundup (glyphosate). Today, Monsanto controls 90% of the GM seed market. In just a few years, countless takeovers made Monsanto the world's biggest seed producer. Through the acquisition of Seminis, the world's biggest producer of vegetable seeds for $1.4 billion in 2005, Monsanto became the global market leader for vegetable seeds as well.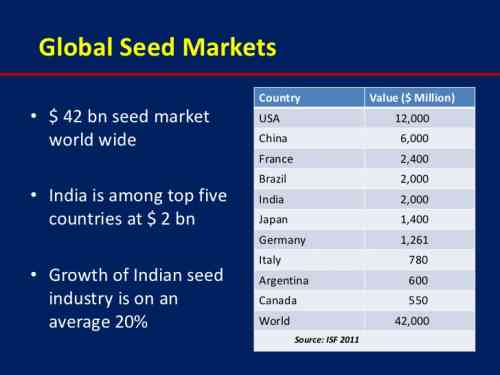 It's all about seed control for Monsanto and the other corporate manufacturers of genetically engineered, GMO crops. So it's no surprise that Monsanto has made moves to control garden seed as well. In the last several years, a number of international agri-conglomerates have consolidated their hold over the very seed and nursery starts we plant in our gardens. This brings some of the same problems — loss of seed diversity, spiraling seed costs, and general deficiencies in seed quality — that crop growers around the world face from the owners of genetically-modified seeds. And it's happening under our noses right in our own backyards.
https://www.planetnatural.com/seed-control/
It isn't just Monsanto. There's a corporate octopus of investment and profit...
It is about profit...and DuPont has more than Monsanto based on this data...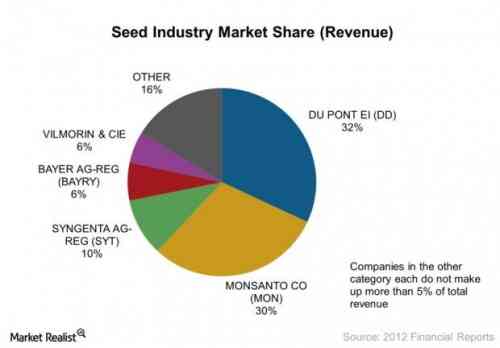 From their website...Why Does Monsanto Sue Farmers Who Save Seeds?
Monsanto patents many of the seed varieties we develop. Patents are necessary to ensure that we are paid for our products and for all the investments we put into developing these products. This is one of the basic reasons for patents. A more important reason is to help foster innovation. Without the protection of patents there would be little incentive for privately-owned companies to pursue and re-invest in innovation. Monsanto invests more than $2.6 million per day in research and development that ultimately benefits farmers and consumers. Without the protection of patents, this would not be possible.
https://monsanto.com/company/media/statements/saving-seeds/
An 11 min story of a seed processor on Sand Mountain (just north of Lookout Mountain).
In 2003, according to the film, White and his father Wayne, who was in his 80s at the time and has since passed away, were sued by Monsanto and accused of patent infringement after unknowingly cleaning genetically-modified Resistant Ready soybean seed for a local farmer. (Monsanto disputes this version of events.) In the documentary, the surviving White says he was put under constant surveillance by private investigators working for Monsanto, and claims he was threatened with death by one of the corporation's salesman. White stopped cleaning seed for the public, as have many others, and he says the "thousand-year-old tradition of saving seed is over with" because Monsanto – whose patented genetically modified seed makes up 93 percent of all soy grown in the U.S. – dominates the market.
https://modernfarmer.com/2015/09/seeding-fear-the-story-of-a-farmer-who-...
It's been happening all over the country and world. Here's more farmers stories...
https://www.youtube.com/watch?v=GNvW-uGBTSk (14 min)
It is strange to think you can patent genotypes and even plant characteristics...
Frank Morton has been breeding lettuce since the 1980s. His company offers 114 varieties, among them Outredgeous, which last year became the first plant that NASA astronauts grew and ate in space. For nearly 20 years, Morton's work was limited only by his imagination and by how many different kinds of lettuce he could get his hands on. But in the early 2000s, he started noticing more and more lettuces were patented, meaning he would not be able to use them for breeding. The patents weren't just for different types of lettuce, but specific traits such as resistance to a disease, a particular shade of red or green, or curliness of the leaf. Such patents have increased in the years since, and are encroaching on a growing range of crops, from corn to carrots — a trend that has plant breeders, environmentalists and food security experts concerned about the future of the food production.
https://ensia.com/features/open-source-seeds/
"Control over the seed is what's at the core of all environmental sustainability that we're working toward," he says, pointing to the increased consolidation in the global agriculture industry, most recently with the mergers announced between ChemChina and Syngenta in August 2016, and Monsanto and Bayer in September. "If you go to the farmer's market and you're interested in buying good, local, sustainably produced vegetables, you also need to understand that most vegetables are coming out of a breeding process that is itself endangered. We will not have food sovereignty until we have seed sovereignty."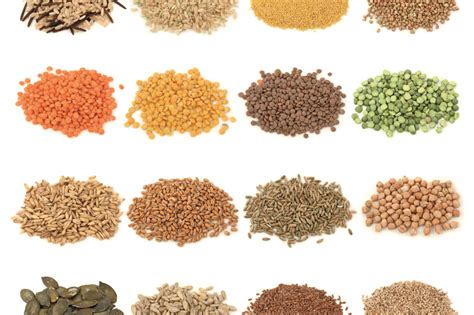 Fortunately there are options...
Inspired by the free and open source software movement that has provided alternatives to proprietary software, OSSI was created to free the seed – to make sure that the genes in at least some seed can never be locked away from use by intellectual property rights.
https://osseeds.org/
There's a community of seed savers...https://www.seedsavers.org/
We built a movement, not a seed company. Since 1975, we have grown, saved, and shared heirloom seeds and led a movement to protect biodiversity and preserve heirloom varieties. At the heart of our organization is a seed bank that houses a collection of 20,000+ rare, open-pollinated varieties. With gardeners like you, we can get these seeds where they belong—in gardens and on tables everywhere, for generations to come.
There are also coops and enlightened owner nurseries producing heirloom seed that you can save yourself. I like to use worker owned companies like...
Southern Exposure Seed Exchange out of VA http://www.southernexposure.com/
Johnny's seeds https://www.johnnyseeds.com/
and Fedco seeds https://www.fedcoseeds.com/
both in Maine
There are small grower owned outfits dedicated to heirloom seed too.
Baker Creek in Missouri offers lots of heritage seed https://www.rareseeds.com/
Clear Creek seeds in OK has lots of heirlooms https://www.clearcreekseeds.com/
Those of you on the left coast might like https://www.reneesgarden.com/ in CA
or
http://www.territorialseed.com/ in OR
I used to use worker owned Seeds of Change (which still produce good seed from interesting varieties), but they were bought out by the Mars Company. They have many dry-land varieties for the SW https://www.seedsofchange.com/
Some crops like peas, beans, lettuce, and tomatoes are great for beginning seed savers. These annual, self pollinating crops require little to no isolation, and only a few plants are needed to reliably produce seeds.
Saving your own seed can be fun and might be a good idea for the future of your garden. Varieties are being lost because they are not profitable enough.
https://www.seedsavers.org/how-to-save-seeds
http://www.howtosaveseeds.com/
https://www.almanac.com/content/start-saving-those-vegetable-seeds
https://www.planetnatural.com/seed-saving/
https://www.motherearthnews.com/organic-gardening/save-vegetable-seeds-b...
It is important to store seed properly to keep them viable.
https://www.goodhousekeeping.com/home/gardening/a20706339/how-to-store-s...
Ideas as seeds...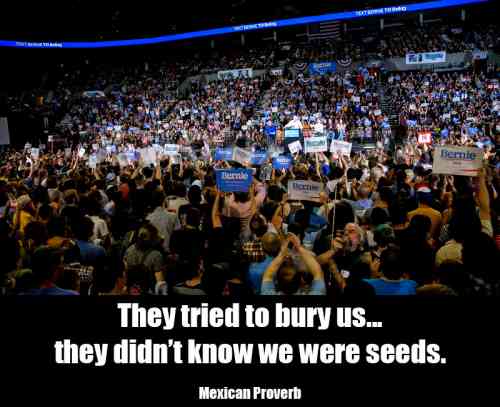 Tomorrow is MLK day. His speeches still speak truth to power...
https://www.scribd.com/doc/134362247/Martin-Luther-King-Jr-The-Three-Evi...
...there are those who have criticized me and many of you for taking a stand against the War in Vietnam and for seeking to say to the nation that the issues of Civil Rights cannot be separated from the issues of peace. I want to say to you tonight that I intend to keep these issues mixed because they are mixed. Somewhere we must see that justice is indivisible, injustice anywhere is a threat to justice everywhere and I have fought too long and too hard against segregated public accommodations to end up at this point in my life, segregating my moral concerns.

So let us stand in this convention knowing that on some positions; cowardice asks the questions, is it safe; expediency asks the question, is it politic; vanity asks the question, is it popular, but conscious asks the question, is it right. And on some positions, it is necessary for the moral individual to take a stand that is neither safe, nor politic nor popular; but he must do it because it is right. And we say to our nation tonight, we say to our Government, we even say to our FBI, we will not be harassed, we will not make a butchery of our conscious, we will not be intimidated and we will be heard.
On MLK day I find it ironic that the Birmingham Civil Rights Institute rescinded a human rights award for the activist and scholar Angela Davis, reportedly due to her activism for Palestinian rights. She tells the story.
We can plant seeds of peace, but sadly it seems we sow seeds of war.
The weapons corporation, which is creating bombs that Saudi Arabia is dropping on school buses full of children in Yemen, is trying to recruit women into the arms industry by telling them it will fulfill their dreams. To do so, Lockheed Martin has even tried to co-opt the legacy of the legendary black activist and writer Langston Hughes, exploiting his poem A Dream Deferred. Fellow weapons manufacturer Raytheon, which has also profited from unimaginable death and civilian suffering in Yemen, is trying an even more shocking strategy: (video or text)
https://therealnews.com/stories/media-whitewashing-the-blood-soaked-us-m...
Abby Martin debunks the notion that Trump is an anti-interventionist president, outlining his first two years of aggressive foreign policy that has expanded US wars and occupations. From the biggest military budget in history, to removing its restrictions to "bomb the hell out of" Iraq and Syria, to ramping-up brutal economic sanctions, to becoming America's 'Arms Salesman-In-Chief.' https://therealnews.com/third_party_content/the-empire-files-trump-is-ex... (17 min)
Teachers are trying to help students learn. They're marching in LA...(video or text)
https://therealnews.com/stories/l-a-teachers-to-billionaires-stop-privat...
Let us sow seeds of peace and help young people in the struggle to change the system...
Seeds are the juncture between maturity and birth of a plant. Seeds are produced when plants reach adulthood, but the seed itself is a baby plant in a box with its lunch. How it grows depends on the conditions. It is the same with children...and ideas. A fertile environment produces healthy plants, children, and ideas. I find C99 to be a healthy environment to share ideas. I hope we continue to follow JtC's advice to seek tolerance, and I hope your ideas grow into productive fulfilling actions.
I'll be out of town playing a dance weekend when this publishes so I won't be around this morning. I should be home mid-afternoon and will join the conversation when I can. I look forward to your ideas, contributions, and comments!