Warren stalled? Biden about to collapse?
Submitted by gjohnsit on Tue, 10/29/2019 - 11:43am
I haven't seen anyone mention it, but Warren has been dropping in the polls for all of October.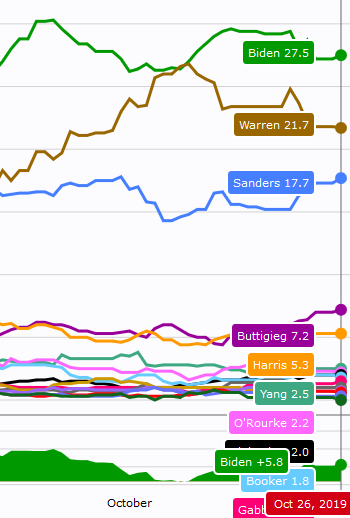 As for Biden, his support remains strong with old people who aren't paying attention, but the media is getting ready to drop him. Voters are tiring of him too.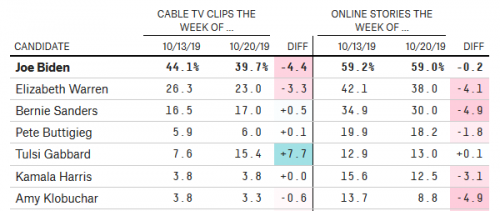 Right now, 27% of likely Democratic voters would be dissatisfied with Biden. That's higher than the 21% of Democratic primary voters who would be dissatisfied with Sanders as nominee, and the 15% who would be unhappy if Warren was the nominee.

Among voters who'd be satisfied with Sanders, Biden is considered unsatisfactory by 32%. Just nine percent of Sanders supports would be dissatisfied with Warren and just over 9% dislike Mayor Pete Buttigieg, while 18% dislike Sen. Kamala Harris.
It seems like no one believes the polls when it comes to Biden. Not even big donors.

The veneer of Joe Biden for president is being slowly unraveled to the point of imminent political collapse.

NYMag's Olivia Nuzzi paints a sorrowful portrait of the former vice president whose campaign is bloated by democratic establishment insiders and even a former secret service agent who follows Biden around to project what she terms "big presidential energy."

I don't know why exactly but having an employed former secret service agent to protect the aura of presidential 'electability' is just about the perfect exemplar of the Biden campaign. Nuzzi puts it best perhaps in this paragraph

Quote "for many of these staffers the campaign feels like it should be a coronation. Joe Biden 2020 isn't a labor of love or ideology. it's about the proper order of things. it's about who's entitled to what. it's the vehicle by which the democratic party establishment arrives once more to power, the displaced Obama and Clinton professionals reinstalled to the levers of power."

This perhaps more than anything else I've ever seen boils down the Biden campaign to its essence. Biden is simply the vehicle thrust upon all us in order for the army of K street lobbyists and consultants to restore the cash cow that was the presidency under Barack Obama. A Biden campaign restores the natural order of things in which oceans of outside money groups coalesce around the white house, advisory councils, and trade meetings. He resets the clock on a multi-billion-dollar machine that has been disruptive.

And that's what America rejected in 2016 and there is very little evidence that anybody outside of Washington wants it.
Meanwhile Bernie's support is unshakable.