Tulsi Update: March 28, 2019 (Donor Status, Los Angeles Stop, Polls)
Submitted by apenultimate on Thu, 03/28/2019 - 6:49pm
UPDATE MARCH 30: Tulsi has had to move her appearance in Los Angeles today because they needed a larger venue. Too many people expected! There are 1,734 guests expected on her Facebook page, but typically that number is inflated. She might be expecting half that, which would still be very good.
She also mentioned on one of her online media appearances yesterday (she was on Jimmy Dore, TYT, Kim Iversen, and Niko House) that she had over 50,000 unique donors now, and it is still March. That's a great thing as well. Some of those online appearance were cast streaming live, but will only appear on YouTube archives this weekend or the upcoming week. The only one I saw was TYT, which is up on YouTube. It was an interesting interview--Cenk tried to trip her up, but using questions that generally were valid. She did a great job answering, though. I did find I disagree with Tulsi about one thing, which was interesting. Still fully behind her, though.
--------------
Tulsi continues to obtain unique donors--as of today, she has 49,624. She needs to gain 331 per day through May 14, and is currently averaging 579 per day over the past couple of days. She has not made any campaign appearances for the past 4 days, so her daily new donor rate has dropped from over 2,000 per day.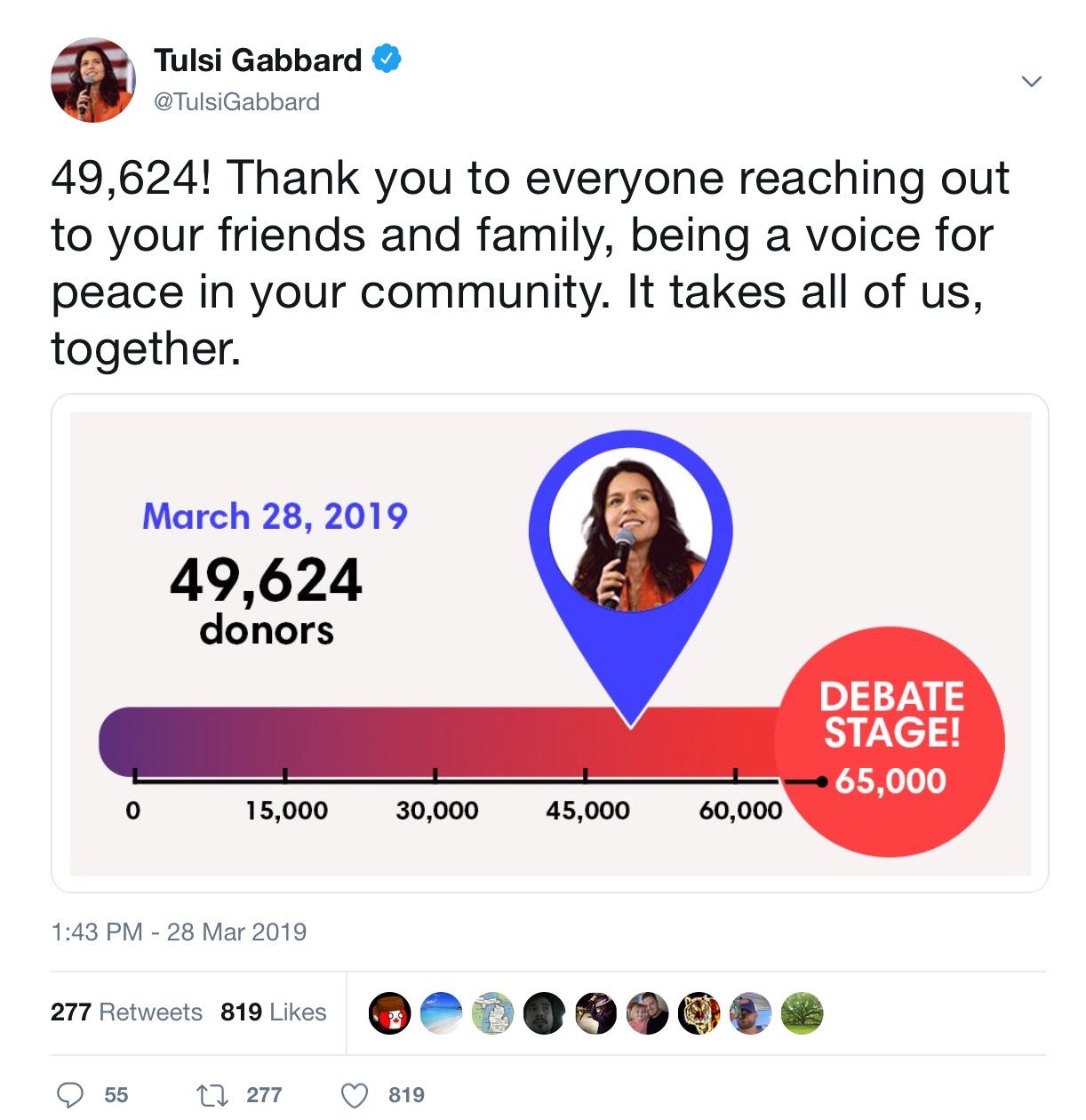 Tulsi will make her next campaign stop on Saturday in Los Angeles at 432 N. Fairfax Ave. (where is that? evidently somewhere bands can play according to Apple Maps), and she is listed on Facebook as "Touring Neighborhoods" in the area that day. Facebook lists 1,600 attendees at that location, but for large gatherings typically a quarter to half of those listed on Facebook have been actually showing up.
Several major polls continue to not include Tulsi in their choices--RealClearPolitics, which had previously included Gabbard, stopped doing so this past week, even though they included other candidates recieving zero percent of votes.
Interestingly, in a completely non-scientific, ranked-choice online poll which included all Democratic primary candidates, with responses from 919 people the final results were 1. Bernie Sanders, 2. Elizabeth Warren, 3. Tulsi Gabbard. I find results like that interesting. Unfortunately, I cannot seem to locate it anymore, and the post on reddit linking to it seems to have been scrubbed.