Tuesday Open Thread ~ The Monkey Mind
Submitted by Anja Geitz on Tue, 03/24/2020 - 2:03am
~
Buddha described the human mind as being filled with drunken monkeys, jumping around, screeching, chattering, carrying on endlessly.
~
~
Good Morning,
Welcome to Tuesday's Open Thread. As we navigate through these unsettling times, it's helpful to recognize the signs of mounting stress and ways to relieve it. Whether that's working in the garden and letting the sun shine on your face, finding a relaxing spot to meditate, or staying in bed with a cup of chai latte and watching your favorite movies until noon, we need to self-care now more than ever. The monkey mind is at full throttle these days conjuring up scenarios that are too terrible to contemplate. I have a lot of friends in New York who are very anxious right now. Anxious about their health. Anxious about their families. Anxious about their finances. In the coming weeks, we will need to summon up courage and compassion for what's ahead. So, please take care of yourselves, find the delight in things, and try to quiet the monkeys.
Tweets of the Week
~
Jeff Bezos could pay for 50,000 ICU-level ventilators at $50,000 a piece and still have $107 billion left over for himself.

— David Sirota (@davidsirota) March 17, 2020
~
One candidate is having his surrogates tell the American people its okay, you'll be fine, just go and vote.

Another candidate is telling the American people be safe, and follow the guidelines of the CDC if you decide to vote in person.

Can you guess which one is which?

— Abshir Omar (@AbshirDSM) March 17, 2020
~
The DNC wants states to value delegates over lives. Makes sense for a party establishment whose healthcare policy values profits over lives. https://t.co/iumppAI7FC

— Aaron Maté (@aaronjmate) March 17, 2020
~
— Stephen King (@StephenKing) March 17, 2020
~
my best friend's grandfather died this weekend, and they just got news that he was positive for coronavirus. her dad is also positive, and she's caring for him while her mom cares for her grandmother separately so it doesn't spread to her. why are we holding elections today

— Akela Lacy (@akela_lacy) March 17, 2020
~
If you're wondering why DNC criminals are forcing a primary vote during a pandemic it's because they don't want to risk Bernie overtaking Biden if given more time. https://t.co/rbOuTq3HpJ

— Secular Talk (@KyleKulinski) March 17, 2020
~
The Vatican canceled Easter. You know how much stuff has to suck for the Pope to be like "you know what, this year Jesus stays dead".

— Jesse Case (@jessecase) March 17, 2020
~
Just received cleaning supplies: (for 11 hours worth of voters) pic.twitter.com/4UNkqJkhwa

— rebecca (@rebeccapearl21) March 17, 2020
~
Person admits to accidentally washing hands with cheese for days https://t.co/Sr7DJ4bSZo

— Boing Boing (@BoingBoing) March 17, 2020
~
Anybody care to try to defend this? Anybody? https://t.co/xTubYh2eRO

— Ryan Grim (@ryangrim) March 18, 2020
~
"Do not call 9-1-1 just because you ran out of toilet paper. You will survive without our assistance."https://t.co/obeuTx4Q3I

— Mental Floss (@mental_floss) March 18, 2020
~
Capitalism has no concern for human life:

Italian volunteers found a way to 3-D print for $1 a piece needed for ventilators, saving the lives of coronavirus patients

So the company with the patent, which charges $11,000 for the piece, wants to sue them https://t.co/ypflEYVVS9

— Ben Norton (@BenjaminNorton) March 18, 2020
~
Can nobody help out Uncle Joe? Maybe turn it off and turn it back on, try that https://t.co/TtTAYEfbho

— Ryan Grim (@ryangrim) March 18, 2020
~
RT @caroljsroth: When you are social distancing, but still need help with the groceries... #COVID19 pic.twitter.com/FDjVBpAOQt

— Steve Keating (@LeadToday) March 18, 2020
~
Trump wants to give everyone $1,000 each, excluding people who earn over $1 million/yr.

Idk if anyone has told him this, but that's socialism.

— Sergio Siano (@SergioJSiano) March 18, 2020
~
yeah us too bitch https://t.co/IDcsDf0KDC

— Cari Hernandez (@eatinginmycar) March 18, 2020
~
Where did all the libertarians go?

— Kaniela Ing (@KanielaIng) March 18, 2020
~
It's interesting that there were no means-testing requirements when Congress cut a $700 billion check to multinational Wall Street banks, but there are calls for means-testing emergency survival assistance to everyday workers

— David Sirota (@davidsirota) March 18, 2020
~
We are in a global pandemic and #Detroit still has at least 3,500 households with water turned off. We need local and global media to put pressure on our city gov't to prioritize this issue. All emergency efforts are a moot point, if thousands can't wash their hands. #Help

— Honeycomb (@Combsthepoet) March 19, 2020
~
Oh to be a drunken elephant asleep in a tea garden unaware of the world around me https://t.co/SfduYbypWK

— pro abortion, anti war (@queenozymandias) March 19, 2020
~
The first great quote of the #coronavirus era comes from @BernieSanders: "I'm dealing with a fucking global crisis."pic.twitter.com/gWQa3Tvldh

— John Nichols (@NicholsUprising) March 18, 2020
~
It's late-night Twitter, so I'm gonna go ahead and send this one:

The 2020 presidential election has come down to a Jewish carpenter against a moneylender and an innkeeper.

— Alyson Metzger (@AlysonMetzger) March 19, 2020
~
Two undeniable facts:

1. Joe Biden is mentally incompetent.
2. The primary is being stolen.

There is not a single party operative or professional newsweasel who doesn't know this. DO NOT let them gaslight you.

— Plain Ol' Johnny Graz (@jvgraz) March 18, 2020
~
A bar in my neighborhood is delivering entire liters of their premixed margaritas for $25 and you get a complimentary roll of toilet paper with your purchase and it's really starting to feel like there are no rules anymore

— Ryan Brooks (@ryanbrooks) March 18, 2020
~
Hey, at least we didn't nominate the "communist," right? Anyway I'm off to go stand in line for bread.

— Vince Mancini (@VinceMancini) March 18, 2020
~
Obama could have done this during the housing crisis.

He didn't. He sent no strings attached money to banks, and they foreclosed on 10 million homes. https://t.co/eiFVYlsqha

— Bloomberg Office Vandalizer (@Jamie_Maz) March 18, 2020
~
I've lost my mind.

I wrote Coronavirus Rhapsody:

Is this a sore throat?
Is this just allergies?
Caught in a lockdown
No escape from reality.

— Dana Jay Bein (#DJB) #CoronavirusRhapsody (@danajaybein) March 18, 2020
~
This is wild. I started volunteering time a week ago with @RoboGui's open source COVID19 medical supplies project. Now it's in Newsweek. What a surreal fucking month it is already.https://t.co/G7itaO5pz3

— Nathan (@touchthesun) March 19, 2020
~
oh my god stop tweeting "nows the time to finish that project!" may we be excused from churning out quality content DURING A GLOBAL PANDEMIC PLEASE today i looked at my own leg for 45 minutes. just stared at it

— Stevie Martin (@5tevieM) March 15, 2020
~
A friend recommended this extraordinary book during a difficult time I had a few years ago and I can't recommend it highly enough; it's as though it was written for right now.

"When Things Fall Apart: Heart Advice for Difficult Times" by the brilliant US buddhist Pema Chödrön: pic.twitter.com/XEpOtEB75t

— Glenn Greenwald (@ggreenwald) March 19, 2020
~
Some people just don't get it... pic.twitter.com/ugQLW4pLHv

— The Daily Show (@TheDailyShow) March 19, 2020
~
Right now over 80 doctors at Hopkins and at hospitals in China just finished a meeting via videoconferencing. The doctors in China taught us from their recent experience. They finished by praying for us.

— Shmuel Shoham (@ShohamTxID) March 20, 2020
~
An uninsured COVID-19 patient just got her medical bill: $34,927.43. @abbyabrams has the story. https://t.co/jOPJJ4VqKG

— Abby Vesoulis (@abbyvesoulis) March 20, 2020
~
This has made me laugh more than once in the last few days. So simple. So funny. https://t.co/cL58PVAEuB

— Mignon Fogarty (@GrammarGirl) March 20, 2020
~
Younger daughter's bestie just returned from spring break in Italy and Spain, yet daughter can not understand why I am telling her they cannot meet up today. ::headdesk::

— Bethanne Patrick (@TheBookMaven) March 20, 2020
~
Everyone's favorite goat farm is posting a soothing video every day https://t.co/uO4rOIUZha

— Mashable (@mashable) March 20, 2020
~
Joe Biden's omnipresence, steely calm and inspiring leadership has shown the US what A Real President does in times of crises.

Oh wait -- has anyone seen Joe?

— Glenn Greenwald (@ggreenwald) March 20, 2020
~
Very weird to see people gloating about Biden's wins in states where he has:

no campaign office
no volunteers
no ground game
no rallies

...without remotely questioning HOW this is possible.

— Clever Pseudonym (@YadzTy) March 20, 2020
~
Mind-blowing article where surrogates and supporters of @JoeBiden, including @WhipClyburn, tell Biden that he needs to be more like @BernieSanders and adopt as many of Bernie's policies as possible.

YOU SHOULD'VE JUST SUPPORTED THE REAL THING. https://t.co/86nvMDCFaG

— Shaun King (@shaunking) March 20, 2020
~
— Krystal Ball (@krystalball) March 20, 2020
~
Bernie Sanders:
- Suggested primaries should be postponed.
- Doing regular appearances to discuss COVID-19 crisis
- Fundraising for COVID response groups

Joe Biden:
- Spread misinformation about COVID to turn out voters
- Disappeared
- Fundraising unchanged

Differences matter

— Walker Bragman (@WalkerBragman) March 20, 2020
~
We were all told that we desperately need Joe Biden's leadership and experience. Now all we have to do is find him.

— jeremy scahill (@jeremyscahill) March 20, 2020
~
The campaign who's entire pitch is "experienced, steady hand" can't figure out the goddamned internet https://t.co/iJiMxGqaJS

— Luke Savage (@LukewSavage) March 20, 2020
~
As 2.5M lose their jobs in the middle of a pandemic, remind me again why we binding health insurance to employment is a good idea.

— Shamus Khan (@shamuskhan) March 20, 2020
~
Me: can you stop jumping off the bed? I really don't want to have to go to the hospital during a global pandemic.

My 9 year old: You can just say, "pandemic," because a pandemic means that it's global.

— Evan Greer (@evan_greer) March 20, 2020
~
If @NYGovCuomo says we need masks my team will help make some. I have a full sewing team still on staff working from home that can help.

— Christian Siriano (@CSiriano) March 20, 2020
~
The dad next door to our apartment in Brooklyn just took his small kids outside to let them scream as loud as they want for a few minutes before taking them back inside

— Christopher Mathias (@letsgomathias) March 20, 2020
~
El Salvador has cancelled all rent, water, phone, internet, electricity bills for three months AND they're building a hospital IN CASE of a major outbreak. MY third world country did THAT

— Hilda (@hiillddaah) March 19, 2020
~
me, an idiot: logging onto instagram live

joe biden, a genius: renovating his house to use the internet better pic.twitter.com/79ZkIufLH5

— stay home cuties (@nationalparke) March 20, 2020
~
Can't figure out how to host a livestream but is ready to guide us through a pandemic and economic calamity. Gotcha. https://t.co/WKL1Rwovhn

— Krystal Ball (@krystalball) March 20, 2020
~
I have this woman come in and clean my floors once a month and I gave her three months' worth of cash to stay away and she started crying, which tells me that everyone else just cancelled and fucked her over.

— Joshua Holland (@JoshuaHol) March 20, 2020
~
For the average American the best way to tell if you have covid-19 is to cough in a rich person's face and wait for their test results

— Harry Moroz (@hrmoroz) March 20, 2020
~
Looks like we have no choice but to nationalize! https://t.co/JQ2SKOGFVp

— Secular Talk (@KyleKulinski) March 21, 2020
~
Break up the motherfucking banks, regulate and break up corporate monopolies. #WhenThisIsAllOver

Actually now.

Also banned forced arbitration. Now.

This is a pandemic profiteering moment and we cannot let them steal and plunder from workers and small biz while people die.

— Zephyr Teachout (@ZephyrTeachout) March 21, 2020
~
indeed!

here's the cdc compliant pattern in a step by step tutorial:https://t.co/XNTjUCyscQ

— deep state leeks (@anonymous_leeks) March 20, 2020
~
Joe Biden is at my apartment right now and he brought molly and these dudes who say they were in a Charli XCX video but I dunno

is this okay or should I call a lyft

— Jason Linkins (@dceiver) March 22, 2020
~
You can't criticize Trump for lack of leadership and defend Biden's absence during this crisis.

If something's seriously wrong, that's a different story. But if his campaign is doing this by choice — either to hide his mental decline or keep his polling lead — it's a disgrace.

— Emma Vigeland (@EmmaVigeland) March 22, 2020
~
So my dog has been so happy that everyone is home for quarantine, that his tail has stopped working, so we went to the vet and the vet said 'he had sprained his tail from excessively wagging it'

— Emma smith (@Emmasmith77xx) March 20, 2020
~
Remember when @joebiden told us his special skill was he could bring the GOP and Democratic Party together to pass bills?

Right now the GOP and Democratic Party need to come together and pass a bailout bill so people don't starve to death in the streets.

No sign of Joe Biden.

— ʙᴇɴɪɢᴍᴀ, ᴛʜᴇ ꜱᴄʀɪᴠᴇɴᴇʀ (@benigma2017) March 21, 2020
~
Though I had major issues with quite a few of the Democratic contenders for the presidency this cycle, I can't imagine any of them doing a worse job than Biden has this week. It's scary as fuck to be alive right now. We need a leader, a road map out of the cave. This is pathetic.

— Laura Moser (@lcmoser) March 22, 2020
~
can the doctors working around the clock and isolating from their families at least get their hundreds of thousands of student loan debt cancelled as a thank you or nah

— Kate Willett (@katewillett) March 23, 2020
~
~
Hello. Did somebody say they needed a heartwarming story from the coronavirus era? Okay, fine.

Let me start by saying that I am not a particularly melodramatic guy, but I just don't know how to tell this story without turning to pure mush. (1/11)

— jasper nathaniel (@thewordsof_JDN) March 22, 2020
~
Toddler presenting his own baking show is the cutest thing you will see today, guaranteed..

— FierceWarriorNStilettos (@InactionNever) March 21, 2020
~
When I was a boy and I would see scary things in the news, my mother would say to me, 'Look for the helpers. You will always find people who are helping.' To this day, especially in times of 'disaster,' I remember my mother's words and I am always comforted by realizing that there are still so many helpers—so many caring people in this world." ~ Fred Rogers
~
Well, that about wraps things up for this week's edition.
~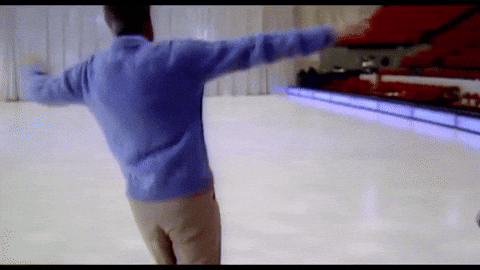 ~
What's on your monkey mind today?