Tuesday Open Thread - 22 Jan 19
Submitted by

QMS

on Tue, 01/22/2019 - 3:20am
Framing in the social sciences refers to a set of concepts and theoretical perspectives on how individuals, groups, and societies organize, perceive, and communicate about reality.
~
Good day all. Welcome to another attempt at a somewhat sensible description of life, longing and disbelief.
Have lately been working on a study of an obscure branch of information management.The voyage began at a workshop put on by an outfit calling itself "Better Angels". It was billed as an exercise in bridging, thru dialogue, the chasm between right / left, liberal / conservative, establishment / progressive ideologies. It was fun, in a way, as we were randomly assigned either a red or blue slip of paper. Then paired with someone possessing the 'other' color. I asked for green, but it wasn't an option. HA. Play acting imitates life.
A couple of social issues were suggested to discuss, with an accompanying list of strategies to consider when confronting an opposing point of view. Rather than saying, for instance: You're full of sh*t, respond by showing you have grasped the scope of their belief. The presumed benefit of this approach is to leave the door open to further discussion.
I had several problems with the presumptive outcomes, but thoroughly enjoyed my sparing partner -- a retired scientist. We threw away the script and had a wonderful exploration of life, the universe and everything instead.
This is a rather long way around to my original theme. Sometimes we just go off on tangents. Anyway, I was hoping to delve into the subject of how and why the information managers control the narrative we are fed, in order to shape opinions and manufacture consent for inhumane, immoral and insane acts. Like war, intolerance or extreme inequality. There are many theories and facts floating about.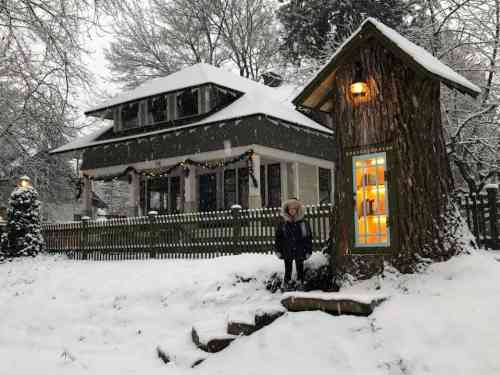 ~
A couple of songs from the last century, when the melodies were still sweet.
Pat Metheny Group Last Train Home from Still Life
Jeff Beck Cause We've Ended as Lovers from Blow by Blow, written by Stevie Wonder
~
Framing refers to the social construction of a social phenomenon often by mass media sources, political or social movements, political leaders, or other actors and organizations. It is an inevitable process of selective influence over the individual's perception of the meanings attributed to words or phrases.
~
Miniature by Tatsuya Tanaka; Little (Free) Tree Library -- Coeur d'Alene, Idaho. Both via Colossal
~
Chime in as you wish.