Trump's sanctions are backfiring
Submitted by gjohnsit on Thu, 11/15/2018 - 5:46pm
In September Turkey decided to buy a Russian S-400 missile system in defiance of U.S. sanction threats.
The threats remain, but the sanctions never happened.
In October India decided to buy a Russian S-400 missile system in defiance of U.S. sanction threats.
The threats remain, but the sanctions never happened.
Now I see in today's news that 13 nations are looking to buy Russian-made S-400's.

At least 13 countries have expressed interest in buying a Russian missile system instead of platforms made by American companies, despite the potential for triggering U.S. sanctions, according to people with first-hand knowledge of a U.S. intelligence assessment.

One of the people, who declined to be named, said that Saudi Arabia, Qatar, Algeria, Morocco, Egypt, Vietnam, and Iraq have all discussed buying the S-400 missile system from Russia. However, the U.S. expects that a handful of countries will fold to diplomatic pressure.

The S-400, a mobile long-range surface-to-air missile system, is the Kremlin's answer to America's Patriot and THAAD platforms. Lockheed Martin makes the THAAD, or terminal high altitude area defense, system, while Raytheon makes the Patriot.
Only China was hit with sanctions for buying S-400's.
The U.S. has also thrown around sanction threats for anyone buying Russian energy exports, this is mostly directed at the gas pipelines that are being built.
In a couple days, Putin will attend a ceremony.

Russian President Vladimir Putin will visit the Turkish city of Istanbul on November 19 to attend the ceremony of ending construction of the TurkStream gas pipeline, Kremlin aide Yury Ushakov said.
Despite the threats, Turkstream is largely completed.
Nord Stream 2 is also on it's way to being completed without any sanctions being applied.
Trump's sanctions against Iran were supposed to be so epic that he tweeted this.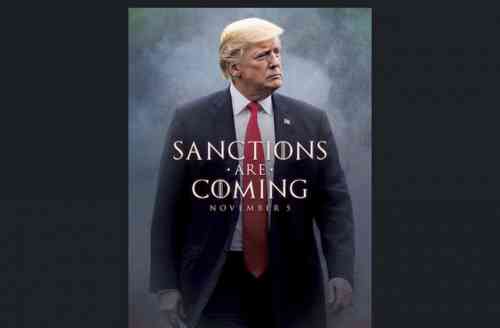 When the day came, Trump discovered the word "waiver".

Almost all major buyers of Iran's oil had negotiated with the U.S. for the waivers, arguing that cutting purchases to zero would affect their energy industries and boost fuel costs. U.S. Secretary of State Michael Pompeo has defended the exemptions and said the Trump administration's campaign to pressure Iran has already reduced exports by over 1 million barrels a day and they'll continue to shrink.

India, China and South Korea, three of Asia's top four buyers, got waivers allowing them to purchase a combined 860,000 barrels a day. The levels for Japan, Italy and Greece are yet to be confirmed. Turkey got waivers for about 60,000 a day, far less than it bought in 2017.
So many waivers were handed out that the price of crude crashed around the globe, and one oil trader says that Saudi Arabia was 'duped'.
The Saudis are pissed.

Angered by the U.S. move that has raised worries about over supply, Saudi Arabia is now considering cutting output with OPEC and its allies by about 1.4 million barrels per day (bpd) or 1.5 percent of global supply, sources told Reuters this week.

"The Saudis are very angry at Trump. They don't trust him any more and feel very strongly about a cut. They had no heads-up about the waivers," said one senior source briefed on Saudi energy policies.

Washington has said the waivers are a temporary concession to allies that imported Iranian crude and might have struggled to find other supplies quickly when U.S. sanctions were imposed on Nov. 4.

U.S. Secretary of State Mike Pompeo said on Nov. 5 that cutting Iranian exports "to zero immediately" would have shocked the market. "I don't want to lift oil prices," he said.

A U.S. source with knowledge of the matter said: "The Saudis were going to be angry either way with the waivers, pre-briefed or even after the announcement."
Essentially Trump's sanctions have 1) roiled the markets, 2) pissed off a lot of allies, 3) failed to accomplish their stated goals, while 4) weakening U.S. sanctions as a weapon.