Trump is not good for the GOP
Submitted by gjohnsit on Sun, 08/05/2018 - 1:55pm
President Trump's approval rating with Republicans has never been higher.
While that appears to be a good thing for Republicans at face value, it is in fact a sign of weakness.

From the beginning of the Trump administration the oldest Americans, those aged 50 and over, have consistently given Trump his highest approval ratings while young people aged 18–29 have consistently given him his lowest approval ratings....
A political party that can't attract young people, especially in a generation that is as big as the Millennial generation—America's largest demographic group—is not a party with a very bright future. So although Trump, while focusing on the base, has made the Republican Party his, come November it may not be as much of an advantage.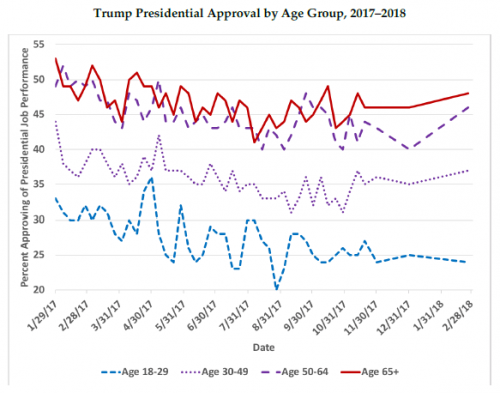 Obviously the GOP has a generational problem and Trump isn't helping.
That is a long-term problem.
However, Trump is also a short-term problem for the GOP as well.

On the poll's congressional ballot question—"Which party's candidate are you more likely to vote for in your congressional district?"—the GOP trails by just six points, 45 percent to 39 percent. But when the question is framed around Trump—"Do you want to elect a Congress that mostly cooperates with President Trump, or one that mostly stands up to President Trump?"—the gap more than triples. Fifty-five percent of voters choose a Congress that stands up to Trump. Only 34 percent choose a Congress that cooperates with Trump. A six-point deficit becomes a 21-point deficit...
Trump blames Democrats for obstructing legislation, but Americans aren't buying it. In the YouGov poll, a 41 percent plurality says Congress has accomplished less than usual (only 8 percent say Congress has accomplished more than usual), and these disappointed respondents blame congressional Republicans rather than Democrats, 45 percent to 19 percent.
The reason that Trump's approval ratings with Republicans is so rock-solid is because he has chased a significant number of moderates out of the party.
This accounts for all of those "never has the country been so divided" articles.
Just because the GOP is shrinking doesn't mean that these voters are fleeing to the Democrats.
Nothing could be further from the truth.
Independent identification is just one percentage point below the high of 43% in 2014. Twenty-nine percent of Americans identify themselves as Democrats and 27% as Republicans.
...With a nearly record-high proportion of Americans identifying as independents in 2017, it follows that identification with the two major parties is near the historical low for each. In fact, the 29% of Americans who identify as Democrats ties 2015 as the lowest in Gallup's trend for that party. Republican identification (27%) is two points above its low of 25% in 2013.
It looks like the GOP has moved further to the right than conservative voters. The multi-generational Republican tactic of doubling-down at every turn has played itself out.
Democrats are also in trouble, but are in less trouble than the GOP. The progressive base is pushing back against a corrupt leadership, and it threatens the Democrats with the possibility of actually standing for something useful. But for now, the cowardly Dem leadership is still in control.