Signal Wave
Submitted by Cant Stop the M... on Tue, 11/02/2021 - 5:51am
Good morning, everybody!
I've been wanting to write a few words about working with the right. This is the first of three essays.
There has been some debate, if you can call it that, around the question of whether the independent left should work with the populist right. I'm not sure you can call it a debate, because one side of the debate is so dogmatic that you might as well be arguing theology with Oliver Cromwell.
Resistance Democrats believe nobody on the left should work with anybody on the right. In fact, they believe that nobody on the left should interview anybody on the right:
https://www.newsweek.com/jimmy-dore-boogaloo-bois-podcast-1564089
https://www.wsws.org/en/articles/2021/01/29/dore-j29.html
Resistance Democrats also believe nobody on the left shouldinterviewed by anybody on the right:
https://www.rt.com/usa/512757-jimmy-dore-tucker-carlson-assange/
Their idea seems to be loosely based on the old notion of denying airspace to your enemies, like denying oxygen to a fire. If you don't like fascists, you won't talk to them, especially if you're a public figure with eyes on you, because if you do, you'll be calling attention to them, and attention is what they want most. If you're fighting a culture war, you want to deny time and space and attention to your enemies. That might be a reasonable assertion if the people making it were not, themselves, calling attention to Boogaloo Boys, Donald Trump, and Fox News on a pretty regular basis. Talking *about* other people, especially in pejorative ways, apparently doesn't call attention to them or give them O2. Except unfortunately, it does:
https://www.nytimes.com/2016/03/16/upshot/measuring-donald-trumps-mammot...
The articles about this tend to hurry to excuse the very media that they are criticizing:
https://www.thestreet.com/politics/donald-trump-rode-5-billion-in-free-m...
"But we were saying bad things about him! That shouldn't count!"
Um....
Look, I admit that this is a thorny problem; how do you critique somebody *without* giving them oxygen? I'd argue that the answer lies in a stylistic, perhaps even methodological difference in how an organization delivers the news.
This
does not have the same effect as this
It's not just the constant repetition of the same words; it's not even the difference between making evidence-based and spurious claims. There's something in the style of the Resistance media that is sensationalist, avid: that celebrates the train-wreck nature of politics. Then there's the fearmongering:
"What would happen if Russia killed the power in Fargo today?" asks Rachel Maddow.
I don't know. What would happen if an American company killed the power?
https://www.texastribune.org/2021/06/24/texas-ercot-power-plants-offline/
https://abcnews.go.com/US/wireStory/energy-executive-texas-power-plants-...
It seems pretty clear that the Democratic so-called "left" is not shy about, nor unduly worried about, calling attention to the right or giving them airtime. That's particularly true about the corporate legacy press, but it's also true of new media. And, like I said, it doesn't always indicate hypocrisy; there are probably some people who are actually wrestling with the thorny problem of how you fight your enemy in a culture war *without* giving them more visibility. But I doubt very much whether Maddow or anybody in the corporate press is worried about that. They didn't appear to be, for the five years (and counting!) that they continued to feed Trump oxygen. That's probably because they, in turn, were feeding off him, like a remora on a shark: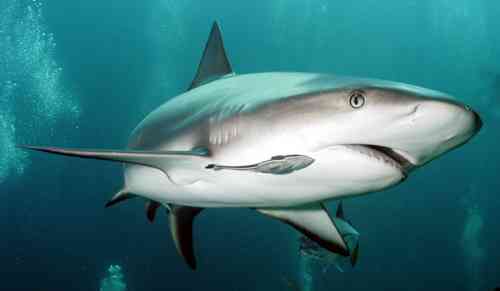 That is, of course, also true of the entire Democratic party. Where would they be without Trump? Or the Boogaloo Boys? Or Tucker Carlson?
So, for the most part, the outrage at having dealings with the right can't be about the very real danger that can result from giving airtime to an extremist. If that were the case, the outrage would have to be directed first at the six media companies who control most of our news. (And it ain't.)
I'd argue that what we've got going here is, at best, a twenty-first-century form of Puritanism. It's an impulse to erase all forms of evil and corruption, to purge the taint.
I'm assuming everybody here understands what's wrong with "purge-the-taint" kinds of politics. Purging the taint turns up in all sorts of authoritarian and extremist places, from Cotton Mather and Oliver Cromwell, to Joe McCarthy and Adolf Hitler. One of its problems is how easy it is to find taint in things and people. "Who gets to say what should be purged?" is always a valid question. But I'd say there's something deeper wrong with it as well, an impulse to monoculture, a reliance on fear. And that's assuming that this Puritanism is being embraced and promoted in good faith; that it's not just a device to set people at each other's throats--or the remora making sure the shark gets a good meal.
Hope y'all are doing well this week! Tune in next week for part II!