Remembering Hillary's War
Submitted by gjohnsit on Sat, 06/06/2015 - 2:59pm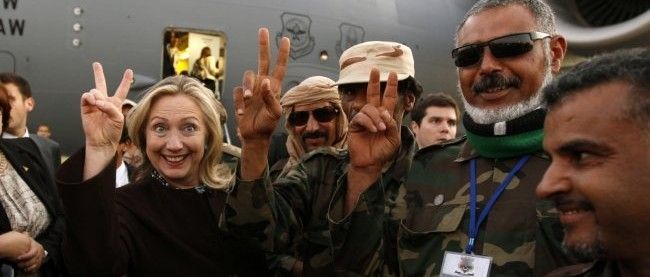 Next week Hillary Clinton's confidant Sidney Blumenthal will testify in front of Congress about Benghazi. The session will be closed to the media.
Like all the past investigations, this one is unlikely to turn up anything worth mentioning, mostly because they are investigating the wrong events and asking the wrong questions.
ISIS took over another town in Libya this week. Last month the Islamic State took over the city of Sirte, the hometown of Muammar Gaddafi. They've controlled the eastern city of Derna since last year.
ISIS has gained so much momentum in Libya that they've essentially declared war on Libya Dawn, the militia group that controls the capital of Tripoli. Libya Dawn has admitted that they are losing to ISIS due to a lack of ammo and weapons.
Even though we arrived at this situation in a very different way, the end results should still look familiar.
Leaked memos show that the western powers had been plotting regime change for Libyan government for years and those Libyans that plotted were put in positions of power in the new government.
Four years ago President Obama decreed: "Some nations may be able to turn a blind eye to atrocities in other countries. The United States of America is different."
The president told us it was to prevent genocide. Opponents were accused of being indifferent to suffering (as if bombs are the cure to suffering).
The evidence of these genocidal actions by the Gaddafi government were proven false by Human Rights Watch, even while the bombs were still dropping.
Nevertheless, the Libya model was pushed as a model for future wars.
Sarkozy and Cameron took a victory lap in Libya. War advocates mocked the anti-war crowd.
Vice-president Joe Biden described the action as a "prescription" for the future.
New York Times' Nicholas Kristof wrote: "Libya is a reminder that sometimes it is possible to use military tools to advance humanitarian causes."
Former Obama official Anne-Marie Slaughter argued that intervention was a matter of upholding "universal values," and wrote "Why Libya sceptics were proved badly wrong," especially those that said "in a year, or a decade, Libya could disintegrate into tribal conflict or Islamist insurgency, or split apart or lurch from one strongman to another."
Behind all of this was Hillary Clinton.
In fact, Hillary was so instrumental in this war that the Washington Post in 2011 dubbed it "Hillary's War".
She advocated for supplying weapons and military training to rebel forces, some of whom were al-Qaeda and affiliated with the Islamic militants who later assaulted the U.S. compound in Benghazi.

In the documents and separately recorded conversations with U.S. emissaries, Libyan officials expressed particular concern that the weapons and training given the rebels would spread throughout the region, in particular turning the city of Benghazi into a future terrorist haven.
The leader of ISIS in Libya is a former U.S.-backed rebel.
Today the Libya war advocates are quiet. On the same pages of the NY Times where we were recently heroes a different message is printed: "Libya is falling apart. Politically, financially, the economic situation is disastrous."
Libya is now in a state of complete collapse. Conditions have deteriorated to the point that "hardly any Libyan can live a normal life."
At the U.N. the chief prosecutor of the International Criminal Court has said there were indications of war crimes being committed in Libya.
Amnesty International calls the conditions there 'Rule of the Gun'.
Weapons looted in the post-war chaos wound up in the hands of Boko Haram, which then committed all sorts of atrocities.
And those humanitarian reasons that were so important to us five years ago?

Free speech? Same as under Gaddafi. Women's rights? "Lacking." Gay rights? Homosexuality is punishable by death. Religious freedom? Libya is now the worst state in North Africa to be a Christian and bans Jews from entering the country. Ethnic tolerance? Tribal warfare has defined the fighting since 2011 and black Africans are frequently singled out for violence.
Republican congressmen will continue to chase a phantom scandal about Benghazi next week, while probably ignoring a disastrous foreign policy disaster that Hillary orchastrated, the results of which threatens to destabilize the entire region.
While Republican presidential candidates are being asked whether they would have invaded Iraq in 2003, perhaps the media could take a moment to ask Hillary a few more pertinent questions.
For instance, "Given what you know now, would you still have attacked Libya?"
And, "Why isn't Washington currently doing anything about the rise of ISIS in Libya?"
And, "What would be your response if ISIS takes over Tripoli?"