Outside the Asylum
Submitted by Cant Stop the M... on Wed, 08/15/2018 - 5:57am
WARNING: Today will touch on politicians and political parties, for the sake of re-establishing an accurate political history of the United States and pointing out a bunch of ahistorical lunacy that has been largely accepted as fact. This will also let off the steam that has been steadily building inside the author's head. Next week, we will be back to much more important things.

Come outside.
Today you're not getting analysis, you're getting a rant. I got some political literature in my mailbox a couple of days ago, and my reaction to it has been boiling inside me, and this is as good a time as any to let it out.
It's been a long time since I ranted at the putative right wing, since the putative left wing...
I'm sorry, it's hard for me to use the words "left wing" to describe the Clintons no matter what the modifier. Let me wipe the coffee off my keyboard. There. Anyway, as I was saying, it's been a while since I've ranted at the right wingers who admit that they are right wingers, as opposed to people who advocate for corporatist right-wing policies, but then pretend later to be Fannie Lou Hamer.
Today I've got a rant for everybody:
Ronald Reagan isn't president. Princess Diana and Prince Charles are not visiting West Germany.
In fact, it may surprise you, but West Germany is no longer a thing. Di and Charles are not a thing anymore either, for rather horrible reasons.
Steve Wozniak does not look like this:
Speaking of digital technology, Compaq did not just come out with an 18-pound portable computer.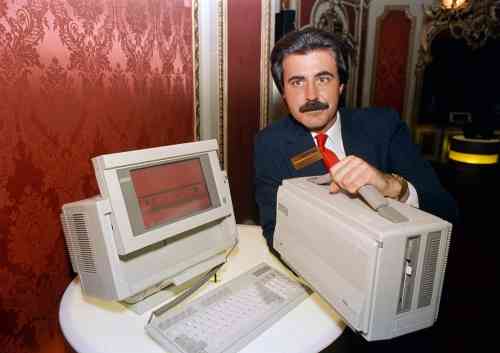 My mom doesn't have hair like this, and probably yours doesn't either.
Nobody's got a phone like this, unless it's Halloween: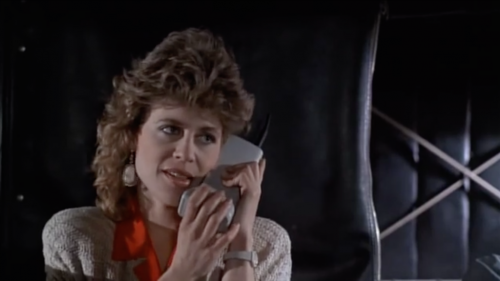 You probably haven't been worried recently about whether baby Jessica would make it out of the well.
Nancy Pelosi is not running for Congress for the first time:
This asshole isn't making money teaching Americans it's cool to be mean: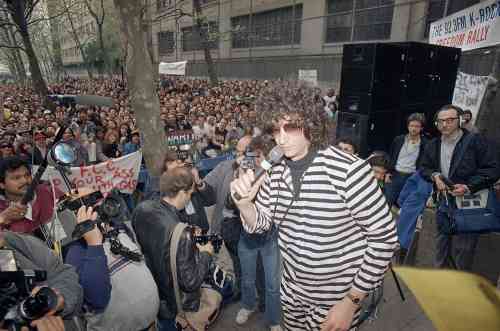 This asshole isn't making money teaching Americans that sleazy drug deals are patriotic.
Bernie Sanders does not look like this, and he's not currently singing on the radio: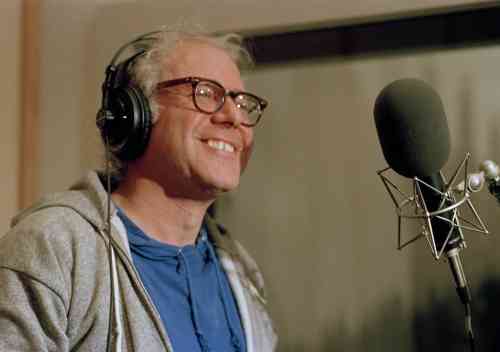 Bill Clinton is not governor of Arkansas, and, speaking of big hair, he and Hillary don't look like this: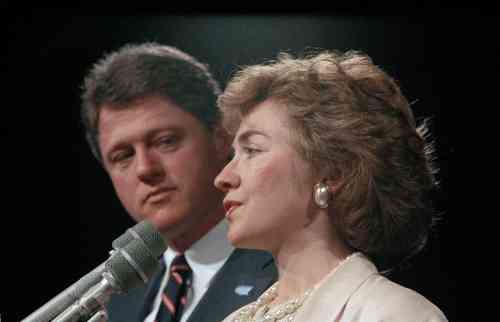 Finally--and very sadly--David Bowie is not currently doing his Glass Spider tour:
I know this for sure, because if it were true, I would be looking forward to going in December.
Do you have it firmly settled in your mind that this is not 1987?
Good, because that means you're ready to face a few facts.
For those on the right:
This is the breakdown of the U.S. Congress in 1987.
Here's the House of Representatives:
That means, there were a total of 435 Congresscritters, 258 Democratic and 177 Republican.
Here's the Senate:
That means, there were a total of 100 Senators, 55 Democratic and 45 Republican.
In 1987, the Democrats held Congress, by a lot. That means they, at least putatively, had a lot to do with creating and passing legislation into law. That means they, at least putatively, had a lot to do with determining how the country was run.
These conditions persisted, more or less, until the election of 1994.
Then this happened:
https://www.history.com/this-day-in-history/the-republican-revolution
You got that?
After this, the Democrats would not hold a majority in Congress until 2007. That's twelve years. Under Obama, the Democrats took a majority from 2007-2010.
They promptly lost their majority in the House of Representatives in January 2011, having managed to hold it for two election cycles. The Senate, always kinder to the Democrats in the post-Newt-Gingrich age, for some reason, held on for another two election cycles. Then it too shifted to a Republican majority in January 2015. Since then, both houses of Congress have been held by Republicans.
Are we clear on this?
Are we *really* clear on this?
Good.
Now about Florida, specifically. Like the rest of the country, Florida went Republican in 1994 in response to Newt Gingrich's three-ring-circus. Florida remained Republican. In fact, Republicans held a trifecta--meaning they held the State House, the State Senate, and the Governorship--from 1999-2009. Even though Florida voted for Barack Obama twice, the Republicans re-took their trifecta in 2011, and Florida has remained under complete Republican control from 2011 to the present.
Are we clear on this?
Great.
The reason I'm going into this history in so much detail is because I believe that there is a difference between the two parties, beyond that of management style. It's because I believe politicians control our destinies--for the most part, I think they fall somewhere between employees and a puppet show.
The reason I'm going into this history is that I want to ask Republicans everywhere a question.
Why did Keith Perry, a Republican running for Florida Senate, mail me a flyer that said:
I'm sorry I can't show the picture accompanying this statement, because my life partner tore the flyer to shreds and threw it in the garbage. So I can only tell you that the accompanying picture was of a sad-looking person who I guess was supposed to be native-born.[EDIT: I have been informed that the sad-looking person was supposed to be a military veteran. A native-born military veteran, of course. I'm not sure how many people know that we have non-native-born military veterans, some of them living on the other side of that wall.]
Apparently, Mr. Perry believes that he will get elected if he commiserates with Republican voters about how the political system takes money out of the hands of suffering native-born people (no, he doesn't mean the Standing Rock Sioux or anybody like that) and puts it into the hands of immigrants.
Now, I'm not going to criticize this flyer for its jingoism, its lack of compassion, or its attempts to stir up hatred. I'm not even going to argue about why it actually that veterans are getting the shaft from the government they quite literally risked their lives for. I'm not going to argue about where the money that SHOULD be going to them is actually going. [My life partner--the other one--wants to be the one to deliver that rant. It involves how we should fire defense contractors and put soldiers back to work doing the potato-peeling and cleanup that the contractors are currently doing--and then raising soldiers' wages across the board. But I'll leave that rant to him.] All these arguments have been made many times. What I would like to ask every Republican in the country is this:
Who are you mad at?
Who ran the federal legislature from 1995-2007? Who promptly took the House of Representatives back in 2011, and kept it? Who took the Senate back in 2014, and kept it?
Obviously, immigration policy is primarily federal, but since Mr. Perry is running in Florida, who has run Florida since 1994?
Here's a fact that has seemed to escape you all for the past twenty-four years:
THE REPUBLICANS ARE NO LONGER A MINORITY PARTY.
Here's what that means. Well, actually, it means next to nothing, but if you *believe* that there is a significant difference between Democrats and Republicans, the putative "right" and the putative "left," what it means is that, for the past twenty-four years, And what *that* means is that
In order to believe that money is being taken from native-born Americans in need, and handed to immigrants, and that that is the fault of Democratic or liberal political shenanigans, you must believe that
1)In 2009, the U.S. Congress changed all the immigration laws, and the subsequent Republican Congresses haven't been able to set things right.
or
2)The Republican Congresses tried to set things right, but Barack Obama stopped them. The subsequent Trump administration has not been able to set things right either, even though the Republicans now also hold Congress. The reason Trump and the Republican Congress can't set things right is...some vague and undefined reason having to do with liberal bureaucracy and the Democratic party.
There are two problems with this position.
First, this belief requires that you imagine Barack Obama, and Democrats generally, as some kind of immigrant-friendly liberal bureaucrats who are soft on illegals at the expense of native-born Americans (but not the Standing Rock Sioux, just to continue to be clear). It is true that Barack Obama supported the Dream Act, which would have allowed immigrants who arrived before the age of 16 to find a path toward citizenship; it's also true that he signed an Executive Order to prevent those people's deportation. However, he also did this: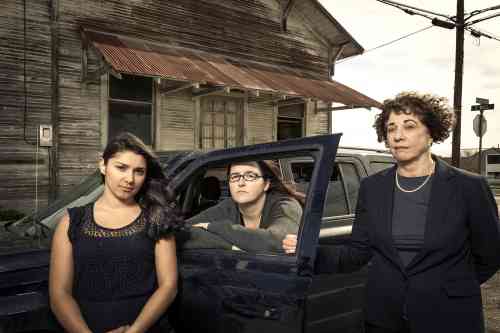 This was actually in the New York Times magazine. It's gotta be bad if the New York Times criticizes a Democrat--or any finance-friendly establishment politician, really.
https://www.nytimes.com/2015/02/08/magazine/the-shame-of-americas-family...
The Artesia site was created in response to a flood of immigrants from war-torn regions of Central America. Things got particularly bad in 2014.
Thanks, Hillary, for helping out with Honduras.
Well, that's good, right? It's good that the facility got shut down.
https://www.thedailybeast.com/prison-gets-rich-locking-up-preschoolers
CCA is a really exciting company:

I wonder if they were supporters of the Clinton crime bill?
https://grassrootsleadership.org/cca-dirty-30
Republicans are generally unwilling to listen to socialists, but if they really wanted a comprehensive catalog of how "tough on immigrants" Democrats are willing to be, they could do worse than to go to the Jacobin. If you want to see a history of these rotten policies going back to the first Clinton administration, you can find it here:
https://www.jacobinmag.com/2016/08/immigration-democrats-hillary-clinton...
I believe I've provided enough evidence to puncture the right's notion that somehow liberals, or Democrats, or the Democratic Party, are "soft" on immigrants; with friends like these, no immigrant would need enemies. However, I harbor no illusions that this evidence will convince all, or even most, right-wing people. Like most people in this country, they seem to cling to stereotypes in defiance of all evidence, recycling stale images endlessly as a replacement for logical thought.
There is, however, a second problem with the notion that somehow Democrats are responsible for some set of policies that hands money by the buttload to immigrants while reducing native-born soldiers to poverty. And I don't mean the problem of the complete fucking unreality of that statement. Nobody is giving buttloads of money to immigrants--unless "giving money to immigrants" means "giving money to the Corrections Corporation of America, so that they can imprison people for no good reason." There a critique to be made here, and it is this: billions of dollars is being poured into companies whose sole function is to put people in cages, while native-born Americans, including military veterans, sink further and further into poverty. Excitingly, from 2014 on, some of that money is put specifically toward putting children into cages. It's certainly true that pouring money into jails for children fleeing death squads might take money away from looking after our own people, including soldiers. But that's not the critique Keith Perry is making, is it?
Here's my most fundamental problem with all this. There is a logical fallacy at the root of not only Keith Perry's loathsome campaign flyer, but all standard Republican party talking points, and that is this:
The Republican party's talking points blame liberal bureaucrats, government, and the political policies those entities produce for, well, just about everything. In order to believe those talking points, one must believe that, of course, Republicans have nothing to do with government bureaucracy or political policy. These talking points were never true, but they made good propaganda in, well, 1987.
In 1987 Republicans had recently been in the minority for a long time. Since World War II, they hadn't done that well. They had held the presidency twice under Eisenhower and twice under Tricky Dick, but those achievements could only be bittersweet given their shitty record at holding Congress or controlling the courts. Even the achievement of winning the Presidency four times was tarnished by the way Nixon left office.
Reagan coming into office created the so-called "Reagan Revolution," but the success of that revolution was by no means assured in 1987. In fact, the Democratic party did not entirely lose control of Congress for seven more years. So, in 1987, the idea that Republicans were raging against a government for which they held no responsibility and against policies with which they were in no way involved was, while risible, at least not lunatic.
Nowadays, to believe that the Republicans are somehow voices in the wilderness, struggling against a political system which disempowers them and creates policy in despite of them, one would have to be a psychopath: a psychopath, or someone desperate to claim power without acknowledging responsibility.
There is an ugly pattern here, which I have seen before: the people talking, including Keith Perry, portray themselves as either victims or allies of victims, trying to right a wrong, while at the same time, they boast of their power and success. People on this site have experienced this phenomenon most viscerally when establishment types asserted, with contempt, that they didn't need our votes, and simultaneously blamed us for their failures because we withheld our votes. The people speaking simultaneously imagine themselves as massively powerful, their success inevitable--and also imagine themselves as ill-done-by, exploited and oppressed by superior forces, denied their due.
I have seen this phenomenon in Republicans, in Clinton Democrats, in schoolyard bullies, and in abusers. If you read history, you can recognize the pattern repeatedly. In the case of the Republican party, it's beyond stupid: these people have held power, sometimes complete power, both in the federal government and in many states, and they have done so both repeatedly, and for years at a time. In fact, they have held so much power in so many states that it's conceivable they could, in the near future, call a constitutional convention. It is, therefore, pathetic and nonsensical for any of them to pretend that "government" somehow exists apart from them, their party, and their donors, as if "government" floated on a pink cloud in a mystical realm of liberal bureaucracy where everyone drives Volvos, drinks lattes, and eats quinoa while raising taxes on the salt-of-the-earth conservatives below.
Actually, it's worse than pathetic nonsense; it's a fucking lie.