Open Thread WE 13 OCT 21 ~ Solarpunk
Submitted by QMS on Wed, 10/13/2021 - 5:00am
.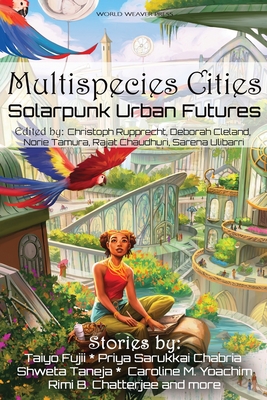 .
"There is a real situation, that can't be denied, but it is too big for any individual to know in full, and so we must create our understanding by way of an act of the imagination."
― Kim Stanley Robinson, The Ministry for the Future
~
In the spirit of open threads for open minds, today's offering is on near-future sci-fi novels with a positive perspective. It is a sub-genre roughly described as Solarpunk. Quite a change in focus from the gothic styled Steampunk, an outgrowth of the Madison 5th ave heroin look. Why not imagine the future as something enlightening and fresh? The top display is mostly Asian authors, then the venerable KSR weighs in, followed by an ancient writer projecting ahead. Enjoy.
~
.
It is a novel both immediate and impactful, desperate and hopeful in equal measure, and it is one of the most powerful and original books on climate change ever written.
"it's called socialism. Or, for those who freak out at that word, like Americans or international capitalist success stories reacting allergically to that word, call it public utility districts. They are almost the same thing. Public ownership of the necessities, so that these are provided as human rights and as public goods, in a not-for-profit way. The necessities are food, water, shelter, clothing, electricity, health care, and education. All these are human rights, all are public goods, all are never to be subjected to appropriation, exploitation, and profit. It's as simple as that."
https://www.goodreads.com/book/show/50998056-the-ministry-for-the-future...
~
.
"For if you suffer your people to be ill-educated, and their manners to be corrupted from their infancy, and then punish them for those crimes to which their first education disposed them, what else is to be concluded from this, but that you first make thieves and then punish them."
.
https://www.goodreads.com/book/show/1663412.Utopia?from_search=true&from...
~
~
Top book ..
.
https://www.goodreads.com/book/show/56906532-multispecies-cities?from_se...
.
What might city ecosystems look like in the future if we strive for multispecies justice in our urban settings?
~
.
Just a theme, mind you. This space is open to all thoughts and observations, except for jab jabber, which can be addressed in The Dose.
.
Namaste
.