Open Thread - Thurs 16 Mar 2023 - Miss McKenzi and Florence
Submitted by Sima on Thu, 03/16/2023 - 5:00am
(Miss) McKenzi and her daughter, Florence:
I've not been able to pay much attention to current news this week (hoping that changes with the comments in this Open Thread and reading the short backlog I've got here), so I'm gonna talk about McKenzi, one of the first five goats we raised, and her daughter, Florence.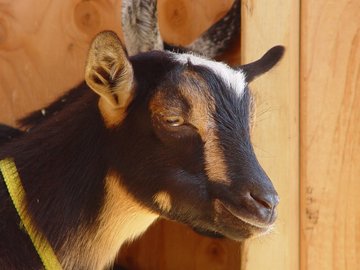 Miss Mack when she was about 6 months old
We got the goats as kids from a breeder who named one of them, a doe, McKenzi. McKenzi was a pure-bred Nigerian Dwarf goat. She was about 3 months old when we got her and the others. We knew nothing about goats, but McKenzi taught us over the years. She got the nickname 'Miss Mack' because she was like one of those beloved, kindly, understanding, very important teachers many of us were lucky to have at least once as a child.
The first thing Miss Mack did was teach the other four goats that we humans were going to be good and kind to them. Essentially, she allowed us to tame her first, and then she helped us tame the other goats.
Miss Mack taught me how to milk. Miss Mack showed me how to do it without trouble, without pain, for her and for me. She did her teaching kindly, no kicking, no bucking, just low sounds and a look from her pretty eyes. Miss Mack helped teach me how to attend birthing does, how to help them when a kid was stuck, when it was time to 'go in' and when it wasn't.

Miss Mack and her babies in 2008 just after they were born. Florence is the agouti (mottled brown, white, black) in front. Mack's looking to see if she needs to teach me anything more, but it's been 4 years or so that she'd been giving birth, so I had learned most of what I needed to know.
Miss Mack would learn from me. She would watch me walk around the farm, see what I was pruning or cutting back, and then she'd lead the other goats to that spot, and they'd eat the same plant I was working on. In fact, she, and her daughters, got so I could just touch a plant's leaves and she (and her daughters) would direct the other goats on what to eat. I got a lot of pruning done that way!
Florence was Miss Mack's daughter. Mack had a lot of kids which we sold or gave to others, but we kept Florence. And we were darned grateful we did. She was so like her mother! Flo was smart and sensitive. She took over her mother's place when Mack started to get really old. Flo led the goats, Flo told them which plants to eat, Flo kept them under control when I'd take them out to graze in the open fields, with a chair and a book for myself to relax with while they all ate around me. When Mack got really old, Flo would lead all the other goats back in to the inner pen when it was time for grazing to be over. Mack could not walk very fast, she was very, very fragile. Flo would, after leading the herd in, turn around and go back to accompany Mack, at Mack's glacial pace, back to the pen. If Mack was too tired and had to rest, Flo would stand over her and let her rest, guarding her just in case I wasn't around (I always was). This is unusual behavior, generally older goats seem to be 'put on the iceberg' and sacrificed to keep the younger ones safe from predators.

Florence when she was about 4 days old
I held Mack as she passed away. She was in a little goat shed by herself (we knew she was close to going on) which we now call 'Miss Mack's'. It was pouring rain. Goats hate rain. I went out in the rain to check on her, saw her in distress and moved her into the shed. Flo was in another lean-to, separated from her mother by a fence and about 50 feet of inner pen. I got down in the straw of the shed and Mack crawled into my arms. I cooed and cried and whispered love to her as she convulsed and trembled and then was still and silent. I looked up. Flo was out in the pouring rain, her head through the fence, watching me and Mack. I swear her eyes were filled with sorrow, crying in her goatie way as I was crying in my human way. I got up and let Flo into the enclosure. Flo went to her mother's body, nuzzled her a few times, said her goodbye and then indicated she'd go back to the big lean-to. She told all the other goats, and they came to the fence to say goodbye too, one by one.
So, thanks for reading this goatie tale. Here's the open thread - and remember, everything is interesting if you dive deep enough, so tell us about where you're diving! Please!