Open Thread - Friday, December 15, 2017
Submitted by

NCTim

on Fri, 12/15/2017 - 3:20am

The sorrow we feel when we lose a loved one is the price we pay to have had them in our lives.
― Rob Liano
For awhile, I thought I had mostly completed the grieving process. Sue died from ALS, January 31, and I set about staying active and moving on. Things went pretty well through my September motorcycle trip, but upon my return hit the wall. Tired and lonely, I slogged through Sue's birthday, our wedding anniversary, Thanksgiving and Thing1's birthday. Now, Christmas is on the horizon. I have an inner hollowness and despair, that manifests itself as anger, and have been withdrawing from social groups. Sometimes, I find solace in music. Sometimes it induces melancholy. There are songs that immediately remind me of my lost love.
Sue was beautiful, in every way. A statuesque ginger school social worker.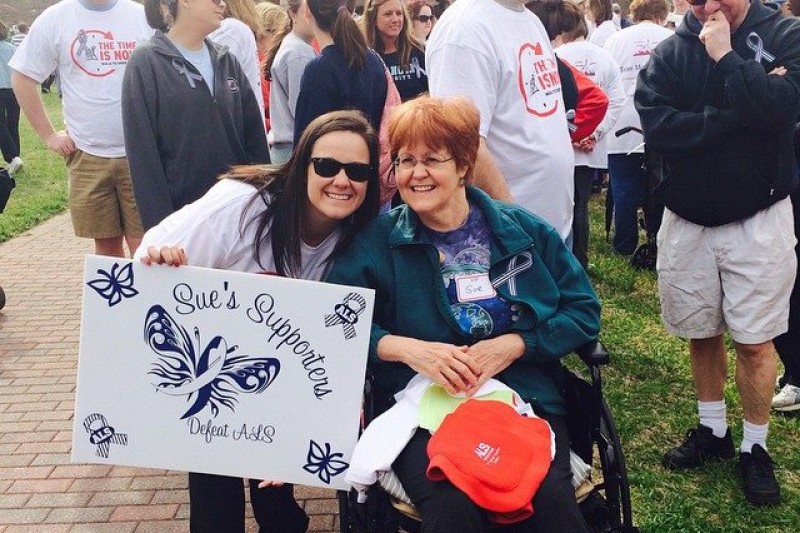 She was a tireless advocate for children, intelligent, determined and tenacious. It was a thing of beauty when she would box in school administrators using Leandro. She forced the school district to provide transportation for all students. Including undocumented, homeless and transitory students.
Sue made a difference. When Ady Barkan, confronted Jeff Flake, a flood of emotion overcame me.
'You Can Save My Life': Traveling on Same Plane, Man With ALS Confronts Sen. Flake Over GOP Tax Bill

Sen. Jeff Flake (R-Ariz.) boarded a plane leaving Washington, D.C. on Thursday, less than a week after voting for a tax bill that could result in devastating cuts to disability programs.
Ady Barkan, a 33-year-old father living with amyotrophic lateral sclerosis (ALS), boarded the same flight after spending several days protesting the very legislation Flake helped ram through the Senate.
Barkan, who could be one of the millions of Americans severely harmed by the bill, wanted an explanation.

Approaching Flake on the Thursday night flight to Arizona, Barkan demanded to know how the senator who in October condemned President Donald Trump for his "flagrant disregard of truth and decency" could proceed, just weeks later, to vote for a bill that may trigger life-threatening cuts to programs that children, the elderly, and the disabled depend upon for survival.
"Mick Mulvaney of the Office of Management and Budget is individually responsible for choosing and implementing those cuts," Barkan told Flake. "He thinks people on disability are just slackers, so what happens? What should I tell my son or what should you tell my son if you pass this bill and he cuts funding for disability and I can't get a ventilator?"

ALS, Barkan explained to Flake, "has a life expectancy of three to four years, no treatment, no cure." As the condition progresses, Barkan's medical bills will soar, and he will continue to need additional assistance to stay alive. The GOP tax plan could deprive him of these necessities.
Having a BIPAP is a primary comfort giving device for ALS patients. As neuromuscular function diminishes, ALS patients breathing gets progressively shallower causing hypoxia. Insurers, including Medicare, will classify a BIPAP as life extending, rather than comfort giving, and deny the use of ventilation during hospice. Most ALS patient spend anywhere from months to years in home hospice making a BIPAP essential.
Well, that shakes the soul.
That too! It takes me back to that day in New Orleans when we held each other and swayed to Reverend Al. I wish I could hold her again.
It's enough to give a soul funk.
The thread is OPEN.
Have a funky great weekend!
Soul long for now.
Goodbye.