Open Thread 1-11-2018
Submitted by

studentofearth

on Thu, 01/11/2018 - 4:30am


Prudent economy of living a necessity when one has low income or a useful tool to shift dollars towards personal goals. Minimizing dollars directed to corporations, increasing donations to favorite causes, building a retirement or keeping a roof over ones head.
The site How to Have a Great, Disabled Life has essential information on the unique challenges of living with a disability. Created by caring persons with thoughts towards others who find themselves in economically challenged situations. Have not had time to read all the publications. If you find something useful, perhaps share at with this OT or in future ones.
Been reading the section "How to be Poor in America" and found this useful tidbit.
Sounds too good to be true. But it is true! Prescription eyeglass for $7. You have to know what your prescription is. Try to exercise a lot of self-control at check out. Uncheck all the boxes to add bells and whistles and just buy the basic glasses. $7. Really. Zenni Glasses.
Food Choices
Gardening and buying local agricultural products can be one of the best ways to disrupt commercial agriculture, international corporations and international shipping. Possibly why international trade agreements and food donations are structured to destroy small domestic producers.
Mel Bartholomew, developer of Square Foot Gardening method, explains how a radish bought at the grocery store have traveled 5,000 miles.
(session 6) (no that is not a picture of Mel)
Mel left earth in April 2016, but his advice and gardening program for vegetables is still available. This radio interview when he was promoting his book All New Square Foot Gardening. The basic elements of 6 inches of virgin soil mixture made to formula in 2x4 ft container boxes for indoor/outdoor use or 4x4 ft raised beds to grow all the fresh vegetables and herbs one needs for multiple years.
Mel maintained novice growers got the concept in a couple of hours, experienced growers in may take weeks. Personally I fight with his method it seems too simple. This year I plan on setting up beds and container pots per his instructions and quite fiddling around with kinda close attitude. Will use my more complicated methods on the permanent landscape bi-annuals, perennials, shrubs and trees.
(session 1)
(session 2)
(session 3)
(session 4)
(session 5)
Larger scale growing areas, soil enhancement and water retention projects are necessary for dryland farming, perennial plants, shrubs and trees.
Hugelkultur
Hay bale diary by mhagle
Dryland Corn
Suggested reading: Gardening Without Irrigation: or without much, anyway by Steve Solomon

Farm Report
Been enjoying the longer days. Last 3 days have gotten above freezing. Morning walk was filled with sounds of a babbling brook. Water district is doing a domestic run to fill up pond.

Sunsets have been beautiful.
Saturday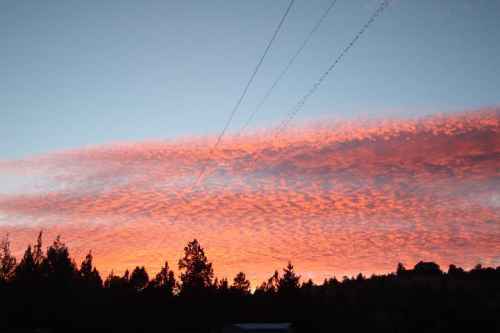 Sunday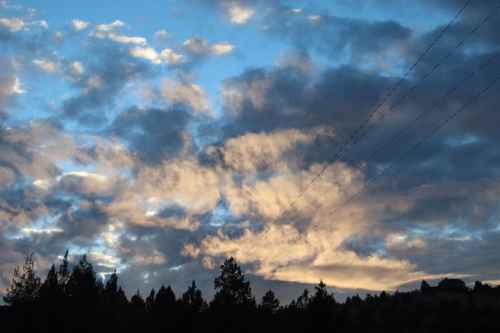 Fortunately have not have not had to fight through winter like last year, 9 weeks of below freezing weather. Hope each of you make it through the weather that is being thrown at you without hardship.