Obama's foreign policy legacy
Submitted by gjohnsit on Sun, 05/29/2016 - 5:23pm
President Obama has recently been on a "legacy tour" overseas.
Presidential legacies are notoriously hard to define because so much of depends on personal opinions. Only with the detachment of history do legacies become clear.
However, there sometimes are clearly defined metrics that can measure a presidential legacy without historical detachment. For instance, when an event has never happened before, or at least very rarely happens.
There are several of those metrics applicable to the Obama foreign policy legacy that they all point in one direction - war.
The Forever War President
First President Ever for Non-Stop War

Obama has now been at war longer than any president in United States history, as the New York Times pointed out on Sunday. Barring some sort of peace miracle in the next six months, he will be the only president who ever served two full terms in office while constantly being at war. And given how he has transformed how the US fights overseas, his wars will likely continue long after he leaves office.
Anytime the media writes about Obama and war, it's apparently a rule that the author must mention that Obama supposedly fights his wars more reluctantly than his predecessors. But in many contexts, this is misleading. Obama hasn't attempted to avoid war; he has merely redefined it. In some ways, he has fought them in a far more aggressively than any president before him, just with different tools....
This is not to say Obama's wars are completely comparable to his predecessors', including those of George W Bush – his Iraq war remains the most calamitous foreign policy mistake of our generation. And with each passing year, despite the fact that no one wants to admit it, the Afghanistan war inches closer to the same.
But at least Bush fought his wars with authorization from Congress, something that Obama has refused to do with his war on Isis, despite the constitution requiring it....
Rather than being remembered as the reluctant warrior, pushed into war by circumstance, there is far more likelihood Obama will be remembered as the opposite: the president who cemented the forever war mentality and architecture that has continually expanded, and that tragically shows no signs of slowing.
More than any other metric, the fact that he's the first two-term president in American history in which the nation hasn't seen a single day of peace is enough to define his presidency.
However, that is far from the only metric that points in this direction.
The Everywhere War President
When defending the nuclear agreement with Iran, Obama let slip an interesting factoid.

Beyond accurately describing Iran deal opponents, Obama also accurately described himself and his own record of militarism. To defend against charges that he Loves the Terrorists, he boasted:

As commander-in-chief, I have not shied away from using force when necessary. I have ordered tens of thousands of young Americans into combat. …
I've ordered military action in seven countries.

By "ordered military actions in seven countries," what he means is that he has ordered bombs dropped, and he has extinguished the lives of thousands of innocent people, in seven different countries, all of which just so happen to be predominantly Muslim.
Seven nations is an interesting number because it is the highest number of nations that we've bombed at one time since the end of WWII.
Even during WWI we weren't at war in that many nations at once.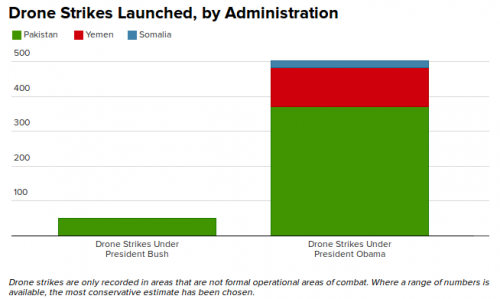 What's more, the American military presence has expanded at an alarming rate under Obama.

In 2015, according to Special Operations Command spokesman Ken McGraw, U.S. Special Operations forces deployed to a record-shattering 147 countries—75% of the nations on the planet, which represents a jump of 145% since the waning days of the Bush administration. On any day of the year, in fact, America's most elite troops can be found in 70 to 90 nations.
It's safe to say that we are either at war, or ready for war, almost everywhere on the globe.
And this happened under Obama, not Bush.
The Nuclear Weapons President
President Obama made a spectacle of visiting Hiroshima and calling for a "world without nuclear weapons." It certainly sounded good. It's just too bad that Obama is doing the opposite in reality.

Obama has been talking up his pro-disarmament stance for years, even as he pushes for the US to invest hundreds of billions of dollars in modernizing its massive nuclear arsenal. To make matters worse, new figures from the Pentagon show that the reduction of the US nuclear arsenal has slowed dramatically under Obama.
What's more, Obama has deployed an anti-missile system in the Baltics, and antagonizing Russia, for no obvious reason. Bush unilaterally withdrew us from the anti-ballistic missile system treaty, but it was Obama that took the next step.
There is simply no logic behind this attitude.

My point is that the Russians are not exactly failing to notice what is going on. No one but Victoria Nuland and the Kagans actually want a war but Moscow is being backed into a corner with more and more influential Russian voices raised against détente with a Washington that seems to be intent on humiliating Russians at every turn as part of a new project for regime change. Many Russian military leaders have quite plausibly come to believe that the continuous NATO expansion and the stationing of more army units right along the border means that the United States wants war.
....To be sure, Russia is no innocent in the international one upmanship game but it has been more sinned against than sinned. And the nearly constant animosity directed against Russia by the Obama Administration should be seen as madness as the stakes in the game, a possible nuclear war, are, or should be, unthinkable.
Russia isn't the only nuclear nation being provoked by the Obama administration. China is too.

However, the Chinese Foreign Ministry accused the US of being provocative. Spokeswoman Hua Chunying said Chinese officials had instructed the ship to change course, but the warning was ignored.
"The US warship violated Chinese law and entered China' s territorial sea without authorisation. The Chinese side conducted surveillance and vocal warnings to the US warship," Ms Hua said.
Defence Ministry spokesman Yang Yujun said the Chinese government believed the US had "sabotaged peace" and threat­ened regional stability.
"The US side is fully aware of this, yet it still sent its warship into China' s territorial sea without authorisation. It is a deliberate provocation," Mr Yang said.
China is being provoked by sea and by air.
This isn't the first time America has had increased nuclear tensions with Russia and China, but it's the first I can recall it happening for no clear reason and with no long-term strategy.
Combine this with a termination of the long-term trend of reducing the nuclear arsenal.
The Unlimited War Powers President
This last point is the hardest to nail down, but maybe the most important.

Future historians will ask why George W. Bush sought and received express congressional authorization for his wars (against al Qaeda and Iraq) and his successor did not. They will puzzle over how Barack Obama the prudent war-powers constitutionalist transformed into a matchless war-powers unilateralist. And they will wonder why he claimed to "welcome congressional support" for his new military initiative against the Islamic State but did not insist on it in order to ensure clear political and legal legitimacy for the tough battle that promised to consume his last two years in office and define his presidency.
The entire anti-ISIS war is based on very questionable legality, but that has been rendered moot because Congress has decided to completely abrogate their Constitutional duties regarding war powers (which should cause them all to be impeached).
Nevertheless, the precedent has been set for presidents to have total authority to decide when to go to war, without any oversight at all. This is in a country that refused to even have a standing army for its first few decades.