The last time DKos went after Tulsi Gabbard
Submitted by gjohnsit on Sat, 01/26/2019 - 1:55pm
So the corporate Dems at TOP are going after Tulsi again.

Daily Kos is backing state Sen. Kai Kahele, who announced his primary campaign earlier this week to take on Gabbard, who's seeking the Democratic presidential nomination in 2020....
"Throughout her six years in Congress, Gabbard has repeatedly shown how out-of-step she is with mainstream progressive values, despite the fact that she represents such a deep-blue district," Daily Kos political director David Nir said in the post.
Let's recall that this isn't the first time that the GOS endorsed a primary challenge to Gabbard.

Let's also recall that this isn't the first time that the GOS announced that Gabbard was beatable.

According to a new poll for Honolulu Civil Beat conducted by Merriman River Group, Gabbard's statewide favorability rating dropped from 64-19 two years ago to 50-29 today. Gabbard fares better in her home district, but she's still taken a bit of a hit there, too, falling from 67-17 to 58-25.​
What matters most, though, is where Gabbard's support is—and isn't—coming from. Statewide, Gabbard earns positive marks from just 49 percent of Democrats, which is low given that we're talking about members of Gabbard's own party, while she gets a thumbs up from 48 percent of Republicans, a shockingly high score … ordinarily, at least. To put this in context, Hawaii's other member of the House, Democrat Colleen Hanabusa, has a similar 48-27 statewide favorability rating, but with 65 percent of Democrats viewing her positively and just 24 percent of Republicans doing so. That's a much more conventional split.
So how did DKos' primary challenge go?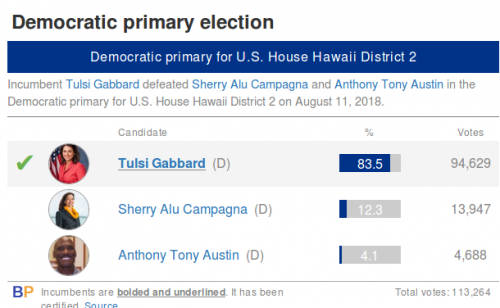 Maybe, just maybe, the GOS doesn't represent anyone and is irrelevant.