John Bolton - Neocon/Zionist Warmonger/Psychopath National Security Advisor to President Trump
Submitted by Big Al on Thu, 03/22/2018 - 10:15pm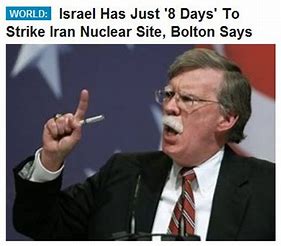 I'm just going to post the title and say something like, um, wait, let me drink a beer.
I'm back.
I was going to say that um, Bolton is, um, what this means is um, wait, let me drink another beer.
I'm back.
So anyhoo, you gotta be shittin' me. Really? John Bolton, right after appointing Pompeo to SOS and that Torture Lady to head the Gestapo?
My God. I'm gonna drink another beer.
I'm back.
Those fuckers. I am so fucking sick of Trump apologists who keep insisting that the fucking deep state is keeping him from saving the fucking country. Make America Great Again. What bullshit. These latest moves culminating in John Fucking Bolton as National Security Advisor, a rabid psychopath who wants war with everyone except Israel, should be the end of the fucking conversation.
But Trump supporters are like Obama supporters, they never give up even when they're slapped in the fucking face.
A couple days ago, Paul Craig Roberts had this to say at the end of his daily rant:
"If Trump names John Bolton National Security Adviser, plan to die."

To all those Trump supporters and apologists out there I can only say,
Fuck You.