Hillary's "I Hate Bernie" Tour
Submitted by

gjohnsit

on Wed, 09/13/2017 - 12:32pm
Today the most popular politician in America (by far) is introducing a historic health care reform bill that has become the defining progressive issue. Also today, Hillary Clinton is doing everything she can to undermine progressives.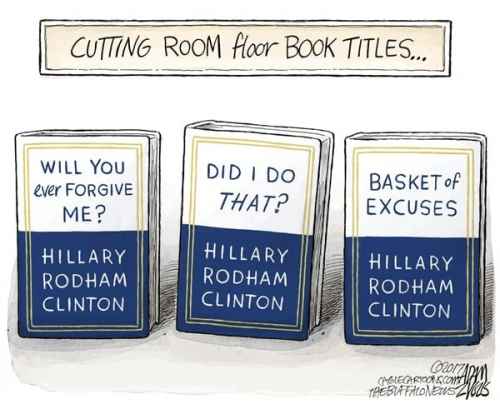 In a new sign of lingering tensions from the 2016 Democratic primary, Hillary Clinton dismissed Sen. Bernie Sanders' call for a single-payer healthcare system in an interview with Vox published Wednesday.
Vox's Ezra Klein asked Clinton, who defeated Sanders to become the Democratic nominee in 2016, what she though of the independent Vermont senator's Medicare-for-all plan, which he is set to release Wednesday.
"Well, I don't know what the particulars are," Clinton said. "As you might remember, during the campaign he introduced a single-payer bill every year he was in Congress — and when somebody finally read it, he couldn't explain it and couldn't really tell people how much it was going to cost."
Clinton also highlighted what she saw as potential flaws in selling such a plan — special interests and public sentiment.
Let's ignore for the moment that she is still lying (Sanders had a detailed plan).
What is significant here isn't the proven facts. What is important is Hillary's utter disdain for progressives.

alking to the former Obama aides who now run the popular "Pod Save America" podcast, Clinton roundly denounced and dismissed not just Sanders's campaign but basically his entire political ethos, suggesting it's overly simplistic and awful for the Democratic Party. And at a time when Sanders's "Medicare for all" proposal just happens to be catching fire among top Democrats, it's difficult not to read this as Clinton's effort to arrest the party's tilting toward Sanders.
Disdain not just for progressives, but for the public in general.

I was running to build on the progress of the prior eight years. I was unapologetic about that. But I also knew the head winds of trying to succeed a two-term president of your own party were pretty intense. I mean, Americans get bored, they get tired, they want a change, they think somebody else can do something better, even though they liked Bill Clinton and they liked Barack Obama. But they want change.
People that didn't support Hillary were bored, like children. It had nothing to do with her elitism.