Facebook Purge = Government Censorship
Submitted by gjohnsit on Tue, 10/16/2018 - 10:31pm
The World Socialist Web Site noticed something about the most recent Facebook/Twitter purge that no one else noticed - it was the PropOrNot wish list.

Media outlets removed by Facebook on Thursday, in a massive purge of 800 accounts and pages, had previously been targeted in a blacklist of oppositional sites promoted by the Washington Post in November 2016.

The organizations censored by Facebook include The Anti-Media, with 2.1 million followers, The Free Thought Project, with 3.1 million followers, and Counter Current News, with 500,000 followers. All three of these groups had been on the blacklist.

In November 2016, the Washington Post published a puff-piece on a shadowy and up to then largely unknown organization called PropOrNot, which had compiled a list of organizations it claimed were part of a "sophisticated Russian propaganda campaign."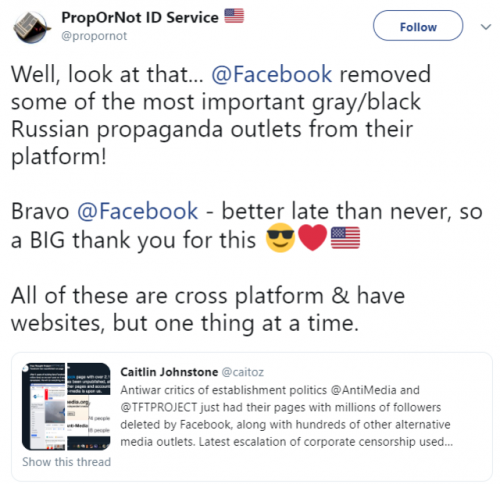 Who is PropOrNot?
It's the Military-Industrial-Intelligence Complex. Specifically, the Atlantic Council.
The Atlantic Council is a NATO-funded think tank that has more ties to Facebook than you might realize.

This is not at all comforting: during a week that's witnessed Alex Jones' social media accounts taken down by Facebook, Apple, Spotify and Google, and what appears to be a growing crackdown against alternative media figures including several prominent Libertarians, notably the Ron Paul Institute director, and the Scott Horton Show, who found their Twitter accounts suspended — we learn that the Atlantic Council is directly advising Facebook on identifying and removing "foreign interference" on the popular platform.
...
And yet as a new Reuters report confirms, Facebook is now itself a top donor to the Atlantic Council, alongside Western governments, Gulf autocratic regimes, NATO, various branches of the US military, and a number of major defense contractors and corporations.
Facebook hasn't just allowed NATO to censor it's content. Facebook funds NATO Along with the governments of the U.S., U.K. and the United Arab Emirates, as well as U.S. weapons giant Lockheed Martin, among other corporate sponsors.
How's that for corporate-government partnership?
In fact, the Atlantic Council recently published a report describing why government censorship conducted through private entities is preferable.

Enter the social media companies. The best mechanism for suppressing oppositional viewpoints and promoting pro-government narratives is the private sector, in particular "technology giants, including Facebook, Google, YouTube, and Twitter," which can "determine what people see and do not see."

Watts adds, "Fortunately, shifts in the policies of social media platforms such as Facebook have had significant impact on the type and quality of the content that is broadcast."

The private sector, therefore, must do the dirty work of the government, because government propaganda is viewed with suspicion by the population. "Business and the private sector may not naturally understand the role they play in combating disinformation, but theirs is one of the most important…. In the West at least, they have been thrust into a central role due to the general public's increased trust in them as institutions."
A securocrat's vision for state censorship (as channeled through the Atlantic Council)https://t.co/0vBzkZT1WU

— #FreeAssange! (tweets by campaign)⌛ (@JulianAssange) October 5, 2018
Twitter seems to be following Facebook's lead.
The Atlantic Council is the primary source of false, and eventually disproven hysterical accusations about Russia, that get picked up by the news media.
So the next time someone says, "They are private companies. They can do what they want."
Tell that person that these companies are quasi-government organizations.
Caitlin Johnstone said it best: "I have said it before and I will say it again: in a corporatist system, wherein there is no clear line between corporate power and government power, corporate censorship is government censorship."