The Bolivian Coup is as bad as we feared
Submitted by gjohnsit on Tue, 11/12/2019 - 1:30pm
Former Bolivian President Evo Morales arrived in Mexico City today. He fled for his life and is now in exile.
So guess who was one of the first people to enter the presidential palace?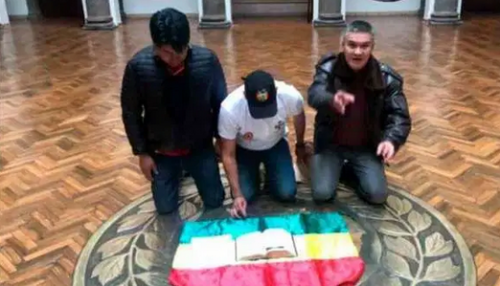 When Luis Fernando Camacho stormed into Bolivia's abandoned presidential palace in the hours after President Evo Morales's sudden November 10 resignation, he revealed to the world a side of the country that stood at stark odds with the plurinational spirit its deposed socialist and Indigenous leader had put forward.

With a Bible in one hand and a national flag in the other, Camacho bowed his head in prayer above the presidential seal, fulfilling his vow to purge his country's Native heritage from government and "return God to the burned palace."
...
Virtually unknown outside his country, where he had never won a democratic election, Camacho stepped into the void. He is a rich and powerful multi-millionaire named in the Panama Papers, and an ultra-conservative Christian fundamentalist groomed by a fascist paramilitary notorious for its racist violence, with a base in Bolivia's wealthy separatist region of Santa Cruz.

Camacho also hails from a family of corporate elites who have long profited from Bolivia's plentiful natural gas reserves. And his family lost part of its wealth when Morales nationalized the nation's resources, in order to fund his vast social programs — which cut poverty by 42 percent and extreme poverty by 60 percent.

In the lead-up to the coup, Camacho met with leaders from right-wing governments in the region to discuss their plans to destabilize Morales. Two months before the putsch, he tweeted gratitude: "Thank you Colombia! Thank you Venezuela!" he exclaimed, tipping his hat to Juan Guaido's coup operation. He also recognized the far-right government of Jair Bolsonaro, declaring, "Thank you Brazil!"
The rich oligarch leader of Bolivia's right-wing coup, Luis Fernando Camacho, was the leader of an explicitly fascist paramilitary group.

Here are some clips from a promotional historical documentary it published:https://t.co/gFMyfjsi2p pic.twitter.com/XXNQfhD7ii

— The Grayzone (@GrayzoneProject) November 12, 2019
This fascist coup was a long time coming.
The Bolivian people are about to suffer. Bolivia has been ruled by fascists before.
But there is one last bit of news that may indicate "why now?"

The Sunday military coup in Bolivia has put in place a government which appears likely to reverse a decision by just-resigned President Evo Morales to cancel an agreement with a German company for developing lithium deposits in the Latin American country for batteries like those in electric cars.
...
The Morales move on Nov. 4 to cancel the December 2018 agreement with Germany's ACI Systems Alemania (ACISA) came after weeks of protests from residents of the Potosí area. The region has 50% to 70% of the world's lithium reserves in the Salar de Uyuni salt flats.

Among other clients, ACISA provides batteries to Tesla; Tesla's stock rose Monday after the weekend.