Bernie for the win
Submitted by gjohnsit on Fri, 11/08/2019 - 10:12pm
This recent NY Times article about how Trump is beginning to lose the independent voters that made all the difference in 2016, references a survey by Marquette University.

The exit poll showed Mr. Trump winning independents in Wisconsin by 10 points in 2016. In a recent survey by Marquette University Law School, these voters preferred Joe Biden to Mr. Trump by a nine-point margin.
One thing about that survey: of all the Democratic candidates, only one of them have a net favorability by independents - Bernie (45 - 38).
Not only did the NY Times fail to mention that, they never used the word "Sanders".
While centrists want to get moderate Republican unicorn voters, Bernie goes after the tens of millions of non-voters that lean Democratic.

And yet, while nonvoting Democrats were more ideologically heterodox, and averse to identifying as "liberal," they also expressed some sentiments that will hearten leftists who imagine them as latent revolutionary subjects: 51 percent of Democratic nonvoters said they wanted a presidential nominee who will "fundamentally change America"; only 42 percent of regular Democratic voters said the same. Meanwhile, nonvoting Democrats were also more likely to support single-payer and to approve of Bernie Sanders, who boasted a higher "very favorable" rating among such Democrats than Joe Biden or Elizabeth Warren. In fact, Sanders was the only Democratic candidate to enjoy higher favorability among nonvoting Democrats than those who regularly show up at the polls.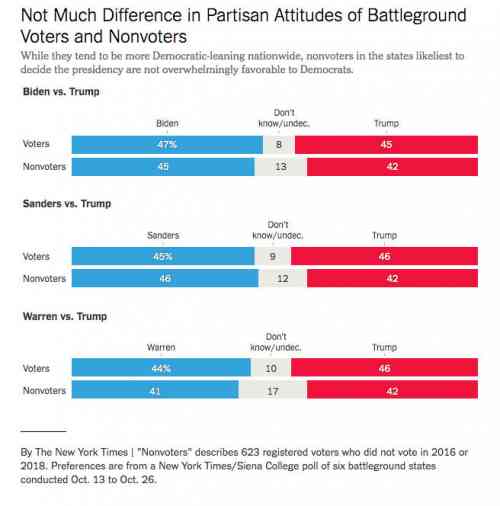 Independents and typical non-voters often don't show up in survey polls.
However, one thing that can be easily measured is donations.

The Daily Beast reports that in the 206 counties that went for Obama in 2008 and 2012 and then went for Donald Trump in 2016, Bernie Sanders is raking in far and away the most individual donations. Sanders has received 81,841 donations from 33,185 donors in flipped counties. That's roughly three times as much as runner-up Elizabeth Warren, who received 26,298 donations from 13,674 donors. Buttigieg comes in just under Warren, with Biden trailing closely behind.
The GOP is hoping and praying that Bernie wins. They think that he'll be easy to beat.

"It would be good for us to have a nominee like that," said Sen. Joni Ernst (R-Iowa), who is up for reelection next year and sounded downright giddy about the prospect of Sanders representing Democrats at the top of the ticket...
But Republicans could be making the same mistake Democrats made four years ago, when Trump launched his presidential campaign and they began salivating over the prospect of a Senate sweep.
If Bernie is going to be so easy to beat, then how come he's the leading contender in Texas?
Bernie defies almost all accepted political norms, so it shouldn't be a surprise if the voting doesn't match the polling.
Of course the most significant poll is this one.

The poll found that 22% of Fox News viewers who also identified as potential Democratic primary voters back Sanders compared to just 13% of MSNBC viewers.

Sanders was an outlier in this regard, as every other 2020 Democratic included in the poll had more support among MSNBC viewers than those who tend to watch Fox News.