Berners Elitest? No, We're the New Deplorables
Submitted by

Steven D

on Sat, 02/10/2018 - 1:44pm
Clinton famously called Trump supporters "deplorables." As ugly as that usage was, you rarely see it used much these days. Instead, the drones of the "Resistance" are focused on demonizing anyone who supports progressive candidates.This includes numerous stereotypical takedowns in social media. A typical example is a recent Medium post by S. Novi, (real name unknown) entitled, "Elitist BernieBots and Crats Refuse to Acknowledge Any Facts."
Here's the link to what Novi (who bills herself as "A journalist that worked in the media when it DID have integrity. A liberal and one that is suspicious of cults and empty promises") wrote. But before you read it, take a look at the crude stereotypical and biased image she added to accompany her text.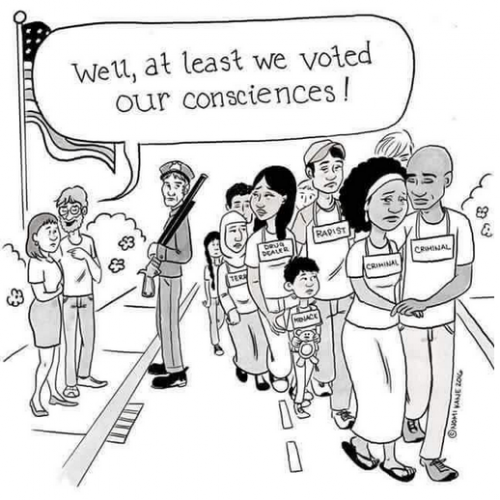 From that image alone, you can get the tenor of the article. It shows a stereotype of two middle aged vaguely hippie-like people. Only the man is talking. Both are white and are comfortably dressed. The man seems oblivious to the plight of what I can only assume are immigrants being rounded up under armed guards with signs labeled "criminal" draped around their necks, presumably to be deported. It's a scene reminiscent of Nazis rounding up Jews for re-location to the concentration camps.
Novi describes progressives with many loaded and negative terms: Bernie-bots, Berniebrats and, of course, the bizarre "Elitests." From the title on it's clear this isn't a piece of journalism (well, maybe "yellow journalism"), nor is there much "integrity" shown by Ms. Novi in the harsh language she uses to dismiss Sanders and other progressive voices. Here are a few excerpts:
The Presidential election has ended and while the Democrats are valiantly trying to hold the flood gates at bay with little more than a stopper and many of us are working to get the vote out to try to overturn this travesty, the BernieCrats are attacking any and all Dems that don't live up to their "purity test". In essence, armed with little more than the garbage that they read on their own sites and without fact checking, they are doing the bidding of the GOP. [...]

These elitists encompass a mostly younger Caucasian demographics, although there are members that are older. The older group should know better as they have been to this rodeo before and watched the Republicans win due to their feet stomping and demands for purity. [...]

While Nancy Pelosi established her groundbreaking stand, devoting over eight hours to telling the stories of The Dreamers, the were on social media demeaning her, calling her names and yelling that she should retire. They never focus on the greater good or for the needs of others, but instead continue their yawn-provoking attacks in their effort to burn down the system so that they can build it based on what they think is important.
If you read the entire piece, and were unaware of the vitriol and attacks that have been made against progressive candidates following Clinton's defeat by Trump, Novi's argument that Sanders is the most corrupt politician in Washington, and his primarily white male supporters could care less about women and minorities, might seem credible. The portrait she paints of progressives is full of stereotypes, half-truths and outright lies. To keep this critique from becoming to lengthy, here's a breakdown summarizing the main points of her screed regarding progressives, in or out of the Democratic party (Note: I'm using "Progressives" to replace the demeaning and insulting verbiage Novi prefers).
1. Progressives are mainly white, male and millennials.
2. They are the "Tea Party of the Left" (Novi's own term).
3. Progressives ignore facts and were influenced by Russian "Fake News."
4. Progressives want to burn the Democratic Party down, and despise unity.
5. Progressives belong to a cult of which Bernie Sanders is the leader.
There's a lot more than just those five, but they capture the basic essence of how she views us, or to be precise, how she wants others to view people who support policies like increasing the minimum wage, strengthening the social safety net, providing Medicare for All, decreasing the Defense budget, increasing taxes on the wealthiest Americans, supporting renewable energy, ending corporate welfare, and providing good jobs for everyone in America. Policies, by the way, that would disproportionately benefit women and minorities.
What I find most troubling is that so many articles like this rely almost entirely on the oft-used propaganda technique of name-calling and stereotyping to dehumanize those who the Democratic Party views as its greatest political adversaries. The preference for this tactic reflects an ongoing pattern of behavior by them following their 2016 defeat. Though the Democratic leadership talks a good game, their behavior, and that of many "Resistance" groups (some clearly astroturf outfits set up by former Clinton and Obama advisers) spend far more of their efforts attacking progressive voices in their own party than producing an effective opposition to President Trump and the GOP Congress.
Anyone seen as a threat to the status quo soon finds themselves subjected to ad hominem attacks by the centrist elements that control the Democratic Party, and their consultants, think tanks and hangers-on. Since Bernie Sanders in 2016 became the rallying point for progressives, Democrats have continually promoted the smear that we all blindly follow Sanders' lead. The emotional bile directed toward a very diverse group of people, is aimed to reinforce and direct emotional outrage among Clinton and Obama supporters against progressive activists and candidates.
The irony of these divisive and ad hominem attacks is that it is the Democratic establishment that failed minorities, not progressives. The raw emotional appeal of these baseless claims deflects from the outright abandonment of the Democratic Party's most consistent supporters. No wonder, when faced with a choice between Trump or Clinton, over 45% of eligible voters did not go to the polls in 2016.
Articles and other social media posts that use this line of attack are disheartening. I know many people who have reported losing friends simply because they supported Sanders in 2016. I'm sure the Republicans are thrilled by this development, despite the divisive factions within their own party. Certainly the big money donors to both major parties are thrilled.
No doubt Ms. Novi, if she sees this post, will note that I am a older white male and will use that fact to dismiss my critique of her blatant hack job. And it's true, I'm white, as are many former Bernie supporters and current progressives. But focusing solely on the color of my skin to dismiss progressive policies and candidates is as flawed as claiming Obama only won election because of his support among minorities and women, rather than his populist message. It also detracts from a more nuanced view of my situation.
Yes, I'm white, but I'm married to a Japanese-American woman. We both suffer from serious debilitating chronic health conditions, as I've written about before, though, like many people with chronic conditions, I was not approved for disability benefits. We live on a limited income. My children are bi-racial, and it was my daughter, one of those young millennial women for which a special place in hell is reserved, was instrumental in getting me to change my mind and support Sanders.
For years I wrote many diaries at Daily Kos about the racial issues and the divide in this country that disadvantages all minorities, especially African Americans, including this one (link is to re-post of the original diary at Daily Kos). I'm also a member of the LGBQT community because I'm bisexual. Much as my "whiteness" had nothing to do with my support for Obama in 2008, it also had nothing to do with my support for Sanders 2016 candidacy. What did influence me was Sander's record over the years and his policy proposals that had wide appeal nationally among large numbers of Americans.
But the promulgators of the meme that Sanders is evil and so are progressives would have you imagine that all of us are ill-informed Sanders' cultists who don't care about women or minorities, and don't bother using facts to support our positions. While there may be a small subset of people who fit that category, like most of you, I do not.
Frankly it's absurd that progressives have defend ourselves against the assassination of our character, intelligence and patriotism by Dem centrists. But that appears to be their primary goal - defending their turf (and the money it earns them) by any means necessary. As James Carville, infamous Clinton propagandist and Democratic consultant, once said:
Truth is relative. Truth is what you can make the voter believe is the truth. If you're smart enough, truth is what you make the voter think it is. That's why I'm a Democrat. I can make the Democratic voters think whatever I want them to.
()
The truth is Centrists will say anything to tear us down. Our job is to not allow their smears to work.