Are Russian Hackers Under Your Bed?
Submitted by gjohnsit on Sun, 06/25/2017 - 8:17pm
It's time to face facts. There are Russians under your bed, under my bed, under everyone's bed, and they want to steal your vote!
They are under the beds of Germany.

Germany's intelligence agency accused Russia of deploying cyberattacks against the country, including the spread of propaganda and attempts to destabilize the government. And why not?
Yes, why not!
Those dastardly Russian hackers are violating innocent German maidens!
They are, uh, nevermind.

Germany's intelligence agencies have found no evidence that Russia is meddling in the country's politics following a government-commissioned investigation.
Germany dodged a bullet, but France wasn't so lucky.
Hackers with connections to the Russian government played a role in an effort to damage centrist French politician Emmanuel Macron's presidential campaign by hacking and leaking emails and documents ahead of the election, according to two U.S. intelligence officials.
Both the WashPo and NY Times confirm that brave French voters defeated those dastardly Russian hackers and saved the virtues of innocent French maidens.
They, uh, nevermind.

The head of the French government's cyber security agency, which investigated leaks from President Emmanuel Macron's election campaign, says they found no trace of a notorious Russian hacking group behind the attack.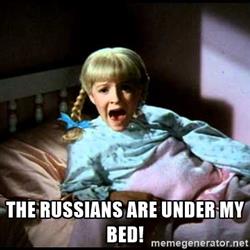 Recently there was a report leaked about how Russia "hacked" our election.
But did anyone else bother to read it?

Russian General Staff Main Intelligence Directorate actors … executed cyber espionage operations against a named U.S. company in August 2016, evidently to obtain information on elections-related software and hardware solutions. … The actors likely used data obtained from that operation to … launch a voter registration-themed spear-phishing campaign targeting U.S. local government organizations.
Hmmm. Spear-phishing.
Why does that sound familiar? Oh yeah.

The attacker or attackers registered a deliberately misspelled domain name used for email phishing attacks against DNC employees, connected to an IP address associated with APT 28/Fancy Bear.
The DCLeaks.com domain was registered by a person using the same email service as the person who registered a misspelled domain used to send phishing emails to DNC employees.
So let me see if I've got this right: We are in a panic about spear-phishing "attacks"?
Spear-phishing? The same stuff that fill up my email inbox at work? The same stuff that bored teenagers create for fun in their parent's basements? This is the best that the entire resources of the Russian state can manage, and we are supposed to be scared?
There's another thing to remember - the only source of the report of the DNC hack was a private company, Crowdsource.

As far as we know, the FBI still has not examined the DNC server that Russia allegedly hacked.
There has been no corroboration or second opinion on who may have hacked the server. The only source for this claim is CrowdStrike, who began monitoring the DNC system on May 5th, 2016, according to DailyMail.com.
The DNC also reportedly paid $168,000 to CrowdStrike.
You might think that with so much dependent on this private organization, that there would be more attention paid to their record, background, and connections to the Democratic Party.

In April 2016, two months before the June report that alleged a Russian conspiracy, former President Barack Obama appointed Steven Chabinsky, the general counsel and chief risk officer for CrowdStrike, to the Commission on Enhancing National Cybersecurity.
The Co-Founder of CrowdStrike Dmitri Alperovitch is a senior fellow on the anti-Russian Atlantic Council.
Crowdstrike also accused Russia of hacking Ukrainian artillery.

U.S. cybersecurity firm CrowdStrike has revised and retracted statements it used to buttress claims of Russian hacking during last year's American presidential election campaign. The shift followed a VOA report that the company misrepresented data published by an influential British think tank.
There is a winner from all this. Crowdstrike has raised a quarter of a billion dollars so far this year, and is now worth $1 Billion.
I'm sure it's just a coincidence.