Are Progressives Democratic Party Imperialists?
Submitted by Big Al on Tue, 02/20/2018 - 10:45pm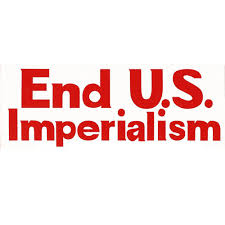 Are progressives democrats? And since it's a fact that the Democratic party, not just the "corporate democrats" and not just the "democratic party establishment", THE democratic party officially FULLY SUPPORTS U.S. imperialism, are progressives also imperialist warmongers?
I decided to do a search on the internet about it and no sooner than typing "are progressi" , up popped a list starting with "are progressives democrats?" You know you aren't the first to ask the question when your link pops up that fast, almost like the search engine read your mind.
Here's what was provided at the top of the search:
"Progressives are actually a separate group from Liberals and Democrats (although all Progressives are Democrats). Progressives are more radical and have much bigger goals than liberals, including redistribution of the wealth, free college for all, reparations for slavery, etc. The rioters at Berkeley were Progressives."

I don't know if that's entirely true, it's the first thing I saw on the internet. I think it was just someone's comment on Quora. But that's kind of what I've thought, that progressives were actually democrats. I don't know any people that call themselves progressives that don't also vote for democratic party politicians. The only talk about progressives invariably is connected to the democratic party. From what I've discerned from the internet, progressives and democrats have always been basically interchangeable and few outside that partisan sphere bother with the label. Perhaps some Greens.
The more radical progressives (perhaps what's being called the progressive left), relatively speaking, complain about the "corporate" or "establishment" democrats but they still support the party by donating to and voting for progressive democratic party politicians. So what are they're complaining about relative to the corporate dems? It's not about imperialism, that's a fact. Their support for imperialism supporting Bernie Sanders proved that. And there are no progressive politicians or prospective progressive politicians running for the democratic party that oppose U.S. imperialism. Not with Justice Democrats, not with Our Revolution. Check it. It's because the democratic party is an imperialist political party and any politician running for office in the party must stick with the party line or they won't get elected. Or so they're led to believe.
The more radical of the democratic progressives supported Bernie Sanders to an extreme, like he was a Savior or something. Like the next Obama only different, before he became the next Bush. They were able, and many still are, to ignore his imperialist, not to mention faux socialist, views and throw their support behind the war crime infested democratic party as their savior sheepdog duly led them.
Thus helping to perpetuate this evil system of imperialist oligarchy paraded as democracy. All for some progress on the domestic front.
Progressives aren't radical, they don't seek to overthrow the power, abolish the old and create the new. They seek to make changes through the establishment political system and the establishment democratic party political party. They want alms for the poor, a higher minimum wage, health care for all, more jobs and a fair wage. "Please kind sirs, we only want a fair shake". They're like the brave peasants of old who would march up to the castle gates and demand enough food to make it through a day's work. They don't want to rob from the rich and give to the poor, they just want the rich to voluntarily share some of "their" riches.
Many have wondered why there has been virtually no antiwar movement in this country since 2003 and the beginning of the Iraq war. It's pretty obvious this duopoly political system which herds much of the left into the never ending pursuit of better politicians is the primary inhibitor. Many progressive democrats do oppose imperialism however feel they need to go with the lesser evil, hoping that somehow their efforts can change the democratic party. Or they feel that's the only reasonable option so they're going to exercise it. Somehow they don't feel that voting for some imperialist political party politicians equates to supporting imperialism. It does. Many are willing to trade "progress" related to social and domestic programs via the democratic party, which is a dream now anyway, for the black marks of a military empire pursuing global imperialism.
If we're going to have an antiwar/anti-imperialism movement in this country, the "real" progressive left is going to have to ditch the democratic party completely, once and for all. It's going to have to oppose the duopoly political system and demand a change in this political system that keeps the people chained to the oligarchy.
Power to the People.