42% of Americans don't know we are still at war in Afghanistan
Submitted by

gjohnsit

on Tue, 10/09/2018 - 3:22pm
I'm often guilty of thinking that the enemy of an anti-war movement is being pro-war. I now believe the bigger enemy of peace is willful ignorance and selfish indifference.

Rasmussen Reports released the results of a new survey Monday that found 42% of respondents either incorrectly said we are not still at war in Afghanistan or said they were not sure.

Overall, 58% of respondents said we are still at war in Afghanistan. However, 21% said they thought the Afghanistan war was not still going on, and an equal amount said they were not sure.
This poll is not an outlier. Four years ago YouGov did a poll to see how many Americans knew which countries we were bombing. Can you guess how many knew?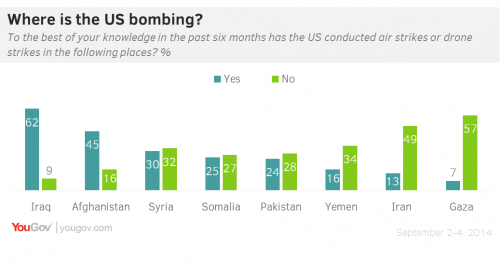 What makes it even more sad is that most Americans support bombing countries (like Syria, Somalia, and Yemen) without knowing that we were already bombing those countries.
Part of this can be blamed on an inexcusable level of ignorance.

Just 74%of respondents knew that the Earth revolved around the Sun, according to the results released at the American Association for the Advancement of Science meeting in Chicago.

Fewer than half (48%) knew that human beings evolved from earlier species of animals.
But another even more important factor is a deep level of moral apathy in America.

"Forty-six percent of Americans surveyed think that captured enemy combatants may be tortured to obtained important military information, and thirty-three percent think torture is part of war," according to the ICRC poll, said Heritage fellow Cully Stimson in a statement Monday. "These are disturbing numbers because torture is a crime, and banned under domestic and international law."
"No one starts a war--or rather, no one in his sense ought to do so--without first being clear in his mind what he intends to achieve by the war and how he intends to conduct it."
- Carl von Clausewitz