"The single biggest change in capital markets, maybe of all time"
Submitted by

gjohnsit

on Mon, 03/26/2018 - 4:00pm
The century-long global hegemony of the U.S. dollar may have ended today.
That's not an overstatement.


Today marked the launch of the petroyuan.

China's launch on Monday of its crude futures exchange will improve the clout of the yuan in financial markets and could threaten the international primacy of the dollar, argues a new report by Hayden Briscoe, APAC head of fixed income at UBS Asset Management.
"This is the single biggest change in capital markets, maybe of all time," Briscoe said in a follow-up telephone interview.
...Already on Monday, Unipec, the trading arm of Asia's largest refiner Sinopec, has inked a deal with a western oil major to buy Middle East crude priced against the newly-launched Shanghai crude futures contract.
This helps cement the exchange's viability and challenges the petro-dollar system, in which oil deals are executed in dollars. This would decrease demand for the greenback and boost U.S. inflation.
If Washington was waiting for the petroyuan launch to fail, they were disappointed.
Commodity trading giants Glencore Plc and Trafigura Group jumped right in.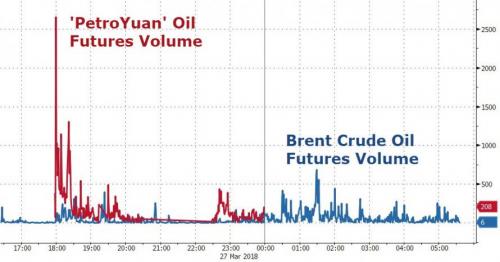 Interestingly, the petroyuan is backed by gold, thus reintroducing gold to the monetary system for the first time in 47 years.
This makes a total reset of the rules for gold-skeptics, who probably won't realize that everything has changed.
If you were wondering why Trump has launched both a trade war and a military build-up against China, look no further than this.
China passed the U.S. in 2017 as the world's biggest consumer of oil.
What makes that important to the petrodollar is that both Russia and Iran, two of the world's largest oil producers, had already agreed to sell their oil to China priced in Yuan.
If you were wondering why Trump is rattling sabers at Russia and Iran, look no further than this.

I was informed at a White House meeting that U.S. diplomats had let Saudi Arabia and other Arab countries know that they could charge as much as they wanted for their oil, but that the United States would treat it as an act of war not to keep their oil proceeds in U.S. dollar assets.
This was the point at which the international financial system became explicitly extractive. But it took until 2009, for the first attempt to withdraw from this system to occur. A conference was convened at Yekaterinburg, Russia, by the Shanghai Cooperation Organization (SCO). The alliance comprised Russia, China, Kazakhstan, Tajikistan, Kirghizstan and Uzbekistan, with observer status for Iran, India, Pakistan and Mongolia. U.S. officials asked to attend as observers, but their request was rejected.
The U.S. response has been to extend the new Cold War into the financial sector, rewriting the rules of international finance to benefit the United States and its satellites – and to deter countries from seeking to break free from America's financial free ride.
...The U.S. plan was to hurt Russia's economy so much that it would be ripe for regime change ("color revolution"). But the effect was to drive it eastward, away from Western Europe to consolidate its long-term relations with China and Central Asia.
Repeated rounds of international sanctions have failed to cow Russia, and the reason is China.

In a symbolic blow to U.S. global financial hegemony, Russia and China took a small step toward undercutting the domination of the U.S. dollar as the international reserve currency on Tuesday when Russia's second biggest financial institution, VTB, signed a deal with the Bank of China to bypass the dollar and pay each other in domestic currencies.
We didn't arrive at this point suddenly in 2014 or 2016.
Russia began making plans to be independent of the combined power of Washington and Wall Street years before we started hitting them with sanctions. They've spent the past decade cutting non-dollar trade and financial deals with China, India, and Iran.
China has been busy too. Russia, Iraq, Indonesia and other countries have joined in non-dollar trades.

When the White House suspended US aid to Pakistan, Islamabad announced that the Chinese yuan can be used for bilateral trade and investment activities.
Recently Russia announced they had a parallel system to SWIFT.
Put all that dry timber together, and then add a spark - the 2016 election - and you have the real reason for the Russia hysteria.

The petrodollar has lasted for over 41 years, and has been the driving force behind America's economic, political and military power. It would be ironic, indeed, were the tensions with Russia inadvertently to become the driver of America finally losing its petrodollar card.
Without all this global demand for dollars, combined with our enormous budget and trade deficits, the dollar's value will fall and interest rates will rise.
Those cheap foreign-made goods will get a lot less cheap. Meanwhile, all that debt that saturates every part of the economy will get more burdensome and eventually produce a tidal wave of defaults.