The wave of voter suppression begins in CA and NJ
Submitted by

Bisbonian

on Sat, 05/21/2016 - 8:37am
Long time voters in California and New Jersey are now finding that they are suddenly not registered as Democrats any more, but "unaffiliated"...just like in Arizona, New York, Nevada, Oregon, and others. Here is the story of one woman from New Jersey:
My mom has been a registered Democrat in NJ for years. She moved in 2013 and changed to "Unaffiliated." To vote in this primary, she filled out a new voter registration (with ample time) to once again register as Democrat. We just received this letter, http://imgur.com/KDfRZLC

stating she is now a registered Dem, but was not registered in time and would not be able to vote in the primary. We immediately called the office to figure out why this registration was not in time, when in fact it was. We were informed that that the letter was sent to her "by mistake" and she is indeed eligible to vote this primary. If we didn't call to clarify she probably wouldn't have showed up.

We were then told the office was "having problems" with their letters and there were several wrong letters sent out. We asked how many people were sent these letters, and why the people who were sent incorrect letters were not informed that it was an error, to which they responded they have "no idea who the letters got sent to or how many were sent." This is outrage. They are "looking into it" and will call us back when they figure out how and why these letters got sent. We are currently talking to them to figure out more details about the situation. This is suppressing newly registered democrats from voting on June 7.
Link: https://www.reddit.com/r/SandersForPresident/comments/4k8w0r/voter_suppr...
A friend of mine in Kentucky had a similar problem in their recent Primary. She was sent a letter from her Board of Elections, even though she had been registered for years. She sent me a copy of the letter a few days ago...remarkably similar to the letter in the link above. Almost as if there was some sort of coordinated action to disenfranchise voters.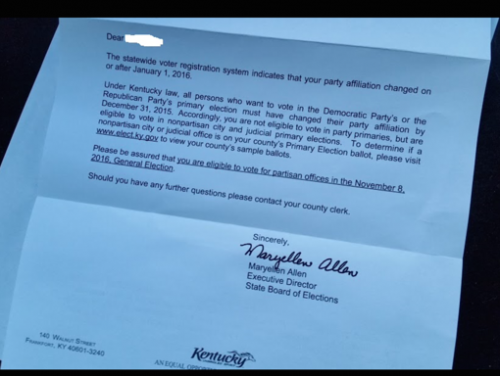 And, like the woman in New Jersey, when she questioned the Elections officials, they said..."oh, we sent this letter in error, you can vote." Just like the woman in New Jersey. Almost if there was a coordinated effort to minimize the uproar.
How many people get such a letter and just stay home? My Kentucky friend knew four other people who got the letter. Three went to vote. One stayed home. Enough to change the outcome, in a vote "won" by 0.4% ? Don't just stay home.