Bidenomics
Submitted by gjohnsit on Fri, 09/15/2023 - 7:33pm
Why or why won't people just shut up and vote for Biden?Census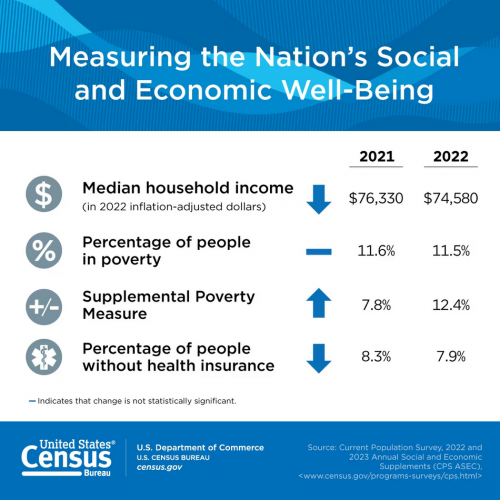 The Supplemental Poverty Measure (SPM), which includes government assistance, increased to 12.4% in 2022 from 7.8% in 2021, according to U.S. Census Bureau data released today. The 2022 poverty rate was also 0.6 percentage points higher than the pre-pandemic rate of 11.8% in 2019.

This was the first increase in the overall SPM rate since 2010. The increase was largely the result of the end of stimulus payments and tax credits in effect during the COVID-19 pandemic that had lowered the SPM rate to its lowest level ever in 2021. The changes had a particularly pronounced impact on the poverty rates of children.

In 2022, 78.4 million people in the United States were in poverty using a measure of resources that included only money income net of necessary nontax expenses. This number declined by 29.5 million to 48.9 million people in poverty when social insurance programs were added to resources.
The good news is the decline in the uninsured rate, but that has nothing to do with Biden. Arkansas, Missouri, Montana, and Oklahoma all expanded Medicaid in 2021 or 2022 (against the wishes of their representatives).
Since then those same state representatives have worked hard to kick people off. Nearly 1.5 million so far in 2023.