Open Thread - 02-03-23 - Indianapolis Raceway Festival
Submitted by JtC on Fri, 02/03/2023 - 8:47am
Opposable thumbs and a large cerebral cortex. These characteristics drove mankind to the apex of the animal world.
It was 1972. I was 18. My best friend at the time and a traveling buddy were milling about our hometown in north central Illinois. I can't remember exactly where I saw the advertisement, I think it was either on the radio or an underground newspaper. It was an ad for a rock festival in Indianapolis, Indiana that was to be held on September 9. The festival was named the "Indianapolis Raceway Festival" and featured Chuck Berry, Fleetwood Mac, It's A Beautiful Day, The Siegel Schwall Band, Argent, McKendree Spring, Flash, Pure Food & Drug Act with Harvey Mandel & Sugarcane Harris, Danny O'Keefe, Foghat, and Limousine.
Since we had already planned a crawling trip to Memphis, we decided to jog a little bit out of our way and mosey on down to Indy to check it out. Back then, "crawling" was a slang term for hitchhiking, which I had already done much of even at the ripe young age of 18, and much of that traveling was done with my buddy, Lloyd. On September 8, off we went with opposable thumbs in the air.
The trip to Indy was uneventful as far as I remember, but remembering things that happened when I was 18 is problematic in it's own right for various reasons.
We arrived in Indy and immediately began asking about the location of the Indianapolis Raceway venue. To our chagrin we quickly learned that the festival at the Raceway had been moved to Bush Stadium at the last minute because the festival would violate zoning ordinances. That was a curveball we weren't expecting. We found out where Bush Stadium was and off we went, opposable thumbs and all.
It was getting late when we found the stadium and we needed a place to crash. We were traveling with our backpacks and I happened to bring along my two man pup tent that I frequently carried when hitching. We luckily found a wooded area near the stadium and that's where we spent the next couple of nights, in the tent, in the woods, in busy Indianapolis.
We woke early on the morning of the 9th and headed off to the stadium. There was already a crowd there waiting for the ticket booth to open so we plopped down along side of the brick building. I was sitting right next to one of the overhead doors that you can see in this image: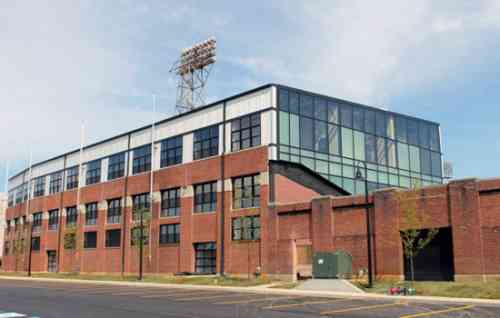 As we were sitting there the overhead door would open occasionally and men would carry stuff into the stadium from delivery trucks that pulled up to the doors. They'd then slam the overhead door down and it would latch. Having been familiar with the operation of overhead doors and after watching several deliveries the cortex kicked into overdrive.
Next to Lloyd was a short piece of 2x4 wood. The cortex was in hyper mode by then. I asked Lloyd to hand me the piece of wood. Not too long after that another truck pulled up and the overhead door raised again. After the truck was unloaded I waited. It took a few minutes but eventually someone slammed the door shut. As it was coming down, at the last second, I inserted the 2x4 under the door preventing it from latching. The door remained down. So far so good. The evolutionary gifts of opposable thumbs and cerebral cortex paid dividends that day.
I gave it a good 10 minutes or so in hopes that there would be no one on the other side. I jumped up and reached down and pulled the door open, no one was inside! Lloyd and I, along with several other people that were milling around entered the stadium through the door. We were in a maze of hallways and doors underneath the stadium bleachers, and it was pitch dark. We made our way through the maze until we saw a door that was open. We made our way to it and luckily it lead to the baseball field where the festival was to be held. There were already people milling about on the field so we meandered out and mingled in with them. It was getting close to music time.
Now I don't remember much about the festival, the, ahem, refreshments were everywhere and people were not shy about sharing. We were ripped to say the least! I do remember bits and pieces of the music but what really stands out in my memory was the strong storm that blew through that afternoon. We had our backpacks and weren't to keen on getting soaking wet, but luckily for us the folks next to use had brought a huge sheet of plastic and they allowed us to sit under it with them in an effort to stay somewhat dry. Folks were dancing and running all around us in the pouring rain as we sat beneath the sheet of plastic. I remember trying to entice some of the cuter dancers to sit under the plastic with us, to no avail.
It was too bad that I didn't remain more coherent as there was some really great bands playing that day. The stadium field was packed and the crowd was great. And then it ended. It was midnight and we were flying. We made our way back to the woods and spent the night in the mud.
The next morning off we went with opposable thumbs in the air, and cortices muddled, on our way to Memphis. That trip from Indy to Memphis was eventful, but that's a story for another day.
Sources:
Previous road adventure: